Le Château des Baux de Provence is a commanding fortress worth visiting for the views, the exhibits, and demonstrations of the medieval weapons, especially while you can. There's a lot of climbing up many old, uneven steps. It is one of France's most historic sites and a popular destination in the south of France.
Visit Le Château des Baux de Provence While You Can Because….
Friends and acquaintances often say I should do active forms of travelling (ie. hiking, kayaking, and biking) while I am young. It never really occurred to me how wise their advice was until I started seeing my parents use canes and walkers. And when I visited Les Baux de Provence, what struck me was how difficult it is to explore many of these sites if one is quite a bit older or if one has mobility issues.
I made a comment to another traveller about the difficulty site-seeing for those who are elderly and for those using walkers our wheelchairs. She just shrugged. (No, she wasn't French). It made me feel sad for those who are unable to climb the many steps or navigate the uneven stone paths at the famous Le Chateau des Baux de Provence.
This site is in the town of Les Baux-de-Provence which is designated one of the Plus Beaux Villages de France, and sadly, the upper parts of the chateau (which have the best views) are just not accessible for those with mobility issues.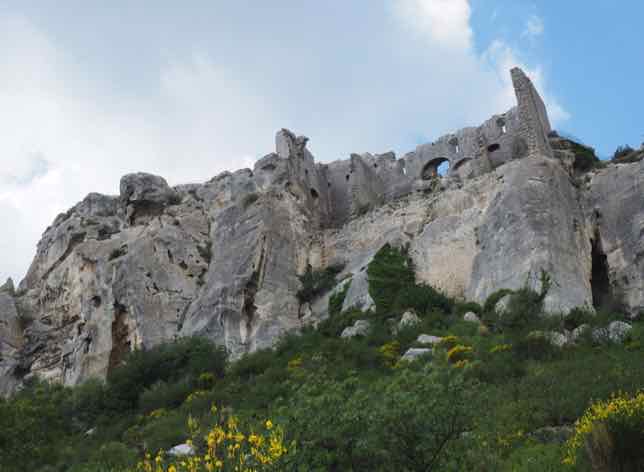 Le Château des Baux de Provence
I am not writing this post to complain. In fact, I found Le Chateau to be quite an impressive site. My parents took me to Les Baux for the first time in 1978 and I have since returned 3 or 4 times. Back in 1978, the Chateau was truly in ruins and I don't think any mobility aids could have been used.
Fortunately, each time I visit, the whole area has been updated and modernized. There are many more paths that wheelchairs and walkers can use. In summer there are often art exhibits and medieval demonstrations.
But to access the highest points at Les Baux, one must climb and navigate some rocky paths and stairs.
Here are some of the things to see and a little background on what has Les Baux one of the premier places to visit when you are in Provence.
Background of Les Baux de Provence Castle
It was in the 10th century that the House of Baux became known. They were a powerful family in the region of Provence that demonstrated its power by building the chateau— a fortress that through the centuries was at war and under siege many times. There was constant fighting between rebels and royalty and while the chateau was destroyed a number of times, it was also rebuilt many times. However, in the 1600s, the royals had had enough with rebellions and the chateau was destroyed once and for all.
Some Of The Highlights At Les Baux
After you wander throughout the town of Les Baux-de-Provence, which has many shops and restaurants, you will come upon the entrance to the Le Château des Baux de Provence
Art Exhibitions
From May 19-September 30, 4 giant heads (sculptures) will be on display. These are the works of art by American artist, Philip Haas, and represent the four seasons, paintings inspired by Giuseppe Arcimboldo. They are enormous (more than 15 feet tall) and definitely stand out against the stark terrain of Les Baux.
Seige Weapons
In the spring and summer, there are often demonstrations of how these weapons were used with knights in armour and jousting competitions. In 2009 a reenactment of the siege of the chateau involved over 1000 participants.

L'Assaut du Château des Baux de Provence
Le Trebuchet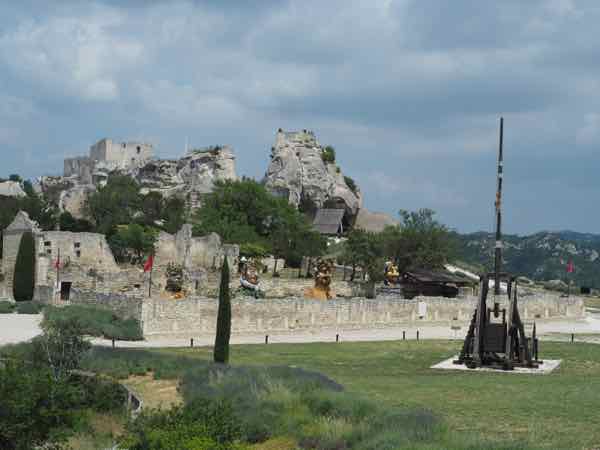 Le Trebuchet was a siege weapon and it was certainly one of the most famous weapons. Designed like a catapult or sling, its levered arm could propel rocks weighing 50-100 kilograms over 200 meters.
The Battering Ram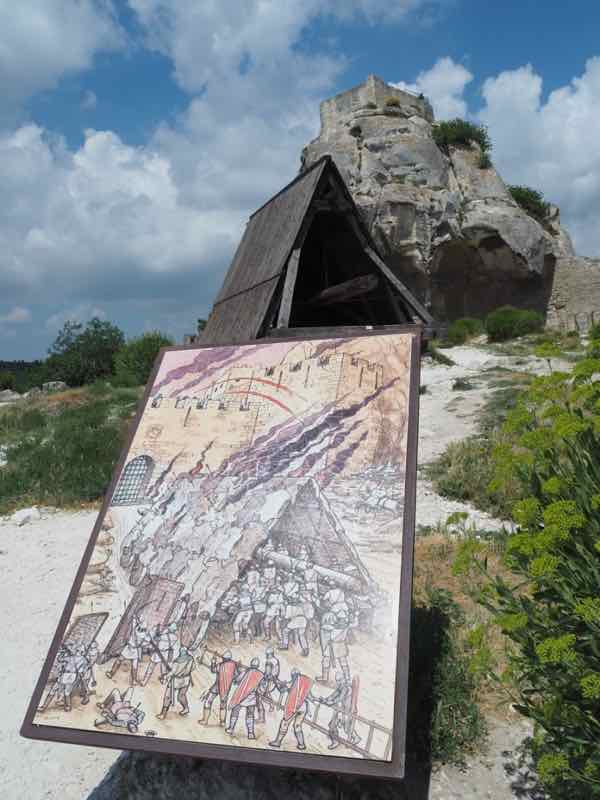 The Battering Ram was used to smash into fortress walls and crack them, in hopes that the wall would collapse. The ram would move back and forth, moved by soldiers. They were protected by a roof which was made of animal hides and mud.
The Ballistra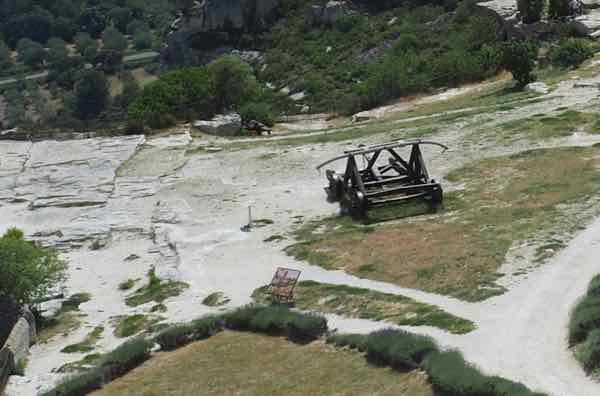 The Ballistra was another catapult-like device that could project rocks or items weighing 20 to 60 pounds on fire. Being attacked by fire was especially onerous as there weren't fire departments in medieval times that could quickly put out the fires.
Le Château
Les Baux sits on a cliff in the Alpilles mountains and it provided the ideal location to spot oncoming attacks. The château's highest point was the keep, carved out of the existing rock and difficult for attackers to scale up to the top. Today, climbing to the top is worth the trek, if you are able to navigate the worn stairs and rocky terrain.
The Sarrasine and Paravelle towers were constructed on either end of the château and had arrowslits to watch over oncoming attacks.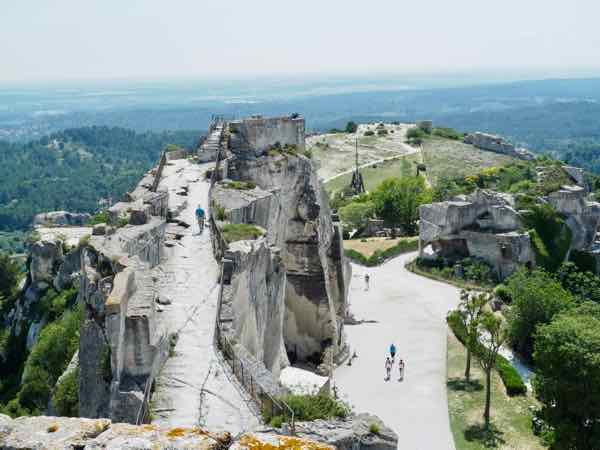 Dovecoat: In medieval times, pigeon meat was a for the rich and at Le Château, this dovecote contained over 2000 nest holes.
Throughout the ruins, you can see the remains of the chapel, the oven house, courtyards, and houses (troglodyte houses carved into the rock).
So I suggest you visit Le Chateau des Baux de Provence while you can. It can be rocky and very hot in the summer, but it will be worth it.
Pin to your favourite board on Pinterest