In the Provence-Alpes-Côte d'Azur region of southern France, there are many traditions, such as the Christmas tradition of the Provencal santons. There is another tradition that is quite famous but this one involves sheep. Lots of sheep. It's the annual Fête de la Transhumance in Saint-Rémy-de-Provence and it is a sight to see where hundreds (if not thousands) of sheep fill the streets before they head to the mountains.
The next Fête de la Transhumance in Saint-Rémy-de-Provence takes place the first Monday of Pentecost (Whit Monday): June 6, 2022
1. What Is The Meaning Of The Transhumance?
By definition, transhumance involves moving livestock from one area to another. The Transhumance tradition goes back centuries when farmers would herd their flocks of sheep up the mountains where the pastures were greener. It would typically take 10 days to get them high into the mountains.
The seasonal movement of sheep, cattle, and goats takes place twice a year: in the Spring and Summer to take the herds up to the mountains and then in October to take them back down. It takes place all over the world and in France it occurs with sheep in Provence, near Saint Rémy. The herding of domestic beef cattle, Aubracs, takes place in Aubrac which is located in the Massif Central region.
2. Transhumance In Saint Remy de Provence
St.-Remy created a festival surrounding this seasonal migration and it takes place at the end of May or early June and for 2022 it will take place on June 6. On the designated day, the flea market is running and there are activities and some special events, such as sheepdog training demonstrations. My visit to Provence one year coincided with this festival and I had the opportunity to meet up with author, Keith Van Sickle and his wife Valerie a few years ago. We had connected months earlier when I did a review of his book, "One Sip At A Time: Learning To Live In Provence". He has since written two other books, one which is an Insider's Guide To Provence. I wanted to learn more about their life in Provence and find out how they were able to assimilate with the locals. We arranged to meet on June 5 just before the herding of the sheep was to begin.
(a) Brocante Before The Parade Of Sheep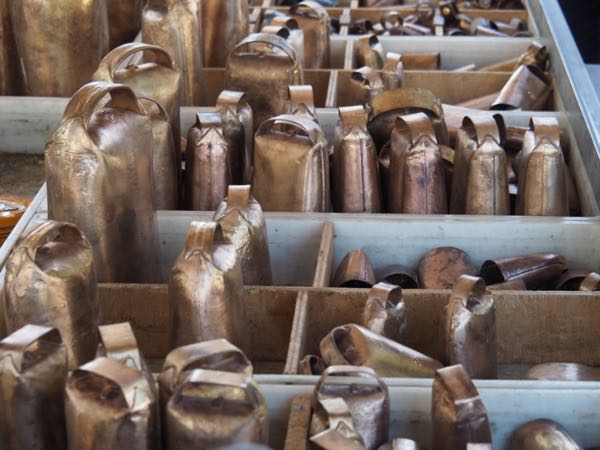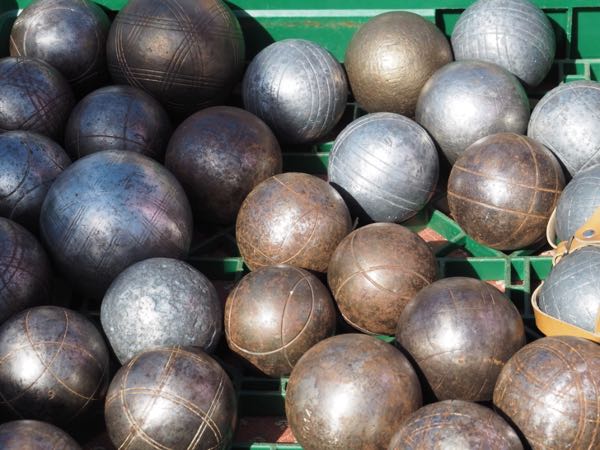 I arrived a bit early and visited the flea market at Place de la Republique. Wednesday is usually market day in Saint Rémy but on this particular Monday, vendors took advantage of all the visitors in town for the festival. And rightly so. There were hundreds of spectators lining the streets and before the big parade of sheep, people were browsing the market.
There were a lot of brocante (flea market) dealers with items such as old cow (and sheep?) bells, leather harnesses, and "very well used" boules being sold. At the same time, the market also had provencal items such as straw bags, soaps, and linens for sale.
At 11:00 I met up with Keith and Valerie and it was pointed out to me that the streets were pretty clean.…..but they wouldn't be for too long. The sheep were coming!
(b) Hundreds Of Sheep, Herders, And Locals Make Their Way Through The Town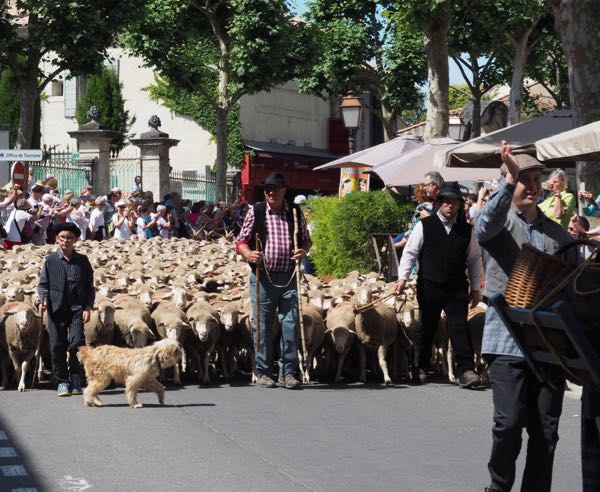 So what was the herding of the sheep like? Fabulous, but it was over quickly. It began with shepherds and a few locals dressed in traditional costumes walking alongside some donkeys and leading the "pack"….or in this case, the FLOCK of sheep.
However, every now and then you'd see some goats and donkeys.
The hard-working sheep dogs were there keeping those sheep in line and guide them down the street. There were so many animals that they filled the entire street from one side to the other. We had to be sure we were on the sidewalk or else we would have gotten 'run over".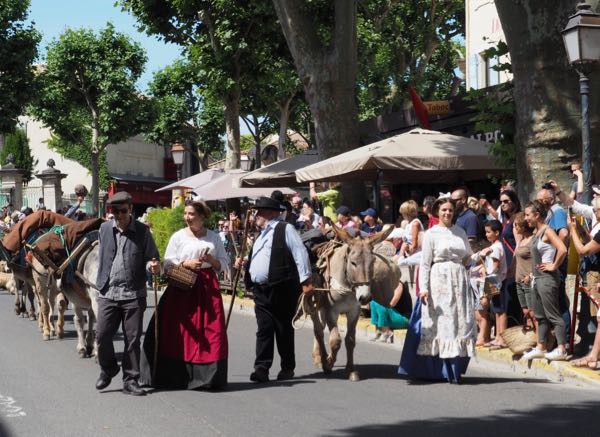 Check out this video of the "parade" of sheep:
3. Modern Tradition Of The Transhumance-In Trucks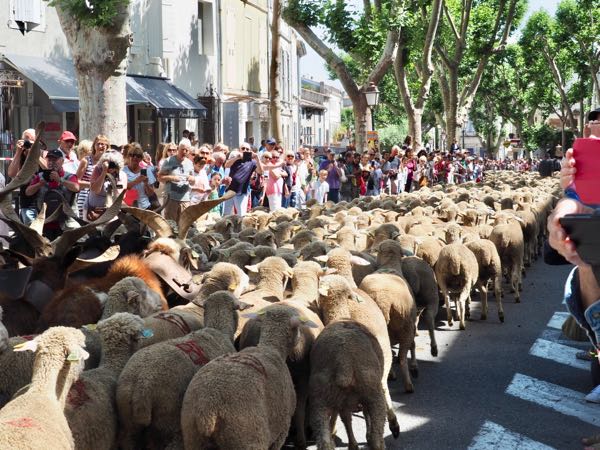 The sheep, goats, donkeys, sheepdogs, and shepherds went around an area of the village once and then about 10 minutes later they appeared again. I was told they usually do two circuits before they head up the mountain….in trucks. They are no longer "walked" up the roads to the plateau de la Crau as it creates a traffic jam and in our modern era, sadly, we have impatient drivers who need to get to their destinations quickly. So, no leisurely stroll for the sheep.
4. Lunch In Saint-Rémy
As quickly as it started, it was over but my fun had just begun. Keith, Valerie and I walked around St. Remy before heading for lunch at Brasserie Les Variétés. I know it seems wrong in view of what I had just witnessed, but I had a delicious lamb dish. It was really good. I'll leave it at that.
In addition to having a local red wine, I also HAD to have my favourite fromage blanc with some raspberry confiture (jam). To me, fromage blanc is like whipped cream. It is often served with a jam or a sprinkling of sugar. Try it. You'll like it.
5. How Others Immerse Themselves In French Life
Over lunch, I peppered Keith and Valerie with questions about how they found their house that they rent and how they have immersed themselves in the language and culture. I felt like I already knew them well based on Keith's book.
But as we talked I also realized that they love France as much as I do and travel there often. It's a rather unique thing when you meet up and start talking with people who truly love a country and culture as much as we do. Immediately there is a connection and understanding. I "get" them. I "get" how they love France because I do too. There's no need to defend why I keep returning to France. They didn't need to give any explanations either. I couldn't believe how fast the 2 1/2 hour lunch went, although in France, 2 1/2 hours is a 'quick" lunch. If you're in Saint-Remy-de-Provence at the right time, be sure to attend the Transhumance Festival. It's free and you'll definitely see something unique. If you're looking for other things to do in Provence, check out the post about doing two Van Gogh routes, one in Saint-Remy-de-Provence and the other in Arles.
Pin to your favourite board on Pinterest