I often get asked, "Where should we eat in Paris? What are your restaurant recommendations?" It's hard to choose when there are so many, which is why I've compiled a short list of must-try restaurants in Paris that are sorted by type of cuisine or venue you might be interested in (ie. crepes, traditional French cuisine, soufflés, at a bistro or at a café with a view of the Eiffel Tower, etc). I've eaten at all of them and highly recommend them all.
Recommendations For Where To Eat In Paris
My list of recommendations for where to eat in Paris covers a wide variety of dining types. There are bistros, cafés, bouillons, restaurants that specialize in regional cuisine, and places that simply have one focus (ie. oysters). In addition to being categorized by type or uniqueness, I have also provided a pricing legend to help you out. Many of these dining experiences took place during Trip #35 and Trip #36.
Legend:
$-Very Inexpensive
$$-Inexpensive
$$$-Moderately Expensive (norm)
$$$$-Very Expensive
1. Café With A View Of The Eiffel Tower: Café Lucy
I highly recommend you stop in at Café Lucy, which is located on the 2nd floor of the Musée de l'Homme. It's free to enter and you just go up the stairs. They have a cafeteria-style service that offers sandwiches, desserts, coffee, and tea.
I had an excellent chocolate cake and Kusmi tea for 7.5 €. It provides one of the best views of the Eiffel Tower. This is especially true as there is construction on Trocadero Place but you are high enough to see over the mess.
2. Crêpes: Breizh Café
(a) What Are Crêpes?
Crêpes are thin pancakes that come sweet (crêpes sucrées) or savoury (galettes). They come a dime a dozen in Paris and they are especially popular on February 2nd, La Chandeleur (Candlemas), also known as The Day Of The Crêpes. La Chandeleur celebrates changing from winter to spring and goes back to Roman times. But really, crêpes are a favourite year-round because they are typically cheap.
You can easily pick up a crêpe from a street vendor….but don't. I suggest heading to an authentic crêperie that specializes in making Breton crêpes and galettes where buckwheat flour is used. [Note: buckwheat flour is gluten-free]. After all, crêpes originated in Brittany in the 13th century.
(b) Breizh Cafés
I first had a crêpe at one of the Breizh cafés a few years ago along the Seine river. They had a pop-up take-out booth and I had a delicious apple crêpe with a glass of cider. The Breizh restaurant group was started by Breton Bertrand Larcher and the restaurants are known for using high-quality ingredients, especially ones from Brittany.
One indication that this was truly an authentic Breton restaurant? They had pommeau on the menu. It's very difficult to find outside of Normandy and Brittany so I was pretty impressed [What is pommeau? Check out this post: Pommeau de Normandie]
Their galettes use organic buckwheat flour and their crêpes use organic wheat flour. I went to their Marais location and got a table for lunch without a reservation. I was lucky because soon after 12:00, there was a lineup.
(c) My Lunch
I had a large pichet (50cl) of brut cidre (dry cider) served in a customary ceramic bowl, and the special for the day, the Complète Épinard Galette (sunny-side up organic egg, artisanal ham from Brittany, raw milk comté cheese, "Bordier" butter, and spinach). The meal was fabulous and I ate the whole thing!
I then had the Quimperoise galette for dessert. It's a crêpe with homemade apple compote, salted butter caramel, and vanilla ice cream. It was one of my best meals in Paris and the bill came to 33.5 €. There are 9 Breizh cafés in Paris.
3. Bouillons: Reasonably-Priced Classic French Cuisine
Bouillons are restaurants that popped up in the 19th and 20th centuries with the purpose of serving traditional, classic French food to workers at cheap prices. Their distinct, interiors (Belle-Epoque and Art Nouveau designs), and fast service made them very popular and while there are only a few left in Paris, the remaining ones continue the tradition as I wrote in this post about 4 bouillons in Paris.
I will say my favourite bouillon was: Bouillon Julien. It checked off all the boxes: great food, price, and atmosphere.
4. Soufflés: Le Récamier
(a)What is a Soufflé?
A soufflé is a very light and fluffy, savoury or sweet dish made with egg whites and a cream sauce. It is baked and served in small or large ramekins. The name uses the verb, "souffler" which means, "to blow", "to blow out", or "to puff". All these words perfectly describe the soufflé which is light, airy, and large. Soufflés date back to the early 18th century in France.
(b) Le Récamier
If you want to eat a soufflé Le Récamier is the place to go. It was named after Jeanne Récamier (known as Juliette) who was a socialite in the late 1700s and early 1800s in France. She was quite the beautiful celebrity hobnobbing with artists, politicians and intellectuals. Le Récamier opened over 15 years ago and is owned by chef Gérard Idoux and the restaurant continues to entertain and serve heads of state and celebrities much like Juliette did.
(c) My Lunch
I had a cheese soufflé (soufflé au fromage) as my "main" course, accompanied by 2 glasses of white wine. I had heard that it was best to go with a "simple" soufflé rather than one with additional ingredients such as salmon, mushroom, or escargot. In this way, you would really be able to savour the true cheese flavour and it wouldn't be overpowered by another flavour.
For dessert I had a sweet soufflé (soufflé sucré), a dark chocolate soufflé called, "Soufflé au Chocolat Noir de Saint-Domingue". It came with a side dish of warm dark chocolate sauce. As soufflés are incredibly light, you don't feel stuffed afterwards, even though they both look gigantic. (Cost: 57 € ). Highly recommend.
5. Provençal Cuisine And A Huge Chocolate Mousse: Chez Janou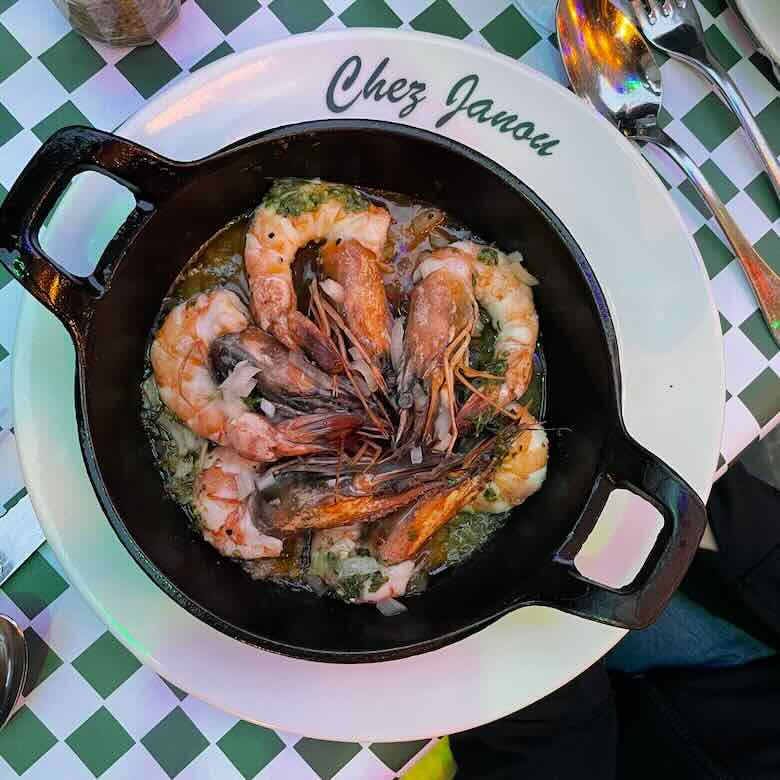 (a) Reservations and No Reservations
Chez Janou is an incredibly popular restaurant. Getting a reservation was impossible. You can't reserve online. You can only call. I tried but was told nothing was available. So I asked the concierge at the hotel to try. No luck. My friend and I dropped by and were told if we showed up at 6:30 another night, we would have a chance to get a table. We did and were so happy we got a table (albeit outside) and it was cool but manageable. In all honesty, sitting outside was nice because it was more spacious. It looked a bit crammed inside. We were lucky it wasn't too cold.
(b) My Dinner
Dinner was superb and very reasonably priced. The service was good after waiting 45 minutes to place our order. Chez Janou specializes in Provençal cuisine and offers more than 80 brands of Pastis! My friend and I got the Côte de Provence red house wine (a pichet-50cl) and shared one of the entrées, a small pot of ratatouille, anchovies, and tapenade. For the main course, I the Farcis provençaux (stuffed tomatoes) and my friend had the flambé prawns (Gambas flambées au Pastis with anise rice).
The dessert was unbelievable. I ordered the chocolate mousse and the waitress came with a large terrine, like the type you'd use for soup. She scooped out an enormous portion of mousse and slapped it down on my plate. Perhaps slapped is a harsh word, but it was shocking to see how much she gave me! I could not eat it all and it was very good! By the time we left, 2.5 hours later, there were many people waiting to get a table. The bill came to 45 € per person.
6. Bistro: Poulette
My friend and I had dinner at Poulette (we made reservations). We shared the Beignets de fliers de courgette, and ricotta harissa (stuffed zucchini flowers with ricotta cheese and harass). The main course was pork belly caramelized with Chinese cabbage, carrot purée, and fried onions. Also had a glass of 2020 Cahors wine. Don't be turned off by the pork belly concept. When done right (well) and caramelized, it is excellent. The bill came to 36.25 € and the meal was delicious. Highly recommend.
7. Bistro: Le Petit Vendôme
I had read that one of the best places to get a baguette sandwich is at Le Petit Vendôme, located very close to Palais Garnier. I'll cut to the chase: I had both the plat du jour and the sandwich (later in the day) and one was better than the other.
This French bistro is cosy and unpretentious which was surprising in view of the area it's located in—full of high-end, expensive boutiques and 10 minutes from the Louvre. But I highly recommend having lunch here. Just really good food.
You can tell it's popular with locals. I was lucky to get a table (although inside, as the terrace was reserved for those with reservations) because soon after the place filled up. It was packed and you are seated close to those at the next table. There was also a lineup out the door for those wanting to just take out a baguette sandwich.
I ordered the plat du jour-perfectly cooked pork tenderloin in a mustard sauce, accompanied by a small salad and linguine. With 2 glasses of wine and the recommended dessert, the "Classic Millefeuilles Parisien", the cost for lunch was 36.5 €. I highly recommend this bistro for a meal.
Before I headed to the airport that evening, I did pick up the Jambon Beurre sandwich (Jambon beurre: 5.5 €). While it was made to order (and not just sitting on a shelf waiting to be purchased), it was okay….not any better than other ham sandwiches I've ordered. Perhaps I should have ordered something else.
8. Averyon Cuisine: Bistrot des Vosges
During my 36th trip to France, my friend and I ate at Bistro des Vosges, located a few blocks away from our Citadines Bastille Marais apartment. It specializes in dishes from the Aveyron region, which I visited earlier in the year.
The meal was very good as was the service. I had the grilled sausage from the Aveyron and aligot, which is a regional favourite. As I mentioned in the post about Aveyron specialities, Aligot is mashed potatoes with cream and Tome Fraiche d'Aubrac cheese. Rather than putting the garlic in the potatoes, there is a small dish of garlic sauce where you can add however much you want. The potatoes were beautifully whipped! It also came with a small side salad and I paired the meal with a glass of AOC Marcillac (Aveyron) red wine. The dessert was Movenpick Swiss chocolate ice cream. The bill came to a very reasonable 27.3 €.
9. Boeuf Bourguignon: Au Bourguignon du Marais
I guess with a name like "Au Bourguignon" you know you'll encounter Burgundy favourites, such as boeuf bourguignon. So that's what I had. The boeuf bourguignon was made with stewing beef (ie. beef chuck), diced bacon, mushrooms, and baby potatoes and came in an enamelled cast iron French oven or maybe it was a cast iron mini cocotte. Either way, there was a LOT of food in that pot and it was absolutely delicious! I added a side dish of fresh green beans. With a glass of red wine, the bill came to 38 €.
10. Meat-Lover's Bistro: A La Biche au Bois
As I wrote in this post, A La Biche au Bois is a reasonably-priced French bistro that specializes in meat dishes. The food, service, and atmosphere were excellent. I had the Coq Au Vin, which the restaurant specializes in. You could tell that the chicken had been simmering for many hours because the meat was incredibly tender. My friend's peppercorn steak was perfectly done and she said she loved it. Our 2 meals with dessert and a bottle of house wine came to 83 €. Check out my review here.
11. Oysters: Le Baron Rouge
I absolutely LOVED my meal and experience at Le Baron Rouge, which has been a fixture at the Marché d'Aligre for years. It continues to get rave reviews…and deservedly so. You can't beat the prices and the friendly service. The fact that they shuck the oysters right in front of you before you head in is all part of the great experience. Read my review here: Oysters At Le Baron Rouge.
Restaurants That Were Excellent When I First Visited
Here are some restaurants that served excellent food; however, I haven't revisited them lately so I can't comment if they've maintained the same high standards. You'll have to do your due diligence and read recent reviews for them.
(a) Not Your Typical Food Courts
Beaupassage Address: 14 Bd Raspail (7th arr)
La Felicita Address: 5 Parv. Alan Turing (13th arr)
(b) Wine Bar: 5e Cru
5e Cru is a wonderful wine bar on the left bank that continues to get great reviews. The owner really knows his wines and foods. I had an excellent charcuterie board to accompany my wine. Check out my review here.
Address: 7 Rue du Cardinal Lemoine (5th arr)
(c) If You Love Cats: Café des Chats
While you go for the cats, the food isn't bad. Here's the post: Café de Chats
Address: 9 Rue Sedaine (11th arr)
(d) More Crêpes: Crêperie Brocéliande
Thoroughly enjoyed my "La Calvados" crêpe here and listed it as one of the unique spots in Montmartre. It continues to receive excellent reviews.
Address: 15 Rue des Trois Frères (18th arr)
(e) Meal In The Eiffel Tower: Jules Verne
A very long time ago I had a birthday lunch (Bastille Day) in the Eiffel Tower at the Jules Verne restaurant. It's #13 on my list of unique experiences in Paris. It has changed hands since then and is now headed by triple Michelin-starred chef, Frédéric Anton.
Address: 5 Av. Gustave Eiffel (7th arr)
(f) Other Restaurants To Consider
Chez Georges– 1 Rue du Mail (2nd arr)
Aux Lyonnais– 32, rue St Marc (2nd arr)
Cremerie Restaurant Polidor-41 Rue Monsieur le Prince (6th arr)
Le Procope-13 Rue de l'Ancienne Comédie (6th arr)
Le Perraudin-157 Rue Saint-Jacques (5th arr)
Thoumieux-58 Rue Saint-Dominique (7th arr)
L'Epi Dupin-11 Rue Dupin (6th arr)
Le Sergent Recruteur-41 Rue Saint-Louis en l'Île (4th arr)
Brasserie Balzar-49 Rue des Écoles (5th arr)
Bofinger-5-7 Rue de la Bastille (4th arr)
If you have recently eaten at any of the above restaurants and think the quality has improved (or deteriorated), please let me know!
Pin to your favourite board on Pinterest