The Best Gift From France: A Framed Hermes Scarf
You're on a mission. You want to buy that perfect gift for yourself that will always remind you of your wonderful trip to France. You consider perfume, macarons, soaps, wine, magnets and even Petit Lu cookies! My recommendation? Take home a silk Hermes scarf…not to wear…but to frame! There is nothing more beautiful on a wall than a framed Hermes scarf.
A Framed Hermes Silk Scarf?
Hermès is a French luxury goods manufacturer that is known for its leather products (ie. the Kelly bag, the Birkin bag), perfumes, clothing and especially its silk scarves, or carrés (squares). The founder, Thierry Hermès, was involved in the carriage trade in 1837, making bridles and harnesses so it is fitting that his descendants decided that the logo emphasize the company's roots and connection with horse-drawn carriages. The Duc carriage with a horse is the logo that can be often be found on Hermès scarves.
The silk carrés were the inspiration of his grandson, Émile-Maurice Hermès in 1937 and a series of scarves was first created by his son-in-law, Robert Dumas. Today the scarves come in two sizes— 70 x 70cm and 90 cm x 90 cm. (There are also 45 cm pocket squares and 140 cm shawls).
Each scarf is 100% soie—a silk twill weave, which makes it soft yet strong. The scarf is handmade and the production time from concept to finished product is approximately 18 months. The design is screen-printed and has a hand-rolled hem or edge, all hand-stitched by skilled artisans.
How do you know it's a Hermès scarf? Besides being the correct size and material, the scarf also has the title of the scarf and the name of the artist imprinted within the design of the scarf. The label states that it has been "Made in France" and is "Soie 100% Silk".
Visiting Hermès, Paris
I headed to the Hermès boutique located on 42 Avenue George V and already had in mind that I wanted a silk scarf with purple in it. This was to be the accent colour in my living room as I already had greys, whites and purple curtains. A purple accent in the scarf would tie in perfectly.
I explained to the saleslady that I wanted a fairly large carré and that there had to be purple in it. What I did not tell her was that I had no intention of wearing it! I probably should have but was a bit embarrassed. As it turns out, buying a silk scarf to frame is not uncommon.
I tried on at least 10 scarves and the saleswoman was very patient and not snobby. Each carré was gorgeous and trying them on was fun.
Hermes "Voyage en Étoffes" Designed By Annie Faire
I was surprised by how quickly I found the perfect design. The border of the scarf was in purple-just what I was looking for. The motif was fun, bright, and I took to it instantly.
I chose the 90-centimetre square silk scarf. This is almost 3 feet squared and above my sofa, it would be the ideal size. It was carefully placed in the iconic orange Hermès box that is the perfect size for the 90cm X 90cm scarf.
The scarf is called "Voyage en Étoffes" (Travel in Fabrics) by Annie Faivre who has been designing scarves for Hermès since 1979. The traditions and cultures from all over the world are depicted through a collage of colourful apparel. It has intricate patterns illustrating costumes, jackets, tunics, dresses, robes, and swatches of fabric in vibrant colours.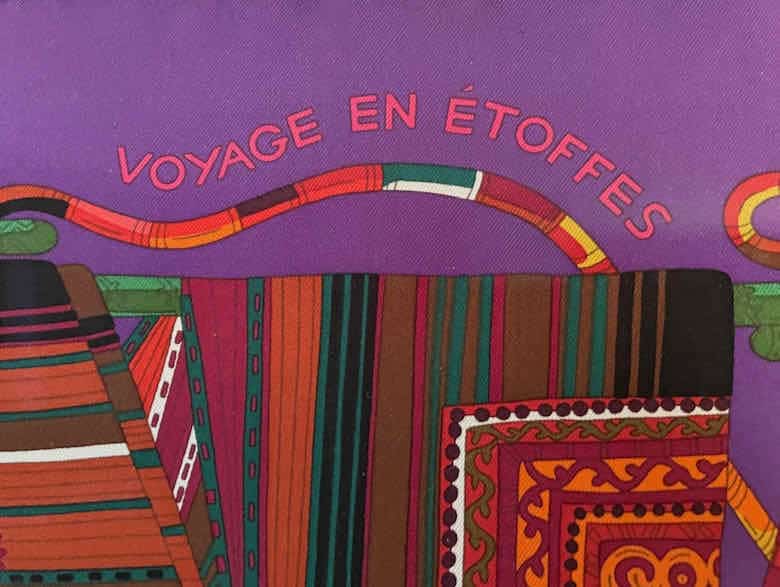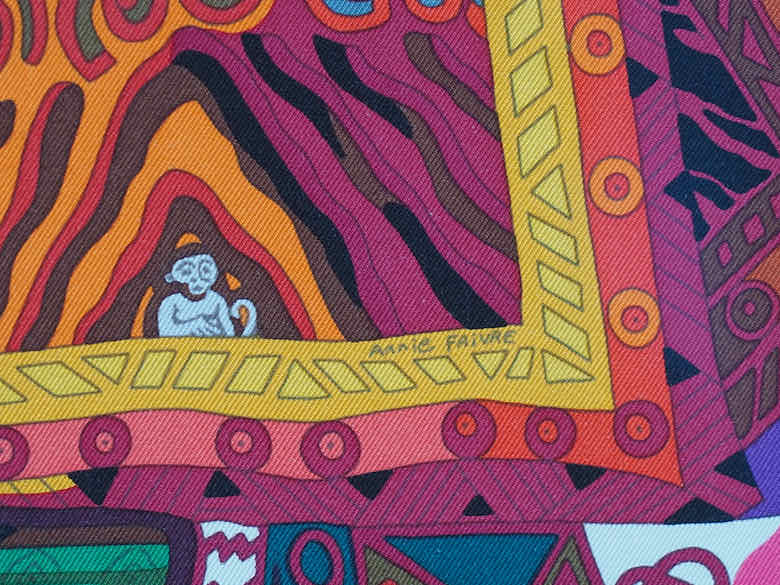 The title of the scarf, "Voyage en Étoffes" can be found at the top of the scarf. The artist's signature is discreetly written in the bottom half of the scarf by the monkey, which is often hidden in the designs by Faivre. "Monkey" was supposedly a nickname Faivre was given when she was a child. She has quite the following and on one website the moderator encourages readers to share photos of the monkey on their scarves!
Cartes À Nouer
Here's a tip many people do not know about: if you do buy a scarf, don't forget to ask for the "Cartes A Nouer". These are knotting cards that show you how to tie the scarf in various ways. There are 22 cards that provide pictures and instructions. If you don't ask, you won't get a box of cards.
Framing A Hermès Scarf
Getting my Hermès scarf professionally framed was not easy, initially. I needed to find an expert framer who knew how to deal with fabrics. You can't just staple the scarf onto a board, add glass and a frame!
Fortunately, I found a framer who had experience dealing with framing fabrics. I brought my precious scarf to them and discussed how they had framed silk scarves in the past. One thing was vitally important: the glass. It was recommended that I use museum-quality glass that has better clarity. More importantly, it would protect the silk from UV light and prevent it from fading.
My silk scarf was hand-stitched onto black silk fabric, then onto padding. The additional foam backing was acid-free and the scarf was arranged in a black gloss shadow box frame with this museum-grade glass.
After about 4 weeks, I picked up my piece of art and I was absolutely thrilled. As you can see from the photos, the vibrant colours of the scarf just jump out.
Cost For My Hermès Scarf Art?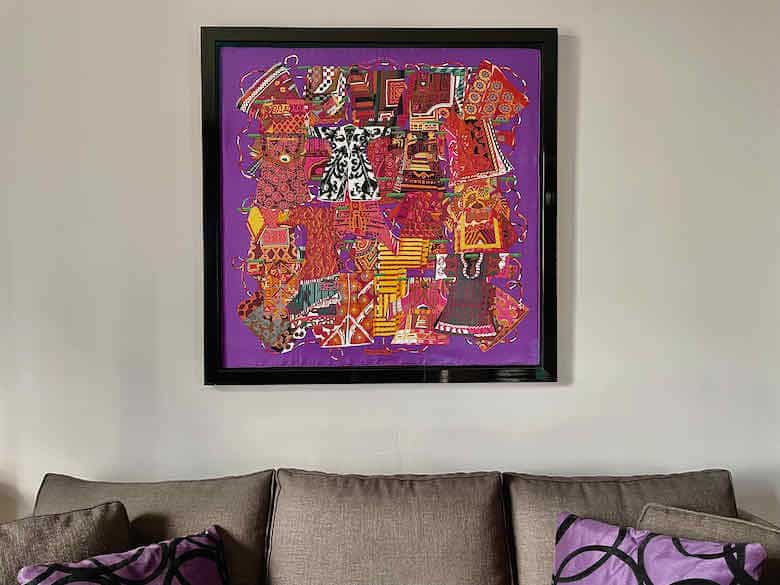 1. Cost Of An Authentic Hermès Scarf
Was the scarf expensive? Not in comparison to the framing! I purchased the Hermès silk scarf for 330 € in 2014. At the time this worked out to be about $490 Canadian. What's remarkable is that 7 years later, the price on the Canadian website is $500 and the exchange rate hasn't really changed.
2. Cost To Frame The Hermès Scarf
If you've ever had something framed you know that the cost of a custom frame can be expensive. The cost to frame a silk scarf? [Don't choke]. $750 Canadian.
So, the final Hermes wall art cost $1240, which really is comparable to buying a large print or piece of art, isn't it? And in this case, this is a piece of art I will not give away or replace with something else. It is the centrepiece of my living room and also has a story behind it.
If you have a vintage Hermes silk scarf that you're not wearing, you might consider turning it into a piece of art. It makes for decorative wall decor.
If you're interested in other related posts, check out:
Pin to your favourite board on Pinterest