Le Cordon Bleu short courses in culinary arts are great experiences in Paris. Learn how to make pastries, breads, sauces, desserts, and more. The ingredients and utensils are provided and you can take home what you make! Here's what the experience is like.
Le Cordon Bleu Culinary School
Le Cordon Bleu is a renowned International hospitality management, culinary school with its main headquarters in Paris; however, there are also schools in Ottawa Canada, Madrid Spain, Istanbul Turkey, the United States, the United Kingdom, and many international locations.
Movie and book lovers will recognize the name Le Cordon Bleu as the school that Julia Child studied at in real life and in the movie, "Julie and Julia". In the movie, "Sabrina", Audrey Hepburn's character attended the school as well. A chef's experience training there was brought to light in the excellent book, "The Sharper The Knife, The Less You Cry" by Kathleen Flinn. It's one of my favourite books.
Those wanting to become chefs attend Le Cordon Bleu to attain a cuisine diploma such as the Diplôme de Pâtisserie, Diplôme de Cuisine, or Grand Diplôme. If you don't want to endure the 9-month program (or the €48,700 cost) of the Grand Diplôme, or just need to get a cuisine certificate or want to upgrade your skills, you can opt to take shorter, continuing education courses and programs.
For example, there's a Diploma in Gastronomy, Nutrition and Food Trends that lasts 3 months and a Nutrition and Health/Gourmet Cuisine course that is for 4 days.
The culinary school also offers gourmet short courses in a wide variety of cuisine, pastry and breads classes that cost between €90-€990. These day courses (practical, hands-on, or demonstration classes) last from a few hours to 4 days and are available in Paris and many other Cordon Bleu locations around the world.
10 Of The Most Interesting Short Courses At Le Cordon Bleu Paris
The short courses are perfect if you aren't in Paris for a long period of time. There are many types to choose from and these are 10 that sound the most interesting. I've provided more insight into the first class as it is the one I took:
1. The Secrets of Macarons (2 hours)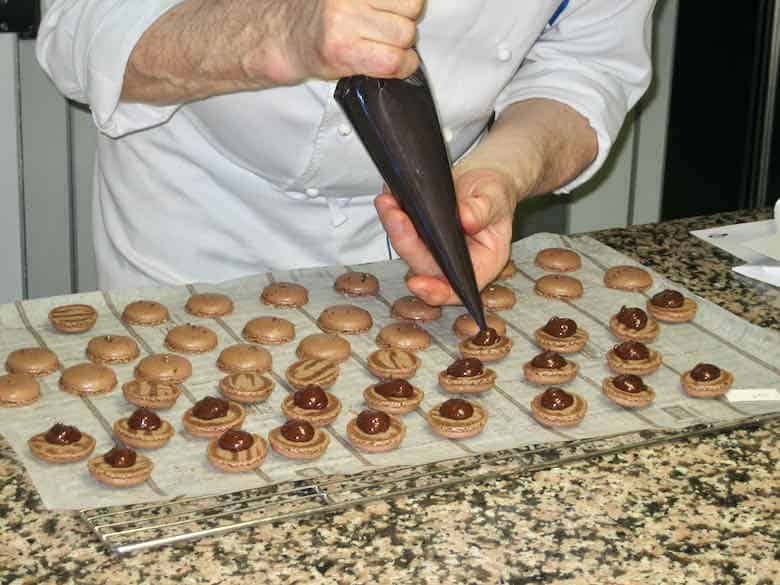 I took a version of this class where we made 1 flavour- dark chocolate -over about 3 hours. The class offered today is slightly shorter (2 hours) but you still have the option to make raspberry or chocolate, depending on the class you sign up for. I took the class at the original location on rue Léon Delhomme. In 2016, they moved to a brand new location in the 15th arrondissement.
(a) What Are Macarons?
Macarons are sweet meringue-based cookies made with ground almonds, egg whites, and icing sugar and filled with various ganaches. They are not to be confused with "macaroons", which are coconut and entirely different.
(b) The Macaron-making Class And Experience
When you read my post about making these dark chocolate macarons, using the recipe I got at Le Cordon Bleu, you'll see that the process to make them is precise and can be tiring. Whisking the egg whites for a long time uses muscles you don't usually work out, but the entire experience is a lot of fun and memorable.
You really appreciate the effort and skill needed to make these delicious treats that can cost 2-3 Euros each in patisseries. In this cooking course:
There were about 12 students (note: I see they now have class sizes at about 16)
I was given an apron and tea towel that I took home with me.
An ingredient list (English and French) was provided to each student. All measurements were in grams or millilitres.
The steps and techniques were not listed. Part of the learning meant that we were responsible for writing down the recipe and making notes of important tips that we learned (ie. don't add too much food colouring as it adds more liquid). So, when I got home, I immediately transcribed my notes into my own recipe as I was scared I wouldn't remember what my scribbles meant!
All of the ingredients were already measured, and the utensils were laid out in front of me at my workstation.
Instruction was from Cordon Bleu Chef Pâtissier, Daniel Walter, who was assisted by an English translator. He explained each step of the recipe and demonstrated the techniques. Then he circulated to help students.
It was a relaxed, fun experience and I collaborated with other students for some of the steps.
At the end of the class: each student had made approximately 40 macarons—-to take away!
Here is the recipe and the "secret" techniques I learned: dark chocolate macarons. They were invaluable for making "perfect" macarons!
Note: A longer, 5.5-hour Macaron Workshop is also offered. you make 4 flavours of macarons (ie. praline, raspberry, intense vanilla, and dark chocolate).
2. The Secrets Of Eclairs (2.5 hours)
What does "éclair" mean in English? A flash of lightning.
Why call this pastry an éclair? Because you'll be eating it "in a flash"! And in this class, led by a pastry chef, you'll learn to make flavours such as intense dark chocolate, raspberry and vanilla, or more unique flavours like lemon and basil.
At your work station, the chef will demonstrate and then you will apply the techniques learned to make the choux dough, the filling and the top icing.
3. My First Yule Log (2 hours)
Want a class that you can do with your child? This class is perfect as children and their parents learn together. It's a pastry lesson where you learn the techniques for making the traditional chocolate yule log. It looks like this is just a demonstration class as there is another Yule Log Workshop (for adults only) which I assume has the practical component to it.
4. Traditional Breadbaking and Freshly Baked Pastries (4 days)
You can understand why this is the most expensive course (almost € 1000) and why you need four days to cover all the content. Check out some of what you'd be making:
Baguettes
Croissants
Brioche
Fougasse
Spelt breads
Buns with mixed grains
Spinach sandwich bread
Country bread with walnuts and figs
Small milk breads
Kouglof
Chocolate rolls
Almond cakes
5. Les Petits Cordons Bleus Workshop (2 hours)
While I don't have kids, this course for children aged between 8-12 definitely caught my eye.
Le Cordon Bleu has stated that they have taken safety needs into account when teaching children. Additionally, as children need a bit more guidance, there are assistants to help them after the chef has demonstrated the techniques and given his/her instruction.
The children create one recipe during the class. On the "menu" might be chicken fillet crumbed "Cordon Bleu", cookies and muffins, or Hallowe'en cupcakes. And at the end, they get to take home their creations.
6. The Art Of Making Sauces and Jus (5.3 hours)
There is a one-day and two-day course where you can learn the cooking techniques to make modern and traditional sauces and jus such as béarnaise sauce, pepper sauce, beurre blanc, or aioli. Many French dishes are best accompanied by sauces, such as Steak Frites. I had the great pleasure of ordering steak that came with 3 sauces: Bérnaise, Bordelaise, and Graine de Moutarde. Check out this post on Ordering Steak Like The French as it also includes a PDF with the recipes.
7. The Art of French Cuisine – Provence Or Brittany (5.5 hours)
I think if you wanted just a course on French cuisine, you'd need a lifetime, so I like how these two focus on the regional cuisines of Provence or Brittany where you learn about the region and prepare a 3-course meal.
The list of Provencal recipes for a current class included Sardinian fregola with preserved lemon, semi-dried tomatoes, and fried black olives; oven-baked John Dory à la Provençal, and a lemon tart.
The list of Breton recipes includes crab soup, "Caribbean" scallops, and Brittany flan with apples and rum macerated prunes.
8. The Art Of Cooking Like A Chef (5 hours)
This class is part demonstration, part tasting, and part practical. The Cordon Bleu cuisine chef shows the techniques used to make garnishes, sauces, starters, main dishes, and desserts. It is followed by a tasting and practical application where you create one of the dishes that had been demonstrated, such as chicken fricassee.
9. The Secrets Of Chocolate (2 hours)
I love chocolate, especially dark chocolate with roasted almonds! In this course, you'll learn about the cocoa bean and how to properly prepare the chocolate. You might make a dark chocolate bar and mediants (which look like puddles of chocolate with nuts and dried fruit) or Brittany shortbread that has caramel and milk chocolate.
10. Food And Wine Pairing Workshop (2.3 hours)
This is a demonstration workshop where the sommelier creates two courses (ie. pineapple tomato burrata and rack of lamb) and teaches participants about the importance of selecting the right wine for one's dishes.
A culinary arts short course at Le Cordon Bleu in Paris should be an experience to consider when visiting Paris. Game to sign up? Better do it fast because, with class sizes maxed at 16, classes fill up quickly. You need to book well in advance. You are offered an apron, tea towel, and cooler bag when you take a class. [Note: can't make it to Paris? Be sure to check out the Cordon Bleu International course offerings. There might be a campus in your neck of the woods].
If you're looking for more ideas about what to do and see in Paris or France, check out the "Top 100+ Unique Experiences In France".
Le Cordon Bleu Institute: 13 Quai André Citroën (15th arr.)
Pin to your favourite board on Pinterest.