**Contains Affiliate Links**
I spent 12 days in Menton and Nice just as the Coronavirus outbreak occurred. While my plans changed, I was still able to visit unique sites and do excursions to nearby towns like Monaco, Biot, Saint Paul de Vence, and Antibes. I chose to travel to the French Riviera in late February so that I could attend the Fete du Citron (Lemon Festival) in Menton. It was running from February 15 until March 3 and I was scheduled to be there during the last week of the festival.
Itinerary Modified To 12 Days In Menton and Nice
Unfortunately, hours before I was to fly to Nice, I was informed that due to public health concerns (that became Covid-19) in nearby Italy, the rest of the Fête du Citron would be cancelled. No daytime or evening parades, no fireworks, no garden light displays, etc. It was very disappointing news. Things were out of my control and my plan was to enjoy my time in Menton and Nice before heading to Sicily.
However, I cancelled my trip to Sicily due to the Coronavirus outbreak in Italy. After much consideration, I just added on one extra night in Nice before heading home.
Almost every day, especially in Menton, I would have a lemon dessert or treat (like Limoncello). Menton is surrounded by lemon and citrus groves and therefore it is the perfect place to indulge in anything lemon. Check out my post about 6 pastries I enjoyed in Menton (pretty much one per day): Turning Lemons Into Lemonade: Enjoying Menton During Coronavirus.
Weather in February and March was mixed….averaging 12° Celsius with sun and cloud. I only had one day of pouring rain. The one thing I wished I had brought? Another sweater. While I had a raincoat and puffy jacket, having another sweater would have been nice, especially at night. I ended up buying one in Menton.
Feb. 27: Arrival in Nice/Menton
Weather: Cool and cloudy (13° C)
I flew into Nice and took a bus located at Nice airport to Menton (22 €). While more expensive than taking the train, this was much more convenient (taking the train would have required a transfer into town to get to the station). The bus drop-off was at Casino, in the centre of town.
Stayed in lovely Airbnb on the 7th floor that had views facing west. Here is a link: Apartment With Balcony In The Centre Of Menton
Feb. 28: Exploring Menton and Cap Martin
Weather: Sunny (16° C)
First impressions of Menton: one of the most beautiful towns in France- yellow/orange front buildings, by the sea, lovely architecture
I walked all over town, first to see how much I could see of the Fête du Citron sculptures in the Jardins Biovès (located just across the street from the casino). As they are fairly large, the tops rise quite a bit over the fencing, so I was able to get some good photos.

Walked to port and promenade, Plage des Sabletttes and Plage de Fossan, the two major beaches in Menton
Walked to Cap Martin, passing Roquebrune-Cap-Martin. It took around 35 minutes and was 3 km one way. Lots of photos along the way.
Feb 29: Old Menton And Jardin Exotique Val Rahmeh
Weather: Sun and clouds (11° C)
Walked up to the Basilique Saint-Michel Archange

(only open at certain hours), and Cimetiere du Vieux Chateau and garden to get excellent panoramic views of the coast and town
Visited Marché des Halles—the indoor market—where I purchased fresh fruit and my first Tarte au Citron from Au Baiser du Mitron.
Visited Hotel Adhémar de Lantagnac, which is the former mansion of the administrator of Monaco and now a historic monument and museum exhibiting lots of posters about the lemon festival and its history (all in French)
There are lots of stores in Menton including a small Galeries Lafayette. It's not a small town, but it has a small-town feel in certain areas.
Enjoyed taking the free, electric bus, "La Navette" in Menton. It circles the city and has many stops including the harbour and train station.
Visited Jardin Exotique Val Rahmeh (Exotic Botanical Garden of "Val Rahmeh"). Stay tuned for an upcoming post about this most interesting garden.
March 1: Menton's Palaces
Weather: Cloudy with spitting rain on and off (11 degrees C)
I walked to the northwest area of the city where the Winter Palace and Riviera Palace are. I went there because both buildings looked like historic monuments. They were constructed in the early 1900s and were designated "Historic Monuments" in 1975 and "20th Century Heritage Buildings" by the French Ministry of Culture and Communication in 2001; however, they are no longer buildings that you can visit and tour.
These were hotels and residences used by wealthy members of the English and Russian aristocracy, especially in the winter, where the weather was much milder. Throughout its history, as well as two world wars, both hotels were used to accommodate military officers, commando units, and even a school.
Eventually, they were sold off and today they are private residences where you can buy an apartment. Interestingly, many of these apartments seem to be available on the Booking hotel site.
March 2: Menton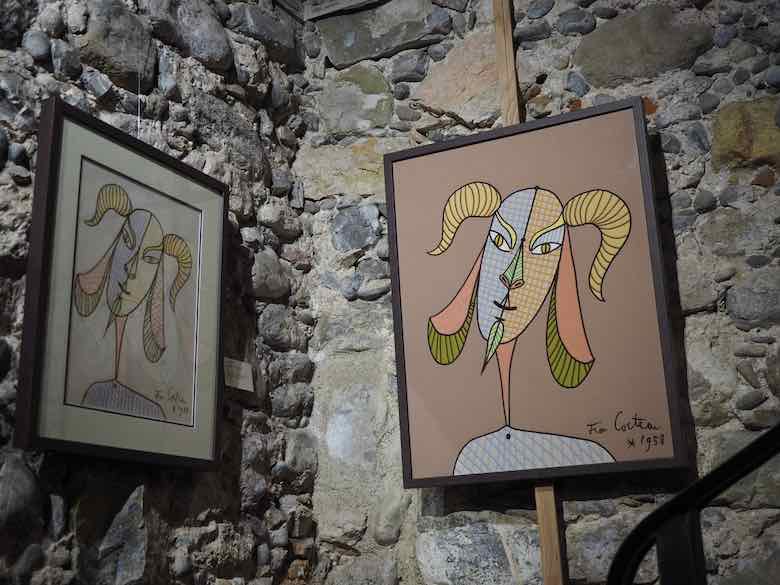 Weather: Pouring rain (13° C)
Jean Cocteau Museum-Le Bastion
Visited the Jean Cocteau Museum-Le Bastion located at the fort on the harbour. The main museum, The Jean Cocteau Museum/Séverin Wunderman Collection was closed due to a major flood that occurred during a severe storm in 2018.
Lunch at "Little Italy Restaurant"
This restaurant gets very good reviews for its pizza, pasta, and fresh fish, so I ordered the King Prawns. it came with vegetables and potatoes. With a 25cl pichet (carafe) of wine and "Tarte Tatin Tiède et sa boule vanilla" lunch came to 37 €.
Nighttime photography by the harbour. Definitely do this.
March 3: Menton and Monaco
Weather: Sunny and cool (17° C)
Menton
Just before lunch, I was finally able to visit Salles des Mariages. I had tried to get in the day before, however, it was booked for a wedding. Located in the City Hall salon where marriages take place, there is a nominal entrance fee of 2 € to get in. The clerk took me to the room and turned on an audio recording presentation (in English) which described what the murals were about. The artist was Jean Cocteau. She left me there to spend as much time as I wanted.
Monaco
Before heading to Monaco by train I picked up an Eclair Citron Meringue from Delices Cafe (3 €). A return train ticket is only 4.6 € and takes 13 minutes. It had been over 10 years since I had last been to Monaco and it was for a very short time. I spent all afternoon wandering around the city: beginning with the gardens overlooking the casino and then by the waterfront for views of the harbour. Unfortunately, there is a lot of construction going on, particularly in front of the casino, so one doesn't get good photos. Behind the casino is much prettier.
Lunch At Eat Me
Eat Me is a vegan-friendly, organic restaurant (7 avenue de L'Hermitage). It's known for its smoothies and Buddha bowls and fresh ingredients. Located not far from the casino, the staff were very friendly and the prices are not quite as high as some other restaurants nearby. I highly recommend this place where I had the special of the day: salmon with quinoa and split peas plus a glass of wine (23 €). As the weather was so nice, I was able to sit outside.
Jardin Exotique de Monaco
After lunch, I visited the Jardin Exotique de Monaco (Exotic Gardens of Monaco) which is a botanical garden with lots of succulent plants. It's an interesting place to explore as it is located on a cliff and you get excellent views of the Mediterranean and harbour. Unfortunately, entrance to the "grotte" (cave) was closed.
You can also visit the Museum of Prehistoric Anthropology on the property. It is small, however, it has many artifacts and shares information about cave discoveries in other places (ie. Chauvet-Pont-d'Arc cave in the Ardèche).
I walked quite a bit in Monaco including down to the palace. I have seen the changing of the guards in the past and have wandered through some of the streets where there were a lot of tourist shops. It was fairly quiet as it was early March but nothing had really changed in all those years since visiting.
March 4: Menton Town And Basilique Saint-Michel-Archange
Weather: Sunny (15° C)
Much of my time back at my apartment was trying to figure out if I should go to Italy or not. Check out the factors that helped me navigate the change of flights and cancellations and how I didn't lose a ton of money with these changes.
The day was spent visiting boulangeries and patisseries and finally got into the Basilique Saint-Michel-Archange. It was built in 1653 and is undergoing major restoration on the outside. You can certainly tell based on the clean, colourful walls. You get really nice views of the harbour from the courtyard, but even better ones from the cemetery (located much higher up).
March 5: Moyenne Corniche, La Turbie, Saint-Jean-Cap-Ferrat, Beaulieu-sur-Mer
Weather: rain (11° C)
Moyenne Corniche Drive
I was disappointed that the day I was to travel from Menton to Nice it was raining. My journey was to take me along the Moyenne Corniche…the road that is on a cliff with great views of Eze, Monaco, etc. I should point out that it is not easy to stop along this route. There aren't many safe shoulders where you can pull over.
If you're familiar with the movie, "To Catch A Thief" with Cary Grant and Grace Kelly, there is a scene where they drive on the Grand Corniche through La Turbie where I stopped for a few photos. Princess Grace was killed in a car accident just outside of La Turbie in 1982. If one is driving too fast, particularly around corners, or if your brakes aren't working (supposedly the problem with Princess Grace's car) I can see how you could easily go over the cliff.
Many years ago I had visited Eze and the Jardin Botanique d'Èze, another famous botanical garden on a cliff with panoramic views, so I didn't need to stop there on this trip. Had the weather been better, however, I might have.
Saint-Jean-Cap-Ferrat
Villa Ephrussi de Rothschild
Villa Ephrussi de Rothschild which has beautiful gardens, musical fountains, and an impressive villa by the sea is the star attraction in Saint-Jean-Cap-Ferrat. Stay tuned for an upcoming post about this must-see estate. Read about the 9 themed gardens and villa here: A Winter Visit-The Gardens And Villa Ephrussi de Rothschild.
Beaulieu-Sur-Mer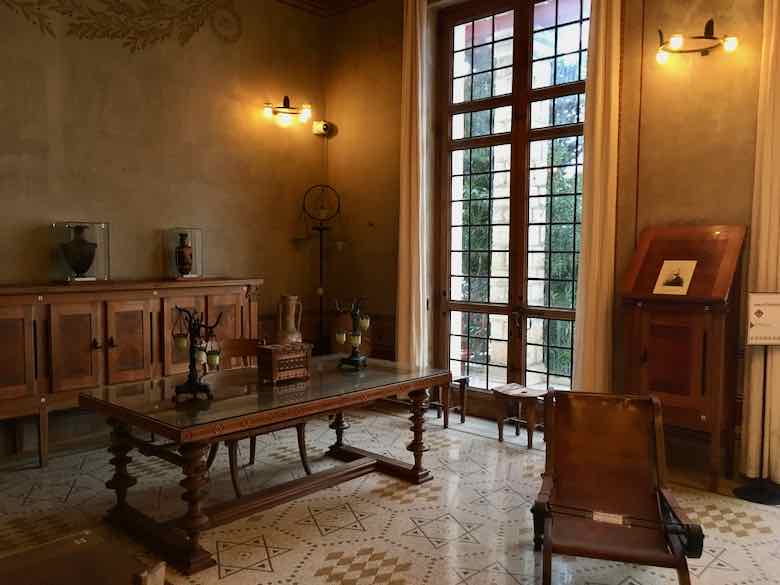 Lunch At The African Queen
After spending a couple of hours at the Villa, I headed to Beaulieu-sur-Mer to have lunch at the African Queen. Friends had recommended this place and while there is an expensive menu, the restaurant also serves pizza. It's a rather elegant place but very friendly with attentive service.
I had a delicious pizza called, La Toscane. It was a large pizza (for one person) with tomatoes, goat cheese, mixed cheeses, San Daniele ham, basil, dried oregano, and dried tomatoes. I added a (really bad) side salad, which was basically iceberg lettuce with oil and vinegar. Don't get it….especially when it's 6 €. With a glass of white wine and a coffee that came with some interesting candies (ie. black licorice), the bill came to 41 €.
Villa Kerylos
After lunch, I walked around Beaulieu-sur-Mer and Villefranche-sur-Mer; however, with the rain and it being early March, it didn't look like much was happening. I did visit Villa Kerylos in Beaulieu-sur-Mer. It is located on the peninsula with beautiful views of the sea and it was built for Theodore Reinach in the early 1900s. Reinach was a French archaeologist and politician and he was able to have a luxurious Greek villa recreated for his family. He wanted to show others how the rich Greeks lived—impressive frescoes, tiles, and furniture. I kept thinking, "Wow, he had TOO much money. How wasteful." Get the audio guide to learn more about his story and his mansion.
I arrived in Nice and parked my car at a car park near my Airbnb in Vieille Ville (Old Nice). It really helped that I saved the location in Google Maps and used that to direct me to it seamlessly. Nice is a big city with a lot of one-way streets, so having a route already mapped out saved me time and headaches. (Overnight parking was about 22 €.)
I checked into a great Airbnb for 4 nights. I was absolutely thrilled with the location because it was right in Vieille Ville which is all pedestrian and quiet at night. Here is a link: Apartment in the heart of Nice, at the gates of Old Nice
March 6: Saint Paul de Vence, Vence, Haut de Cagnes, Nice
Weather: Sunny (14° C)
I have had too many instances where I cannot find the drop-off location for my rental car and am often searching for it for ages. This time I found the exact spot (a block away from the rental office) and put the coordinates into my Google Maps. This saved me a TON of time. I then visited the following towns before heading back:
Saint-Paul-de-Vence
A visit to Fondation Maeght- a most remarkable modern art institute. It is perhaps my favourite museum in France that highlights works by artists such as Marc Chagall, Joan Miró and Alberto Giacometti. In March, the town of Saint-Paul-de-Vence was pretty dead and in the summertime it is packed with tourists, but with shops open it reallly is a beautiful village.
Vence
Chapelle du Rosarie. Sadly you cannot take photos inside where there are stained glass windows by Matisse. For more about my visit (and where else you can't take photos, check out this post: French Sites Where No Photos Are Allowed-More Reason To Visit.
Haut de Cagnes
The Grimaldi Château-beautiful town and views from the Château…as well as very 'interesting" parking. If you decide to go, you better read up about the parking.
Nice
Nice's Iconic Symbol: La Chaise Bleue -There are blue chairs everywhere in Nice, starting with a line of blue chairs along the boardwalk in Nice that goes along the Mediterranean Sea. Head there at night to get great photos of La Chaise Bleue sculpture.
March 7: Nice
Weather: Sunny (16° C)
This was my 4th time in Nice and although I had been on the Promenade des Anglais (boardwalk along the Sea) and other places in town 12 years ago, many things had changed. I was really impressed with the wide open spaces and how the city planners had designed the town. I liked Nice much more than I had in the past. It seemed cleaner, friendlier and certainly had many restaurants, stores and everything you'd need.
Cours Saleya Market
One of the great spots to visit in Nice is the Cours Saleya food and flower market in the Old Town (Vielle Nice). The antique market (Barché à la Brocante) is held Mondays and the fruit, vegetable, and famous flower market (Marché aux Fleurs) is held Tuesday to Sunday.
Comptoir du Marché
Right across the street (or pedestrian way) from my Airbnb is Comptoir du Marché, a highly rated restaurant where I had their set menu. It's a small restaurant and if you're considering going there for dinner, make reservations. My lunch consisted of:
warm baguette came sliced and presented in a paper bag with olive oil and olives

house terrine. It was very good. Not dry and it came with slices of warm baguette topped with bruschetta.
white wine by the glass
codfish with mashed potatoes, broccoli, onions, swiss chard (?) in a "sauce beurre blanc". The fish was moist and very tasty
dessert: a light chocolate mousse-it was airy and they used a dark chocolate
Cost of lunch: 29 €
National Marc Chagall Museum
To walk off my lunch I headed to the National Marc Chagall Museum, which holds the largest public collection of works by the artist. Located on Cimiez Hill in Nice, the highlight is seeing Chagall's bright and colourful stained glass from the doorway to the auditorium. Unfortunately, you can't go inside that part of the museum. The rest of the museum has examples of his sculptures, drawings, mosaics, and paintings. There is a free audio guide and it's worth a visit, taking about half an hour to walk there from Vielle Ville (2 kilometres).
From there I walked to the Chateau (2 kilometres), but it was getting late and the gardens were going to close, so instead, I headed to one of my favourite place, Place Rossetti for a glass of wine. A musician played some of my favourite music on his guitar. Even though it was March, it was pleasant enough to sit outside.
Place Rosetti For Wine Or Ice Cream
Place Rosetti is a big square with restaurants and the BEST ice cream parlor in Nice, Fenocchio. I went there twice to have ice cream. The ice cream, gelato, and other desserts are high quality and fabulous. Definitely worth putting on your list.
March 8: Biot And Antibes
Weather: Sunny (11° C)
I took a train to Antibes. It's relatively cheap (9.6 € return) and only a 30-minute ride from Nice. Unfortunately, having no sense of direction, I got off 1 stop too early. I wasn't paying attention and saw "Antibes" but it wasn't the central Antibes station. It was "Gare de Biot-Antibes Est". A trip from Nice to Biot was on my list, just not in this way.
Medieval Town Of Biot
Biot is known for bubble glass and I'm so glad I visited La Verrerie de Biot—an interesting factory with a showroom and opportunity to buy some of its famous glassware.
Antibes
Picasso Museum
I walked back to the Biot train station and while I could have jumped on the next train, I really wasn't sure I was allowed to (in view of getting off too early). So I purchased a one-way ticket to Antibes. It was only 1.4 €. I hadn't been to Antibes in over 35 years where I visited the harbour and the Picasso museum and on this trip I saw a bit more.
The first place I visited was Musée Picasso. Besides the ceramic plates, there was only one sculpture that I recognized from my first visit. It's called "Tete de Femme". Throughout the small museum that was once the Chateau Grimaldi, there are photos of Picasso as well as many of his sculptures, drawings, and paintings.
Le Nomade au Bastion St. Jaume
A walk along the coast from the Picasso museum towards the harbour will take you to Port Vauban and the Bastion Saint-Jaume fort. Overlooking the waterfront is "Le Nomade au Bastion St. Jaume", a sculpture by Spanish artist Jaume Plensa.
I actually saw this sculpture (or a very similar one) in Bordeaux in 2013 and the one in Antibes is now in its permanent home. It's a beautiful sculpture made out of metal of a sitting person with his/her knees up. Close up you realize the sculpture is made of connected letters. You can go "inside" the human and take photographs of it and the Mediterranean. It's one of my favourite sculptures.
I didn't have time to visit the Fortress, Fort Carré d'Antibes, which closed at 5:30 pm, so I headed back to Nice and walked along the Promenade des Anglais again to see the sunset.
March 9: Nice And Villefranche-sur-Mer
Weather: overcast (12-14° C)
Due to the Coronavirus outbreak, I had cancelled my excursion to Sicily, changed my flight home from Nice and just added one extra night in Nice, near the airport. You can read about how I was able to make changes and not incur exorbitant fees in this post: Getting Home From France During Coronavirus: Time And Money-Saving Tips From My Own Experience.
I dropped off my bags at Bag Boys (very close to Place Rosetti) so I could walk around unencumbered. They only charge 8 € for the day. I walked around town for a while. Some of the highlights:
Nice
Musée du Palais Lascaris
You could easily walk by the Musée du Palais Lascaris on 15 rue Droite and that would be a shame because there are beautiful fresques (wall murals) on the ceilings. Musical instruments are the featured attraction in this former 17th century palace but I didn't have time to visit this museum; however, you can get some idea of the frescoes from the entranceway.
Place Massena
Place Massena is a large square in the centre of Nice that was built in the mid-1800s. With the addition of the tramlines, the area is spacious and has the park, Promenade du Paillon on either side of the square. The whole area is very family-friendly with a playground and gardens. It even has a still and sparkling water fountain.
From Place Massena, you can walk down Avenue Jean Medicin and on either side are well-known chains such as Sephora, Galeries Lafayette, and H & M. But it is the area just northwest of the area on rue Massena and avenue Verdun where you will find the higher-end shops like Chanel, Max Mara, Hermès, and Cartier.
Lunch at Panoi
I had a wonderful Vietnamese lunch at Panoi. They make the most delicious pork bao (called a bao burger) with 5 spices and offer side dishes like soup, potatoes, or rice. I had the bao plus a small bowl of soup (11 €). Super friendly service and fresh ingredients used. The restaurant also specializes in bubble tea.
Address: 52 avenue Jean Medecin
Villefranche-sur-Mer
By train
When I visited Villefranche-sur-Mer earlier in the week, it was pouring rain. As it's a short train ride and I had the time, I thought I would try again to see the town that everyone was raving about. So, after lunch, i took the train there (3.8 € return). If you go, it's "Destination: Vitimille" (also known as Ventimiglia, Italy).
Sights In Villefranche-sur-Mer
The narrow streets, steep staircases, and lovely views of the harbour make Villefranche-sur-Mer a very picturesque village to visit. I walked around the old town and the famous rue Obscure, which everyone kept talking about. I was unimpressed with this 430-foot underground street that was built in 1260 for military personnel. Sure, it has a history of spies and commerce and perhaps if it hadn't been off-season I would have seen more "action".
Unfortunately, Chapelle St. Pierre was closed as it was Monday. Many say it is worth the visit because the murals created in this 14th-century church by artist Jean Cocteau in 1957 are outstanding. His frescoes are scenes from his movies as well as Saint Pierre's life (he was the patron saint of fishermen). The Chapelle is located right on the waterfront, opposite the Welcome Hotel. There is a 3€ entrance fee and photos are not allowed.
I have to admit I wasn't overly impressed with the Villefranche-sur-Mer. I think it's because it was March and there weren't any tourists. There were a few shops open, but many of the cafes were closed. Perhaps the town would be even more attractive with more people and businesses open. I was, however, very happy with the panoramic photos I took from the roadway high above, earlier in the week.
Nice
Nice: Airport Hotel And Dinner At L'Horizon
After only a few hours there, I returned to Nice to pick up my bags and take the Tram #L1 to get to my hotel, located near the airport. The Ibis chain of hotels is really good, especially the Ibis Styles brand. They are a little higher quality than the ordinary Ibis hotels and this one included an excellent breakfast and free shuttle to the airport.
ibis Styles Nice Aéroport Arenas
The only place open for dinner was in a restaurant located behind the hotel. It was called L'Horizon and seemed like a restaurant that locals frequented. I was pretty impressed. 2 glasses of wine, and fish was 32 €. Perhaps more restaurants would have been open had it not been a Monday night.
Pin to your favourite board on Pinterest