Photos bring back happy memories. Fondation Maeght is perhaps my favourite museum in France because it was the first museum that introduced me to modern art. Since that first visit in 1978, every time I see a painting or sculpture by Joan Miro or Alberto Giacometti in particular, I feel joy and happiness.
**Contains an affiliate link**
Saint Paul de Vence-Fondation Maeght
Fondation Maeght is located just 30 minutes northwest of Nice in Saint Paul de Vence. The town is known for its cobblestone streets, art galleries, and boutiques. Not far from the centre of town is the most renowned modern art museum in the world. It was designed and built in 1964 by Aimé Maeght and his wife Marguerite Maeght, who were art dealers with connections to some of the most famous artists in the world.
Those connections paid off because they were able to exhibit sculptures, paintings, stained glass, ceramics and mosaics by celebrated 20th century, international artists such as Marc Chagall, Joan Miró, Alberto Giacometti, and Fernand Léger. The Fondation Maeght has become one of the premier museums in the French Riviera, although the Maeghts said that this was not a museum. They said it was a place to "present modern and contemporary art in all its forms while their artist friends could come there to work and exchange as much as to exhibit." Their art gallery is like no other.
The two artists who figure prominently at Fondation Maeght are Joan Miró and Alberto Giacometti and since my first visit in 1978 I have admired their art and continue to enjoy seeing exhibitions of their work in various museums in France.
Exhibit Areas At Fondation Maeght
When you enter the grounds, there is a large sculpture garden and chapel. You then enter the building that was designed by Spanish architect, Josep Lluís Sert. It is in a natural setting surrounded by gardens and pine trees on a hill overlooking Saint Paul de Vence. Light streams through many of the areas which house permanent and temporary exhibitions. Finally, behind the building are courtyards with terraces filled with unique themes, sculptures and frescoes.
Sculpture Garden (Jardin de Sculptures)
At the entranceway to Fondation Maeght you'll see a mosaic on the enclosing wall which was created by Pierre Tal-Coat. In front of it is Le Pepin géant-sculpture by Jean Arp. As you approach the main building, there are various murals and sculptures and a chapel with stained glass.
Here are some of the highlights in this area:
Les Renforts
An abstract sculpture that is free-standing by Alexander Calder.
Les Amoureux
If you zoom in, you'll see that this is actually a mosaic. It was created by Marc Chagall in 1963.
La Fontaine
A fountain with moving parts, by Pol Bury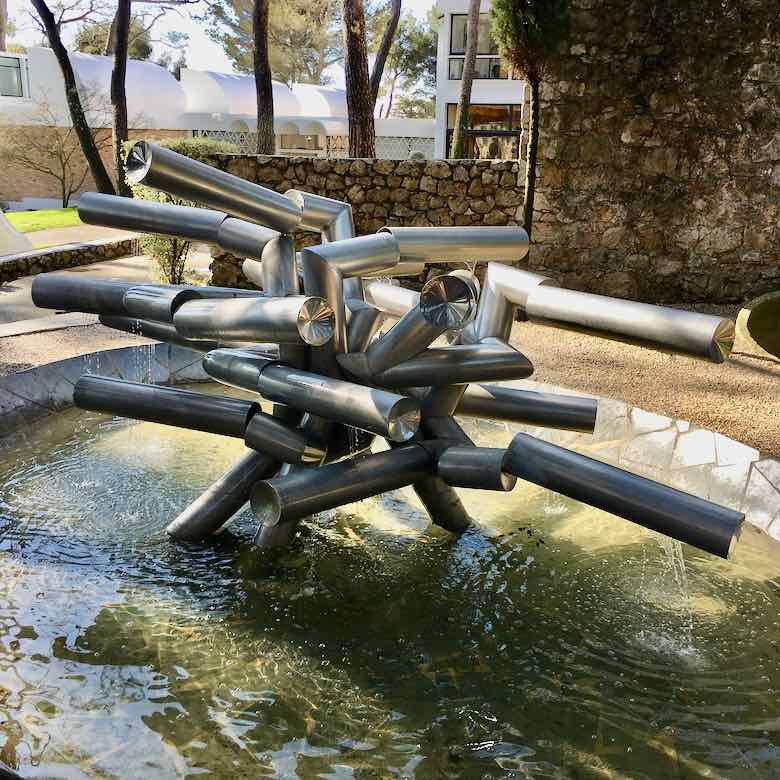 La Chapelle St. Bernard
Adjacent to the sculpture garden is a small chapel. Inside, if you don't look up you'll miss the stained glass, "La Croix et le Rosaire by Raoul Ubac and "Oiseau mauve et blanc" by Georges Braque.
Entrance To The Maeght Foundation Building
It is because of my visit to Fondation Maeght that I have been a fan of the work of Catalonian artist Joan Miró (1893-1983) who spent a great deal of time in Paris. Whimsical, bright, colourful and happy. Those are the words that come to mind when I see Miró's work. I have visited various Miró exhibitions in France- at the Musée Paul Valéry in Sete (2014) and at the Grand Palais in Paris (2019). Certainly, the most impressive works (ceramics, sculptures, and paintings) I have seen have been at the Fondation Maeght. These three are all by Miró.
Before you leave the Sculpture garden, there is a pool with two Miró sculptures (above), both called, "Personnages".
Inside The Maeght Foundation
In different rooms, you will see Miró paintings and sculptures. Miró created two stained glass works of art and one is at the Fondation. This one, with deep blue, yellow and green colours (and accented with black and red) represent half women and half birds. The other stained glass is in Senlis, France.
The Miró Labyrinth
The highlight of the Fondation is "Le Labyrinthe Miró", a whole area on three terraces devoted to his sculptures and ceramics. When you leave the building, much of the area behind is devoted to Miró's work.
Les Gargouilles (The Gargoyles)
L'Arc and La Fourche (The Fork), and Le Disque
Oiseau Lunaire (Moonbird)
L'OEuf (Egg)
Giacometti Courtyard (La Cour Giacometti)
This area in the back of the building has bronze sculptures by Swiss sculptor and painter, Alberto Giacometti: The Walking Man (L'Homme Qui Marche) and Standing Woman (Grande femme).
After Giacometti's death in 1966, many of his sculptures achieved artistic and financial success. Sculptures similar to the ones at Fondation Maeght sold for record prices. L'Homme Qui Marche I sold in 2010 for over $104 million; Grande Femme Debout I sold for over $14 million in 2000; Grande Femme Debout II sold for over $27 million in 2008.
Getting From Nice To St Paul de Vence
There are two options you can take and both require that you have a car. The route from Nice to St. Paul de Vence is straightforward. You could take the autoroute (A8) westward and then the M336 and D436 roads heading north all the way. It will take you about 25 minutes.
Another way is to go through Cagnes-sur-Mer. Château Grimaldi is in the medieval village of Hauts-de-Cagnes (top of Cagnes-sur-Mer) and is worth visiting, especially for the views. You could stop there on the way to or from Fondation Maeght. The route from Nice takes about 30 minutes. Take the M6007 westward along the coast and then north on M36 to the old town.
Fondation Maeght
Saint Paul de Vence is totally different (and less crowded) in March compared to the summertime, when it can be very crowded. It's an artist's haven with many, many shops selling paintings, sculptures and other art pieces. You also get a lovely view of the valley. So if you're in Nice, do take a trip to Saint Paul de Vence and Fondation Maeght. It will be worth your while. The Fondation is privately funded and attracts over 200,000 visitors a year.
Address: 623 Chemin des Gardettes, 06570 Saint-Paul-de-Vence
Parking is free for two hours
Hours: September-June: 10 am-6 pm and July-August: 10 am-7 pm (Closed at 4 pm on December 24th and 31st)
Where To Stay In Nice
I highly recommend this Airbnb apartment that I rented in Old Nice. It was modern, spacious, and very clean and comfortable. It was just across the pathway (no roads in this part of Old Nice) to an excellent restaurant called "Comptoir du Marche". The Airbnb owner was a Superhost and responded quickly to questions. Apartment at the gates of Old Nice.
If you're interested in other museums in France which focus on modern art, check out the optical illusions at Fondation Vasarely Museum in Aix-en-Provence.
Pin to your favourite board on Pinterest