Build A 13th Century Castle From Scratch? Yes, At Château de Guédelon
One of the most remarkable tourist attractions in France is the construction of Château de Guédelon. It is a "new build" of a 13th-century castle using only the materials and techniques from the middle ages. Let that sink in.
Not a reconstruction. Not a restoration. It's like you're back in the middle ages. No electric tools. No bulldozers. No boxes of nails were purchased from a hardware store. Instead, there are blacksmiths, stonemasons, tile makers, and rope makers, and everything is created from scratch using medieval techniques.
The story behind its creation and how they're actually constructing the castle in the same ways they did 800 years ago is incredible. It is a work in progress that began approximately 25 years ago. I've wanted to visit Guédelon for years and finally did in May 2022—-in the nick of time as the completion date is anticipated to be 2023.
**This post contains an affiliate link. If you make a purchase through the link, I get a small commission at no extra charge to you. It helps support the running of this website and I do appreciate your help.**
A. The Château de Guédelon: Medieval Castle In The Making
1. Visionary And Creator Michel Guyot
Michel Guyot is a French entrepreneur who has owned and restored a number of castles in France including Château de Saint-Fargeau. After successfully restoring it, Guyot had the idea to construct a new castle, located not far from Saint-Fargeau using (very) old methods. Co-founder, Maryline Martin became general manager and site manager and Guédelon was born in 1997.
2. Location Of The Castle
An area in the Guédelon forest was chosen because it could provide all the natural resources needed to create this new, old castle. This was important because the chateau would not have trucks to transport in the materials from far distances. It would only have human labour and horses. Guédelon was the name chosen for the château due to the forest and nearby lake.
3. Proposal And Funding
After gathering design ideas from other châteaux, getting advice from experts, and drawing up plans for his castle Guyot presented his proposal to the local Treigny commune for approval. At the same time, he formed a scientific committee comprised of historians (art and architectural) and archaeologists and solicited funding from the European Union, various levels of the French government, and business corporations. Initially, 400,000€ was raised to start the château. The plan to build Château de Guédelon was approved in 1997. Today the castle is entirely self-financed from ticket sales and revenue from the restaurant and gift shop.
4. Construction Begins In 1997
When the first stone was officially laid, on June 20, 1997, a time capsule of sorts was also buried beneath the stone. It contains parchment and a 10 franc coin from 1997….just some proof that this castle looks like it's from the 13th century, but in fact is from the 20th and 21st centuries! The site opened to the public in 1998 and by the end of that first year had 65,000 visitors. Today it attracts over 300,000 visitors annually.
You may see Guédelon listed as Chantier Médiéval de Guédelon. This is the place. "Chantier" means worksite or construction site. It is often referred to as an "experimental construction site".
B. Self-Guided Visit To Guédelon Castle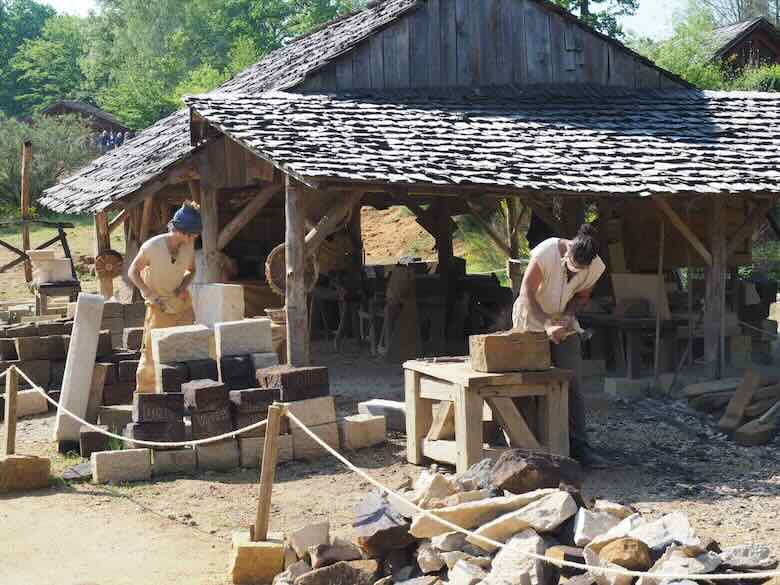 1. French Tours
The most difficult part about understanding how the construction is being done has to do with the vocabulary. My background is not in construction, architecture or building and there are so many words related to these professions. When I visited Guédelon, there were only French-speaking tours. So you can understand how trying to understand a tour guide who is speaking about construction only in French was close to impossible!
I was given an English pamphlet that indicated where the key areas were. There was also a 15-minute English subtitled audio-visual presentation in one of the workshop areas. It was followed by a Question and Answer period, but that was in French.
2. Demonstrations
When you visit, keep in mind that demonstrations are not "scheduled" because the work required at the château changes throughout the day and weeks. It all depends on what's on the docket for the day. Every day and every season is different. So that's why it is advisable just to wander around the site, talk to the workers (who are in period costumes), and perhaps return a little later to an area you might be interested in (ie. tile making).
3. "Guédelon: How To Build A Castle…the story so far"
I purchased the excellent booklet, "Guédelon: How To Build A Castle…the story so far" and it was invaluable in helping me understand how they are building this château. I will not inundate you with all the project details or construction terminology (ie. corbels, arrow loops, voussoirs, and tracery windows!). Instead, I'll share some interesting things I learned about the materials, equipment, and labour used to construct the castle.
C. How Was Guédelon Designed?
The most remarkable things about the construction of this castle have to do with how they can actually build something using tools and technology from the 13th century.
1. Influence From Philip II, King of France
Philip II, also known as Philippe Auguste (1165-1223) was King of France in the 12th and 13th centuries and was instrumental in increasing the size and influence of the country. During a period of prosperity, many fortresses and castles (ie. Louvre Castle) were constructed. It's no surprise that Philip II was also known as the "Builder King".
For Château de Guédelon, the work progresses in real-time, so 1997's start date corresponds to the year 1228. 2018 corresponds to the year 1249, and so on. So, if things are on schedule, the castle will be completed by the year 1253 (2023).
2. Using 13th Century Castle Features
It was natural that Guédelon would be designed as a 13th-century château—reflecting such a golden period in French history. The "best" features of 13th-century castles would be implemented into Guédelon and nearby Château de Ratilly was used as the model for Guédelon.
Joining Guyot and Martin on the project team was Jacques Moulin, who was the chief architect of Historic Monuments (ie. estate of Versailles), and master-mason or master-builder, Florian Renucci.
The castle would have:
curtain walls in a quadrangular shape (a curtain wall is an exterior wall connecting the towers)
cylindrical towers in each corner (where one is the chapel and one is a pigeon loft)
a main gate and a postern (rear) gate
a dry ditch to surround the castle
The first few years were spent simply clearing the land of all the trees, setting the foundations of the castle, and then constructing the perimeter walls and cisterns. The site covers 7 hectares (about 17 acres). In this area, the plan was to not just have a castle, but also a village with workshops to make the supplies (ie. stonecutting, tiles, baskets).
3. Experimental Archaeology
The construction of the castle is a learning process. The engineers and workers need to constantly learn about medieval techniques and then figure out how to use them in construction. The concept is called, "experimental archaeology". Guédelon's motto is, "Build To Understand".
As the exterior walls were being constructed, one of the first things that needed to be constructed were cellars and cisterns. Back in the middle ages, if a castle was under attack and surrounded, how would the occupants survive without food and water? A cellar in the basement was created and 2 cisterns were constructed to collect rainwater.
D. 7 Interesting Facts About Guédelon's Construction
As mentioned, Guédelon is situated in the Guédelon forest which also has a quarry. Almost all the natural materials are there to construct the castle: earth, ferruginous sandstone, limestone, wood (oak), and clay. Here are 7 interesting facts about how the castle is being constructed.
1. Fictitious Guilbert de Guédelon
If you're going to create a 13th-century castle, complete with a chapel, kitchen, lord's chambers, and guard's rooms, you would also need to have a fictitious lord who wanted this château created in the first place.
Knowing the lord's social and economic status and position in the feudal hierarchy influences the type of castle that can be built. So Lord Guilbert Courtenay—Guilbert de Guédelon was created.
Lord Courtenay was a noblemen and vassal (feudal tenant) of Jean de Toucy, who was Lord of Saint-Fargeau. Courtenay had money but not enough to make a large castle with a moat. His marriage to Jean de Toucy's niece did help as it brought him a dowry which included more land and property (ie. mills). As a result, he ordered the construction of Château de Guédelon—a more modest castle with a big ditch surrounding the property.
2. Squirrel Cages
One of the most interesting pieces of equipment at Guédelon is the "Squirrel Cage" which enables mortar, timber, stones, and other materials to be hoisted up to the top of the castle to construct the roof, ramparts, or the 3-metre thick walls.
It is literally like a cage a squirrel or hamster would go in—a treadwheel winch where a stonemason either turns the wheel or walks inside the wheel to move the crane up and down. Two workers can lift hundreds of kilograms of mortar just using the squirrel cage and in a typical day, 6 tonnes of materials are moved. It is said that a worker can walk 7 km in one day, simply walking on the treadwheel.
3. Stones And Tiles
Click the next image to see the instruction for making a tile.
You won't see power drills used by banker masons on limestone slabs! [A banker mason is a stonemason who does the final carving or shaping of the stone]. Just chipping, chipping, chipping.
And in the tile-making workshop, it will be continuous banging, banging, banging on clay, much like making bread. The work is tedious (and loud) and when you realize they're making thousands of tiles, you appreciate how difficult the work is. 4000 tiles alone were made and fired in a medieval kiln to make the floor of the Great Hall, 6000 tiles for the antechamber, and tens of thousands of tiles were used to make the roof.
4. Colours And Accents
While one thinks medieval times are all grey and dark, this château will have some colour. Forget store-bought paint and stained-glass windows, however. The colours in the château are made from pigments prepared on site (ie. hematite and ochre) but there aren't any glass windows. Glazed windows were used in religious buildings but not in châteaux. Therefore, parchment is coated with linseed oil and alcohol to give it a translucent look.
Many decorations, including floral motifs, frescoes, mural paintings, and friezes are also being added to the walls, especially in the bedchambers and chapel.
5. Baskets
During my visit I met a basket maker. At first one thinks that she is producing it for commercial reasons but in truth the wicker baskets replaced the very heavy wooden buckets and troughs that were initially used to transport mortar. After doing some research on construction in medieval times, the researchers ascertained that the baskets would be much lighter and just as strong in carrying the cement.
6. Hottest Job On Site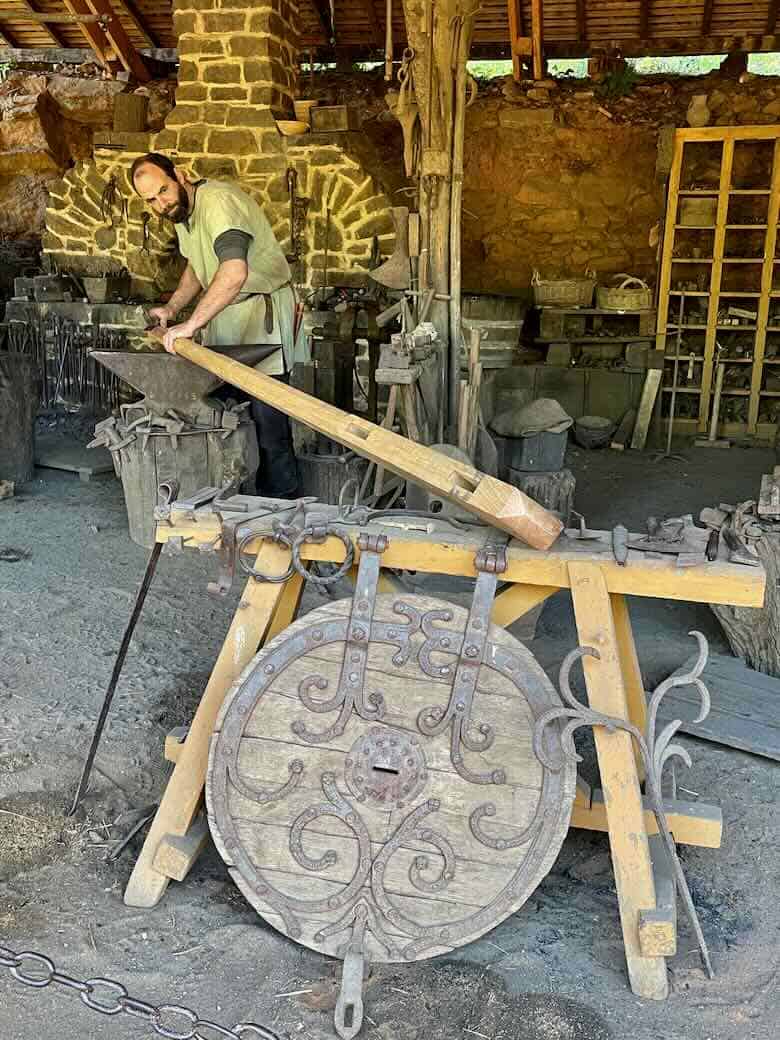 The blacksmith's work began from the start of the project as everyone (ie. stonemasons, woodcutters, carpenters, etc.) needed tools. 7,000 forged nails alone had to be made for the oak shingles on a roof. It is a tough, hot job where they're forging metal up to 1200° C to make nails and hinges. For soldering metal, the temperature needs to be 1300° C. In 2001 the fixed bridge used 667 nails and wood from 57 oak trees.
7. Only 35 Construction Workers Plus Volunteers
In the beginning, in 1997, there were just 5 staff members-Maryline Martin, a carpenter, a 2 stonemasons, and a builder. And there were only a handful of volunteers.
Today, 70 people are employed at Guédelon where 35 work on the site from March to November—a number of them are from other countries (ie. Canada). And they are all outfitted in 13th-century costumes. There are some modern-day safety requirements such as the wearing of hard hats or harnesses when necessary.
How can they get so much work done with only 35 construction workers? Besides being a tourist site, Guédelon is a place of education where 11 different trades are at work. On-site learning takes place here: masonry, woodcutting, rope making, tile making, carpentry, and stone carving. There is a large contingent of volunteers and students—-those who are on work placements or want to contribute their expertise to this venture.
Here's an amusing animated clip explaining how Château de Guédelon came to be (click the image to be directed to the Youtube clip):
Getting To Château de Guédelon
After a week in Paris, I rented a car and headed south, stopping at Château Vaux-le-Vicomte for a few hours and then driving on to Saint-Amand-en-Puisaye where I stayed the night (at La Bicoque en Puisaye). I chose this town because it was very close (less than 10km) to Guédelon which I visited the next morning. The Château de Guédelon site is located near the town of Treigny in the Bourgogne-Franche-Comté region of France (Burgundy).
Château de Guédelon
Address: D955, 89520 Treigny-Perreuse-Sainte-Colombe
Open April 2-November 6, 2022: open daily in July and August. Closed on some Tuesdays and Wednesdays in June, September, and October.
Entrance: 14 € (save 1€ if you buy your ticket online)
Notes:

How much time should you give yourself to visit? 3-4 hours
Visit Guédelon For The Day By Bus: for the first time in July/August 2022, you could get a transportation/entrance ticket on Wednesdays for 49 €. A coach would take you from Paris (Bercy bus station) to Guédelon, leaving at 8:00 a.m. and returning to Paris around 9:00 p.m. Hopefully this new venture will be repeated in 2023.
Pin to your favourite board on Pinterest.