If you're a wine lover and can't make it to a vineyard, do this, but just don't do it the way I did. I visited two wine bars in Bordeaux on the same day (during my Trip #35 to France) and while I highly recommend both, just don't do both of them on the same day. It's just too much wine and cheese for one person to handle!
Wine Bars In Bordeaux
Not surprisingly, there are numerous wine bars in Bordeaux, and selecting the right one can be difficult. The two that I visited were complete opposites from one another in terms of ambiance and presentation, but both were great: one was hip, modern, and elegant, and the other was down-to-earth, cozy, and a bit rustic. So much for pacing oneself; however, c'est la vie!
Le Bar à Vin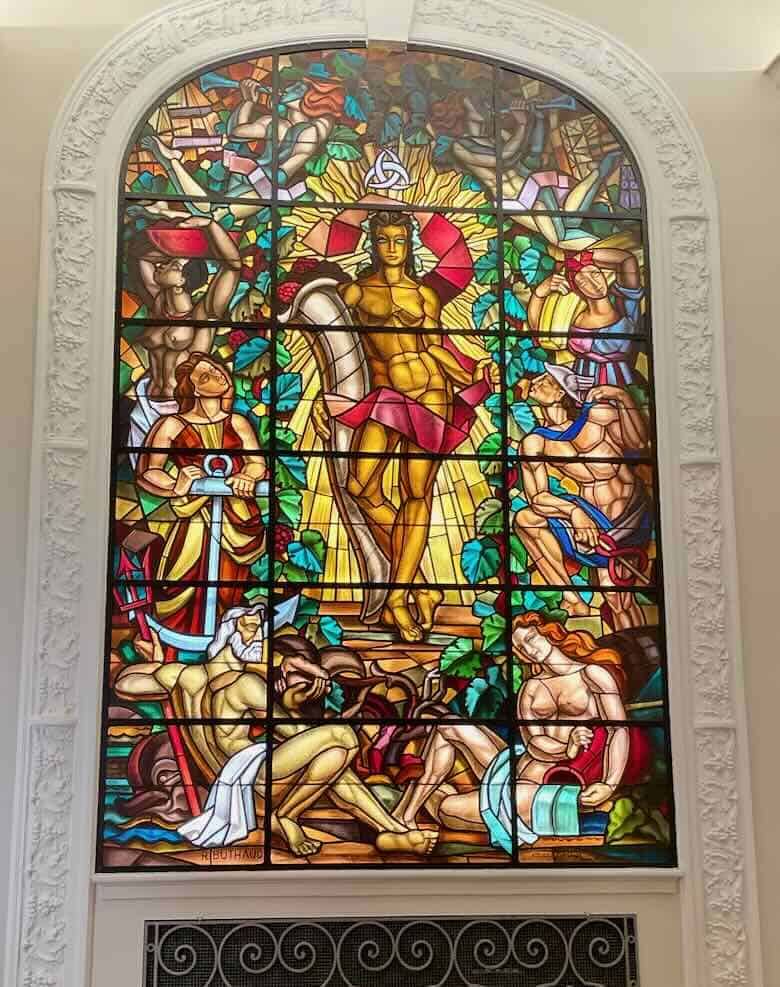 Le Bar à Vin is a very popular, hip place to sample wines at reasonable prices. It opened in 2006 and was designed by architect Françoise Bousque, in the 18th-century building where the Maison du Vin de Bordeaux (and headquarters of the Bordeaux Wine Council) resides.
There was a short lineup to get into this beautifully designed wine bar. A lot of thought was put into the contemporary interior design that also incorporates neoclassical. Two grand stained-glass windows by René Buthaud bring color to this setting with images of grape harvesters at the Garonne river and the Greek god of wine, Bacchus.
In addition to a terrace, there are seating areas located in different alcoves throughout the bar. My tasting was in a side room that had its own separate bar. I was seated in a comfy armchair and my wine was served on a low table.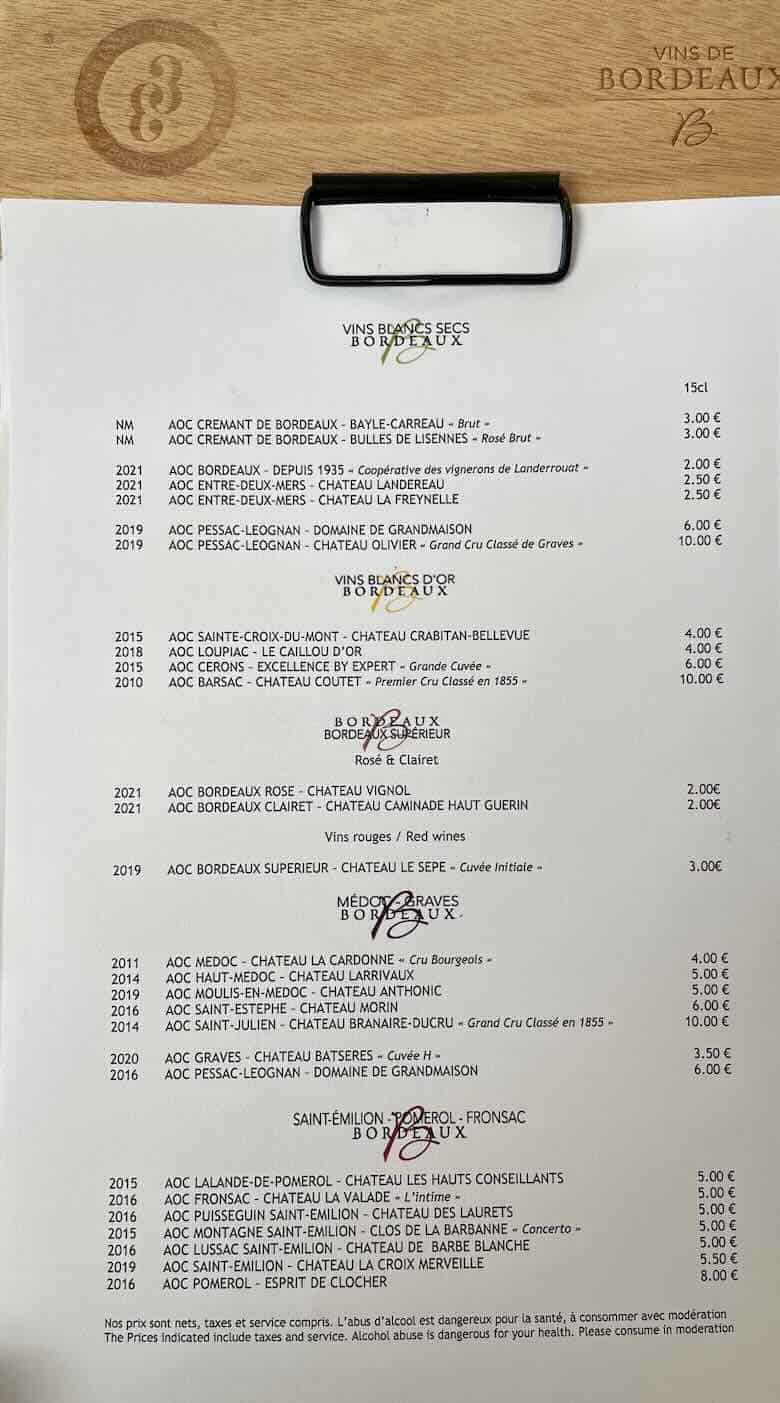 Over 30 local Bordeaux wines are available—reds, whites, rosés, clairets, and sparkling wines—and they are only served by the glass; however, the prices are reasonable, which was rather surprising as this place is fancy and elegant. If you zoom in on the photo you can see that the price ranges from 2€ to 10€ for a glass of wine. And you can taste your wine accompanied by cheese, chocolate, or charcuterie plates. The price ranges from 6€ to 15€.
With a glass of 2016 AOC Fronsax Chateau La Valade L'Intime, I had a mix of cheese and meat:
Saint Nectaire
Cantal
Tomme de Savoie
Viande des Grisons (Swiss dried beef)
Rosace Coppa
Le Bar à Vin: 2 glasses of wine and a cheese plate-18.5 €
Address: 3 Cr du 30 Juillet, 33000 Bordeaux
Bistrot des Frérots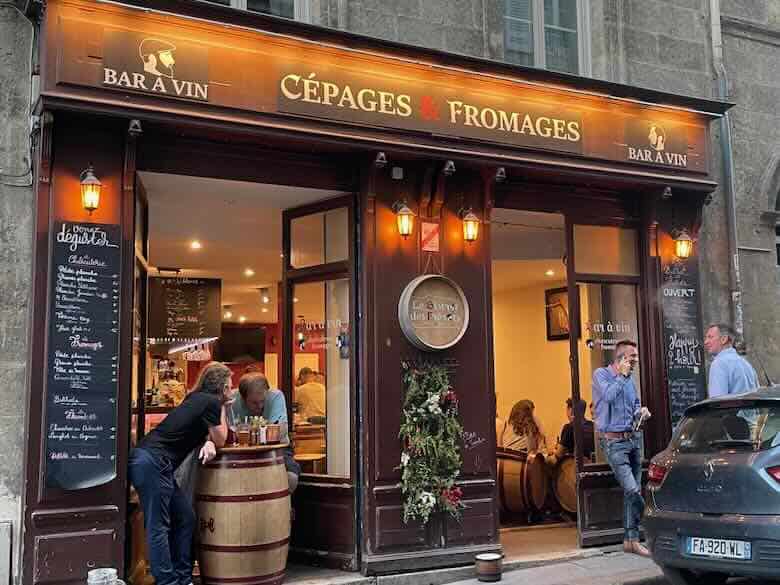 This wine bar is more down-to-earth and definitely not flashy, but it is cozy and authentic. It is run by 2 brothers who really know their wines and cheese. The staff are very friendly and will help you select the right wines to suit your tastes. You can order wine by the glass or bottle and accompany your wine with cheese or charcuterie plates.
It's a very unpretentious place—maybe even rustic— with wine barrels and wooden stools throughout the small bar. It feels like a place where locals would hang out. Prices are reasonable (wine: 4€ to 5.90€ per glass; cheese or charcuterie plates: 7€ to 24€ ) and the wine list changes constantly.
I had a glass of Château Gauthier (Medoc) wine (5.5€) that the waiter recommended and one of their cheese plates—petite planche de fromage—5 kinds of cheese (12€):
Pont l'Evêque
Langres cheese
Bethmale vache from the Ariège Pyrénées
Chevre de Touraine
Comté-aged over 36 months
Bistrot des Frérots: 1 glass of wine and a small cheese plate 17.5 €
Address: 23 Rue Piliers de Tutelle, 33000 Bordeaux
If you're really into wine or even brandies, be sure to visit La Cité du Vin in Bordeaux. It's a great interactive experience with wine tasting at the end of your self-guided tour. The Calvados Experience in Pont-l'Évêque, Normandy is also a worthwhile tour to take. You'll have a multi-sensory experience learning all about the importance of apples in this region and how Calvados brandy is made with a tasting at the end.
Have you been to any wine bars in Bordeaux that you'd recommend?
Pin to your favourite board on Pinterest