Impressive Castle Ruins: Château de Lagarde In The Ariège
I don't believe in ghosts. BUT, I really thought I saw a ghost. I had been walking along the side of Château de Lagarde in the Ariège department and I swear I saw something move on top of one of the towers. I shook my head and wondered, "Did I see something peering down at me or was I imagining it?" I cautiously walked closer but didn't see anything. The tower was too high. This was the beginning of my introduction to a most unusual ruined castle.
Château de Lagarde (Ariège Department)
During my last trip to France, as I headed north to Carcassonne from Camon (one of Les Plus Beaux Villages de France), I decided to visit a French château that had been almost completely destroyed during the French Revolution but has retained enough of its design to be very impressive. I have a thing for castles and don't care if they are in pristine condition or in ruins—as long as the architecture is interesting.
Château de Lagarde is located in the village of Lagarde, 7 kilometres southeast of Mirepoix. The silhouette of the castle ruins can be seen from far away and it has quite a commanding presence overlooking the valley below and it is a worthwhile tourist attraction.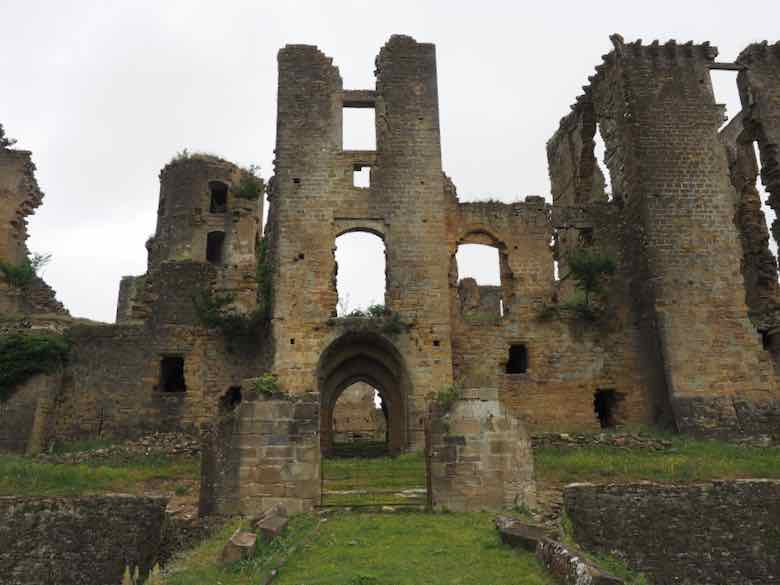 A Ghost In The Ruins?
After paying my admission, I was left on my own to explore the property and château. You can't go inside because it's too dangerous. There are lots of crumbling structures. Only the exterior walls and towers remain, so you do a circuit around the outside and you can get various views of the inside.
It was at the beginning of my visit that I had my first hallucination sighting. There was absolutely no sound. It just seemed like something was moving from on top of the tower. I continued to make my way down the path, looking at the impressive remains of this 700-year-old medieval castle. Look at the next photo carefully!
When I turned the corner, I discovered my apparition had actually been a goat on top of the tower! He/she was in a herd of goats (OK, well 4 that I could see). They had been grazing throughout the castle and how they got to the top of the tower I'll never know! There is a moat and fence, so there is no way they could get out. I guess the owners have decided to use this area as pasture. So, no ghost(s). Just goats.
History Of Château de Lagarde
With that bit of excitement over, I was able to concentrate on the ruins and some of the signposts which gave information about the castle. The château's design changed with each new ancestor taking over its ownership.
Château de Lagarde began as a medieval fortress. The original castle was constructed on this site in the 11th century; however, there are no signs of the original fortress.
It is not until the 13th century that Guy I de Lévis is given the title of a feudal lord and in the 14th century the family built a castle on the hill near Mirepoix. Originally the castle was designed in a quadrangular shape with five square towers. But sadly, construction stopped as Francois de Lévis died. It wasn't until the 15th century that Jean IV altered the design and finally finished its construction. He wanted it to be better protected against attacks.
Jean's son continued the restoration of the fortress and incorporated more elements that are often seen in the châteaux of the Loire Valley, with grand staircases and a chapel.
In the 17th century, it is Louise de Roquelaure (the widow of a Lévis descendent) who adds terraces, statues, French gardens, and ponds that cover over 15 hectares. There is even a "Hall of Mirrors", much like what you would see in Versailles. As a result, the château is nicknamed, "Versailles des Pyrénées".
During the French Revolution, another Lévis descendent, Charles-Philibert was arrested and sent to the guillotine in Paris. The château was looted and some of the stones from the château were sold off. The rest was to be destroyed but it was not entirely demolished. It was converted into a stone quarry and warehouse and was eventually sold. Due to many years of neglect, it fell into ruin.
In 1889 the château was classed as a historic monument and in 1919 duke Antoine de Lévis-Mirepoix bought the château. He sold it in the 1980s to a private individual. Since then there is an association that works to preserve the castle and share its history.
Video Presentation And Displays
In the courtyard, there is a 20-minute video that provides more insight into the history of the castle with a 3D animated reconstruction. On the second floor of the main building, there is also a display of artifacts. The local association of Lagarde put together a detailed booklet (written in English) about the family history and evolution of the castle.
This video gives an aerial view of the château. It was filmed during the 2016 Tour de France. The link to the video is here: YouTube
Special Programs And Events At Château de Lagarde
In the summertime, there is much more activity at Château de Lagarde, with a "Marché Gourmand" hosted every Saturday evening in July and August. Grilled meats and other foods are sold by the owners and local producers and picnic tables are set up for eating although visitors can have their picnics on the grass.
On particular days from April to September, there are special events such as fireworks, "vide-greniers" (garage sales), Easter egg hunts, medieval fairs, and equestrian competitions. So if you can visit during one of those events, your visit will be even more interesting.
Address: 09400 Lagarde, Ariège
Admission: 4 € (Adults) and 1 € (Children)
Parking: Parking is in a field that is adjacent to the Château
Refreshments sold on site.
If you're interested in more places to visit related to medieval times and castles, check out these posts: Experiencing Medieval France, Cité Medievale de Conflans In Albertville, and Le Château des Baux de Provence.
Pin to your favourite board on Pinterest