What a rich experience I had taking French language and cooking classes at Ecole des Trois Ponts in France. Everything-all meals, classes, cooking, and interactions-were done in French. I had language classes in the morning and in the afternoon it was time to cook!
1.
Ecole des Trois Ponts, Roanne
This was my second visit to Ecole des Trois Ponts. I enjoyed my first visit so much that I decided to take a French language course plus add on a cooking component. It was in late April and the weather could not have been better. Afternoons, before the cooking started, were often spent in the courtyard where I would do my homework or read.
2.
French Language And Cooking Classes
Students From Around The World
There were a total of 10 students but we were divided up into ability levels for the language classes. The students were from all over the world: the United States, Australia, England, and Switzerland. In my class, there were just 4 of us plus the teacher. We really bonded and you often do when you are dealing with something challenging like speaking and comprehending French all day. The best part about my week is that I felt much more confident about my abilities to speak French. And it wasn't the wine that made it easier!
Pre-Assessment And Homework
I began the week with a short oral test on Monday morning. The classes began for 3 hours. I will readily admit that I made lots of mistakes in class. Oh well, that's the purpose of the course…to make mistakes, learn, and improve. We often had homework but it was geared to our interests (ie. write about one of your passions. Mine? France, of course). The homework had to have perfect grammar and pronunciation and was very good for improving one's vocabulary. The next day it was shared orally with the class.
Typical Class
One morning we had to spontaneously speak about the topic that we randomly chose (bunch of cards on the table). Then we had to answer questions from our classmates. The teacher would then tell us about the mistakes we made. While it might sound intimidating, we had reached the point of taking risks.
Laughter also helped us learn. We were comfortable making jokes (blagues) in French so we knew that we had really progressed. While we are tired by lunchtime, it is because we have truly taxed our brains.
3.
French Cooking Course
Our cooking classes started at 4:30 and for 2 3/4 hours we chopped, diced, stirred, and did everything to prepare the evening meal. There's was a whole new vocabulary with new French cooking terms. Our chef/teacher was Mickeal, who is a superb chef and teacher. He trained at Maison Troisgros, the famous 3 star Michelin restaurant in Roanne.
I found out that at dinner we would have to do a presentation on what we cooked and how we cooked it. A whole new French vocabulary!
We learned how to make mayonnaise. It was remarkably easy…just lots of whisking. We learned how to debone a rack of lamb ("desosser"). It was easy too.
The fish, on the other hand, was not so easy. We learned how to fillet a fish. I had some trouble. It was the fish, not me, that caused the fish to be massacred. Maybe I lost something in translation?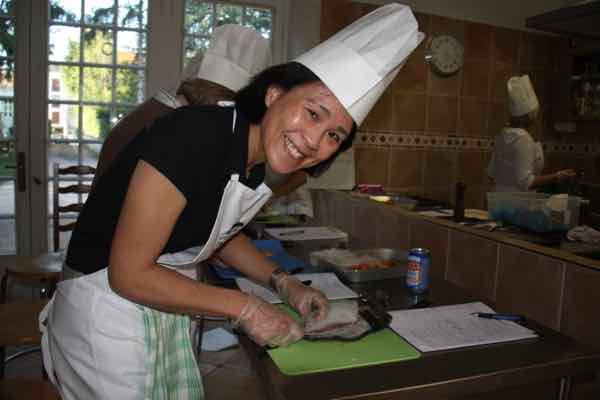 I won't even go into how much butter and cream we had been using during the week. According to Mickeal, those in the north (of France) primarily use butter. Those in the south use olive oil. Studies have shown that those in the north have more cardiac problems than those from the south. At this cooking school we were using both.
4.
Sample Menu
Here is an example of one of our menus:
Salade croustillante—Mesclan salad with carrots and smoked duck breast in a phyllo cup

Pave de boeuf aux 3 sauces (Bordelaise, Graine de moutarde, Bernaise)—slices of beef with 3 different sauces. You wouldn't believe how much butter was used.
Tarte Tatin—apple pie, my FAVOURITE!
Red and white wine
4 Cheeses
5.
Cheese Every Day
Every lunch and dinner had cheese. At dinner, the selection was varied, interesting, and delicious. I have never been exposed to so much cheese in my life and it was an education learning about the types and tasting the differences.
The picture above shows Mickeal, our chef, showing the regions for each cheese. Two students (a mother and daughter) are holding the "cheese puzzle map" which shows the different regions. Cheese is served after the main course with bread and (more) red wine before dessert is served.
The selection for the first four nights was as follows (the fifth night, the Friday, was a celebration party and there wasn't cheese):
Sunday: Le Maconais, Le Brillt-Savarin, Le Pont l'Eveque, Le Romette de Lucciana
Monday: Le Reblochon, Le Selles Sur Cher, Le Comte, Le Gaperon
Tuesday: Brie de Meaux, Lingot des Causses, Saint-Nectaire, Lavort
Wednesday: Fromage Blanc with sugar or jam
Thursday: La Buche de Boissy, Le MOrbiers, Le Munster, L'Epoisse
6.
Final Celebration Dinner
On our last evening we had a special celebration of "finger foods" and appetizers in small dishes. Many of the dishes were presented in shot glasses. Here's the list:
Savoury dishes in small glassware: Quail eggs with cream and chives, Madeleine with Roquefort, Crab roll, Cucumber and Smoked Salmon in a yogurt sauce
Sweet desserts in small glassware: Passion fruit crumble, Chocolate custard (really a mousse)
Eclairs et Chouquettes (pâte à choux) filled with vanilla cream
Plus, of course, the usual red, white and rose wines
Quite the week of intensive French–learning it in class and in the kitchen….all in French at Ecole des Trois Ponts! It was challenging but we really bonded as a group and even now, I am still in contact with some of the other students. It was an experience I will never forget.
If you travel to France do consider taking French courses to learn or improve your French just by taking language classes or by combining cooking classes. There's nothing like a learning vacation.
Here is a link to my post, What To Expect When You Take A French Immersion Course In France. I compare the French immersion schools I've attended in Paris, Riorges, and Montpellier by looking at the price for a week's course, the type of instruction, and the lessons taught.
If you can't make it to France, consider taking French lessons online. I did it and it kept me on top of my French language skills: 5 Reasons To Take French Lessons On Skype Or Zoom.
Ecole des Trois Ponts : French courses in France 645 Rue Maréchal Foch, 42153 Riorges, France
To get to the school from Lyon: take the train from Lyon's Lyon Part-Dieu train station that goes to Roanne. Once there, you take a short taxi ride to the school.
Pin to your favourite board on Pinterest