You have to come to Provence before you die. It will put a smile on your face, revive you and and help you put your life back into perspective. It is doing that for me. My stay has been blissful and it has only been a week. Granted it is my 6th time here, but I feel like it is home.
I have rented a gite/house in Murs, France, which is located just east of Avignon, for two weeks. I am determined not to "fill" each day with touring local towns and there are some spectacular ones you MUST see, particularly if it your first time. Even if it is your first time to Provence, try not to fill each day with "activities". The long drives to popular towns can be tiring and the beautiful thing about this region is that it allows you to "be in the moment" and enjoy peaceful living.
Provence is not the entire south of France; it is the area bordered roughly by Avignon, Aix-en-Povence, and Arles. For those who have never travelled to Provence, here are some of my reasons you should come: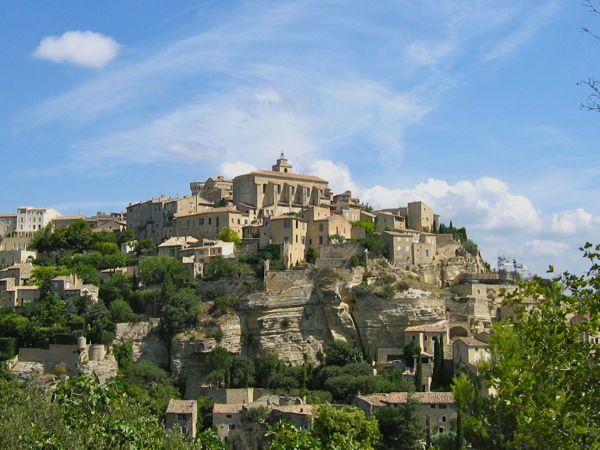 The scenery: lavendar and sunflowers. And I cannot get enough of looking at the beautiful towns such as Gordes and St.-Remy-de-Provence. When it is market day they are full of life.
The towns and Markets (large and small): St. Remy, Gordes, Isle-sur-la-sorgue, Apt, Cavaillon, Bonnieux, Avignon, Arles, etc, etc. E

very day of the week there is a market in one of the local towns and some towns have markets twice a week

The Food: anything found at the markets, olives, tapenade, fish, strawberries, melons from Cavaillon, Lavender honey, fish, sausages, goat cheese, herbes de provence
The Wine: rose, Chateauneuf-du-Pape
While you could say, "But I can get those things in other parts of France!", you cannot get the sunshine and light that Van Gogh discovered when he was in this region in 1889. Everything seems so fresh and healthy. I am spending countless hours outdoors, hiking, walking and getting lots of fresh air.
Helpful Tips For Those Planning To Come To Provence:
Rent A Gite/House:
You will actually feel like you are LIVING in Provence vs. just visiting. You will likely be provided with some minimal supplies to start you off, such as toilet paper to last you a few days. You will need to go grocery shopping. Be prepared to dispose of your garbage in the local dump. There is no garbage pick-up here. Fortunately, they have bins for bottles vs. refuse. If your house has a washing machine most likely it will take 4 hours to go through a full cycle. Yes, I said FOUR hours. That's the European-style washing machine. Just be prepared
Small Towns
Don't expect the small towns to have people who speak English. Just warning you. Start practising your French.
Rent A Car:
This region is spread out and there is not much in the way of local transportation and be prepared for narrow roads. The roads are JUST wide enough for two cars. When a truck comes along…watch out! An on these narrow roads and in many small towns there aren't any street lights, so drive carefully.
Consider bringing or renting a GPS. You will need it. Many of the roads are N or D roads (not highways). When you do set up your GPS, you might consider changing the language to French. I could not stand the poor pronunciation of roads by the English speaker!
Grocery Stores:
The visit will be quite the experience. Unbelievable amounts of dairy. I met a couple from Vancouver who were debating what type of yogurt to buy. I joined in the conversation as we could not find much Greek yogurt nor could we find yogurt that was low in fat, The French just don't care. We decided we would not care either. The grocery store will have an enormous amount of meat, fish, and wine especially if you are visiting a big store in Cavaillon or Avignon. Chains include Intermarche, SuperU, LeClerc. There is often (but not always) a boulangerie adjoining the grocery store; however your best bet is to buy your baguettes from the local bakery. If your town is REALLY small, like mine in Murs, the butcher might make a weekly visit. In Murs, the butcher from Gordes visits in his van every Friday at 4:30.
Cellular Reception:
Hopefully your house will have Wifi because the reception for cellphones can be spotty, particularly in the countryside (and a lot of Provence is IN the countryside)
June To August
More festivals and events seem to occur in June to August and the sunflowers and lavender come out in July and August; however, July and August can be extremely hot. Forget about air conditioning. You will be lucky if you have a fan. Even now, in early May, it is warm….21 degrees C and sunny. Lovely, and it feels like summer.