What Other Places In France Should You See?
Although you might have already visited France once or twice, it is a BIG country and there is so much to see. So what other places in France should you see? There are so many beautiful places in other parts of the world, but mix the scenery with French wine, the language, the food, and the culture….you'll be hooked like me. Here are 10 places in France to check out:
1. Étretat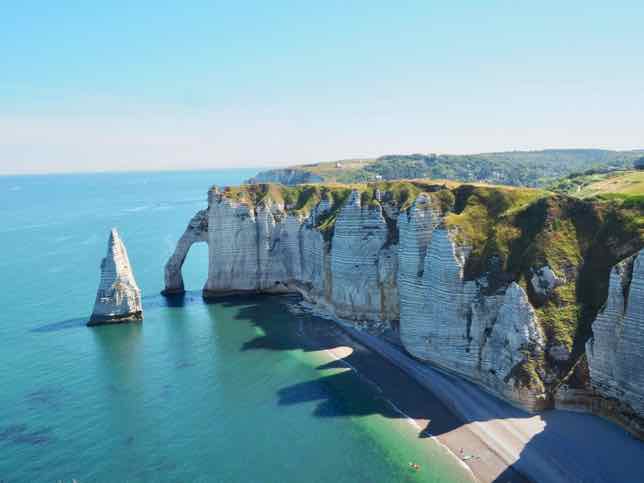 Since my last trip, Étretat has intrigued me because of the natural arches and cliffs. Étretat is located in north-western France in the Normandy region and although I've been to Normandy (ie. D-Day beaches, Domfort, and Caen), I haven't been finally visited Etretat and it was amazing! I was told that the best time to go is was May, June, and September but I went in July and it was perfect. Check out my post about Two Of The Best Ways To See The Cliffs At Étretat.
Why Visit? I love to do photography and want to see the stunning views of Falaise d'Étretat, which French author Maupassant wrote looks like an elephant.
2. French Alps: For Hiking
While I visited the French Alps years ago, it was simply to go up the cable car from Chamonix to Aiguille du Midi. At the intermediary stop, we walked around the area. It wasn't really "hiking" per se. We then went up the Mont Blanc Panoramique cable car to get to the Aiguille du Midi.
The next time I visit France (in July) I would like to actually join a group and do some serious hiking. I understand there are even opportunities to hike and stay in huts which are scattered throughout the area. The Chamonix valley offers 350 km of hiking trails and on the Chamonix tourist website there are also yoga/hiking adventures. Hmmmm!
Update: I had a great visit in the French Alps and you can read about my hikes and stay here: Tale of Two Hikes and My Escape To Chalet Savoie Faire.
Why Visit? To hike and see the spectacular mountain range.
3. Brittany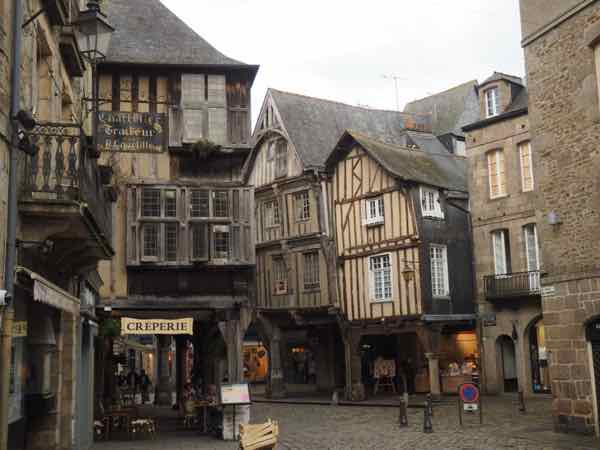 I have not now been to the far northwestern region of France, the Brittany area which includes towns like Saint-Malo, Nantes, and Dinard. The closest I got was Mont Saint-Michel (first picture). I really loved Dinan which had so many half-timbered houses. Check out my itinerary where I visited Brittany and Provence in June.
Why Visit? lovely beaches, a number of walled, medieval towns (citadelles) and festivals with celtic music and dance. There is also the Côte de Granit Rose where the rock is pink and stretches along the coast for about 30 kilometers. What a great area to indulge in seafood and perhaps rent a bike to explore the area, as it is fairly flat.
4. Corsica
Ajaccio, Corsica is where Napoleon was born and is a favourite vacation spot for the French as the island is so close to mainland France. Bonifacio is a commune on the southern tip of Corsica where there is an old town and citadel.
Why Visit: the citadel, hiking, limestone cliffs, and old town of Bonifacio.
5. Dune du Pilat (Sand dunes)
I only discovered recently that France has the largest sand dune in Europe, the Dune du Pilat. This should be on your bucket list as it is so unique. It's not too far from Bordeaux.
Why Visit: at the top (accessed via a staircase or actually climbing the dune), you'll be able to see the ocean and forests and I've read that the view from the top is breathtaking. I'd also love to visit France again just to try surfing down the dune!
6. Canal du Midi
It is one of the oldest canals still in operation located in southern France and was originally called the Canal Royal en Languedoc until the French revolutionaries renamed it Canal du Midi. It runs 241 kilometres from Sete on the Mediterranean to Toulouse. It is a UNESCO World Heritage Centre.
Why Visit: Like my visit to the Canal du Bourgogne in Burgundy, this was a great area to ride a bike along the canal. It would also be super to take a barge cruise which I understand is very popular in this area. Here's what my bike ride was like: Bike Ride Along The Canal du Midi From Carcassonne
7. Collioure
This seaside town is in the south of France, south of Perpignan and only 25 kilometres from Spain. It has a strong Catalan cultural influence and some compare it to Saint Tropez, but without the flash and high prices. I'm sorry I didn't have time to stop and stay when I was last in Spain. Update: I did get to visit in 2017 and here's my post on the sites I saw: 36 Hour Stopover In Collioure.
Why Visit: It's on the Mediterranean and is a lovely fishing village but also has an 800 year-old chateau, ramparts, and a waterfront that inspired Henri Matisse.
8. Moustiers-Sainte-Marie
This town is at the entrance to the Gorges du Tarn. There is a 225 meter-long chain suspensed between two cliffs and from the chain hangs a gold star. Legend has it that a famous Crusades knight vowed to hang a gold star in the town if he returned to the town after being imprisoned.
Why Visit: It is well known for its ceramics and pottery, especially faïence, and the gold star, of course.
9. Cordes-sur-Ciel
I guess I really like medieval towns, and the town was originally named Cordes until 1993 when they changed the name to Cordes-Sur-Ciel to indicate that the town was in fact high above, "in the clouds". It is located just 25 kilometres north west of Albi.
Why Visit: it's a hilltop town that sometimes appears to be floating on clouds. It has been named one of the most beautiful villages in France (Les Plus Beaux Villages de France).
10. Gorges du Verdon
The river canyon is considered the Grand Canyon of France and is located in south-eastern region where the limestone cliffs and medieval villages surround the valley.
Why Visit: drive around the rim, get great views, visit villages, hike, go horseback riding and kayaking
Check out my other posts for more ideas on some places in France to see: