A few years ago I was heading from Spain to France. I passed a popular town on the French coast just before I reached Perpignan and always regretted not stopping there. During my last trip, I finally make a stopover in Collioure and am so glad I did. It's a fishing village on the Mediterranean that is (sorry to use this word but it really does apply) "charming". But it has more than just "good looks". Here are some things you might enjoy if you visit (and you should).
**Contains an affiliate link**
The Background On Collioure
Collioure had been occupied by both the French and Spanish in the 1600s and 1700s because it was an important strategic location. Louis XIV took steps to improve the Château Royale de Collioure and Fort Saint-Elme as both fortifications were vital to the French. Those two fortresses still figure prominently in the town, one by the port and the other high on a hill.
Château Royal de Collioure
The Château Royal fortress is right by the harbour and unfortunately, when I was in Collioure, it was closed. One could walk up to the gate and walk around, but you couldn't go in. Perhaps another time.
Fort Saint-Elme
Do this. Take a hike up from the town to Fort Saint-Elme. It's easy and not like hiking in the French Alps. On your way up you'll keep thinking, "Wow. Nice view". But your reward is truly given when you reach the top. Fort Saint-Elme typically has exhibitions and on that day it didn't matter that it was closed as the weather was so nice and the view was excellent. From high above you can see the Moulin de la Cortina—another windmill in the south of France!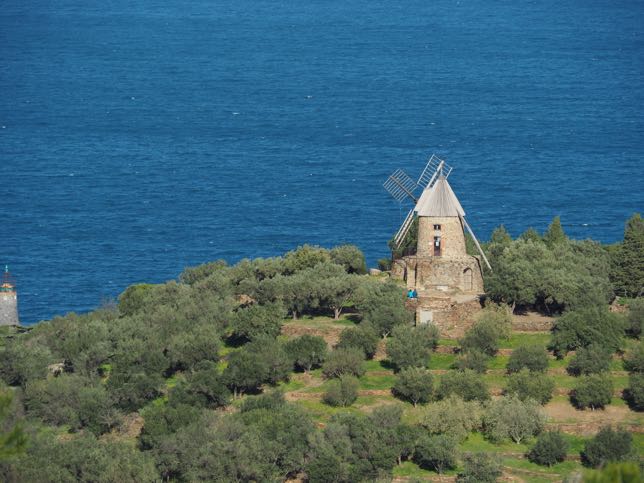 Town of Collioure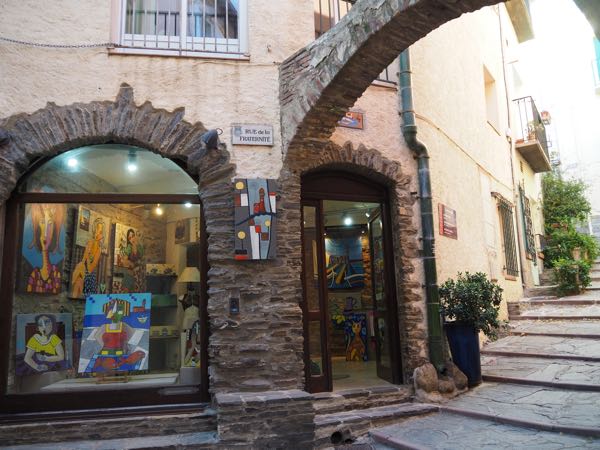 Today, when you walk around the small town, you will pass pastel-coloured buildings, cafes overlooking the port, attractive alleyways, and lots of restaurants and art studios. It's understandable why so many artists headed to Collioure; the light, the colours, and the entire town were great inspirations.
Artists Who Were Inspired In Collioure
French artists Henri Matisse and André Derain spent time in Collioure in the early 1900s and refined the Fauvism style of painting which uses vivid (and intense) colours. Matisse's most famous painting, "Open Window, Collioure 1905" is on display at the National Gallery of Art in Washington DC.
I knew nothing about Matisse and this short minute video by the BBC is very interesting as it discusses Matisse's painting in Collioure:
When you are in Collioure, consider taking the Collioure Chemin de Fauvisme which is a walking route around town where 19 reproductions of paintings by Matisse and Derain are shown in the place where they painted. Check with the tourist office as there is information about their guided tours.
12 Points 2 Vue
When I reached Fort Saint-Elme, I discovered one of the 12 "frames" that are scattered throughout the town and area. Marc-Andre 2 Figueres created these "12 points 2 Vue" sculptures that have steps. Once you climb up, you then discover. They help "frame" your view and provide a perspective for the photo you might take. I found some around the harbour as well. There are installations of this art in Paris and Andorra as well.
Harbour
Be sure to wander around the harbour and walk out past Église Notre-Dame-des-Anges de Collioure, see the lighthouse and Chapelle Saint-Vincent and then take a break by having a glass of wine by the water.
Spanish Influence
As a result of the Spanish involvement with Collioure and the town's close proximity to Spain (only 30 kilometres from the Spanish border), Collioure is greatly influenced by the Catalan culture. So what does this mean? More tapas on the menu and Catalan-inspired dishes (ie. fish)!
Your Visit To Collioure:
I had the good fortune to not encounter any crowds in Collioure but this is because I went in the off-season. The village is known to be very crowded in the summer as it is a seaside, resort town. If you decide to go in high season, book your accommodations well in advance and keep in mind that parking will not be easy.
We stayed at a super hotel which was ideally located in town and not far from the port or all the restaurants. Parking was also included. Here is a link to the property: Hotel Le Bon Port. [Note: as of January 10, 2021, this property is not being listed on the Booking platform. This might be due to the lockdown in France. Check the link anyways in case things have changed].
Map Of Key Sites In Collioure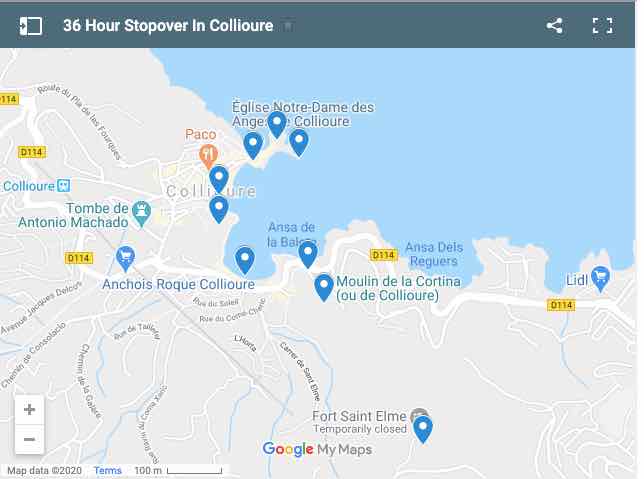 Click on the map or on this link and you'll be directed to a Google Map indicating all the places in this post.
Google and the Google logo are registered trademarks of Google LLC, used with permission.
Pin to your favourite board