To say that Les Machines de L'île de Nantes (Machines Of The Isle Of Nantes) is unusual is an understatement. I had read a few articles about a gigantic elephant that was all mechanical and I had to see it. So when I was planning my trip from Brittany to Provence, the perfect opportunity arose: drive to see this unique Nantes attraction and then take a train to Avignon. So much faster and easier than driving to the south.
When I arrived in Nantes I headed right over to the area that has "Les Machines" and spent some time being amazed by what I saw. I know I did Nantes a disservice by not staying overnight and I promise I will return.
Les Machines de L'île Nantes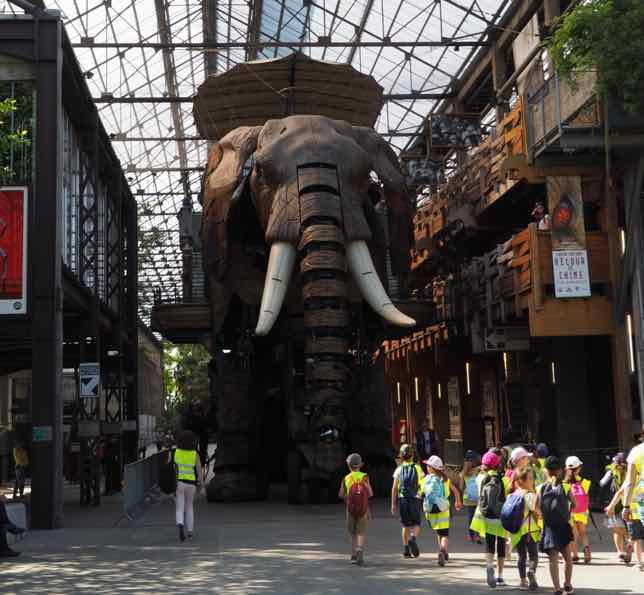 Les Machines de L'ile in Nantes is in a former shipyard area of Nantes and what stood out was a large open-air warehouse, which is actually the company's workshop. Sticking out was the head and trunk of a mechanical elephant. This 40 foot creation was being prepared for its "walk" into the open concrete area.
François Delarozière and Pierre Orefice are the masterminds behind the company, La Machine, which is a street theatre company. They had the vision to create this unique endeavour and what you see will likely remind you of inventions by Leonardo da Vinci and Jules Verne (who was born in Nantes in 1828). Don't even consider calling this place an amusement park. It is so much more. Sure it's quirky, but it's so imaginative.
As the Les Machines de L'île website states, the "tour/performance…is both entertaining and educational". The entire area and displays reminded me of my visit to Clos Lucé, Leonardo Da Vinci's home in the Loire Valley which is has many of his inventions on display.
Galéries des Machines
At the entrance to the warehouse, there is a giant Heron Tree (about 84 feet high). You can walk up the branches to have an aerial view of the surrounding area. Eventually two herons will be added and visitors will have the opportunity to take a circular flight over the trees. This project. "Arbre aux Hérons" is still in progress.
My ticket gave me access to the workshops (Galéries des Machines) which were located in a hothouse of sorts and filled with real and "mechanical" plants and animals. The assistants showed how the inventions were developed and at times the machines come to life and begin to move.
There is also a terrace enabling you to see a short film about Les Machines and you can look down into an area to see what's next in production. It's top secret, so I can't show you any photos. The whole area was like nothing I had ever seen: mechanical flora, insects, and animals that move. Some could carry people. When I watched these gigantic machines move, I was truly amazed at the intricacies and engineering that went into creating them. Take a look at some of these photos and videos:
Mechanical Grand Éléphant de Nantes
Certainly, the most impressive sight at Les Machines de L'île was the mechanical elephant made of steel and wood that could carry 50 people and spray those on the ground with water coming out of its trunk. After leaving the warehouse, the Nantes Éléphant made its way (1-3 km per hour) across the wide-open concrete area toward the Carrousel des Mondes Marins.
Venus Flytrap
A "deadly" Venus Flytrap was in action and could definitely tear your hand off your arm if it got caught in it's grip. Don't blink. It's fast!
Spider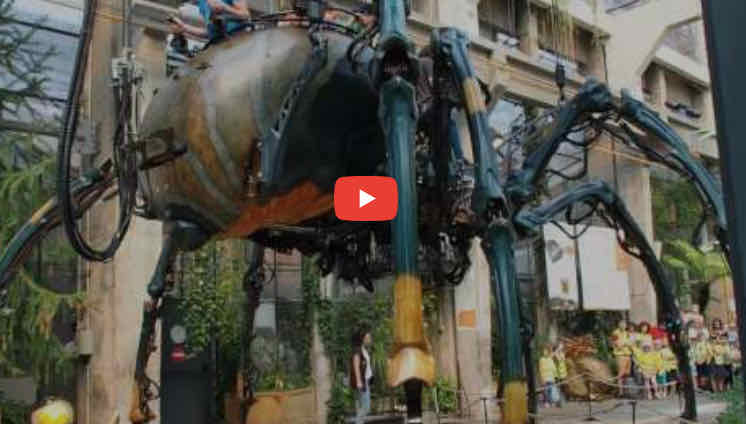 A mechanical spider that can seat 4 people. It moved slowly amongst the crowd.
Heron and Caterpillar
Carrousel des Mondes Marins
The Elephant's journey meets up at the Carrousel des Mondes Marins which provides a 360 degree theatre about life in the sea. Visitors see unique displays of sea creatures in a huge aquarium.
Nantes, France
There just wasn't enough time to explore the whole city, which I had heard is the best city in France to work in. So I just focused on Les Machines-Nantes. In articles by L'Express and The Local, the lower cost of living (than Paris), innovation and excellent transportation have been convincing people to move there. It's only just over 2 hours by train from Paris and is a major transportation hub.
Costs:
Entrance to La Galerie des Machines: 8.5 Euros
To ride the elephant, there is an additional 5.5-8.5 Euros
To see the Carrousel des Mondes Marins, there is also an additional fee (3-8.5 Euros).
Website: http://www.lesmachines-nantes.fr/en/
Was it worth the stopover in Nantes to see Les Machines de L'île?
Definitely.
Have you ever seen anything like this?