A Visit To 3 Cheese Caves In Roquefort-sur-Soulzon
While spending time in the Aveyron department during my last trip, the ONE ingredient that kept popping up in my meals was the famous blue cheese from the area, Roquefort cheese. So, of course, I wanted to visit the cheese caves in Roquefort-sur-Soulzon to learn about how it's made and to taste some.
*This post contains affiliate links. If you make a purchase through these links, I get a small commission at no extra charge to you. It helps support the running of this website and I do appreciate your help.*
1. Why Are There Cheese Caves In Roquefort-sur-Soulzon?
Roquefort cheese is not just any blue cheese. It has a legend behind its name and is a unique cheese that is ripened in caves—-caves that are only found in Roquefort-sur-Soulzon.
2. Where Is Roquefort-sur-Soulzon?
Roquefort-sur-Soulzon is located in southern France, within the Occitanie region. It is just 25 km south of Millau, where I participated in La Course du Viaduc de Millau so it was a very convenient town to visit.
The location of the town is significant because it is situated on the side of Mont Combalou, which is part of the Causse du Larzac, a limestone plateau. Millions of years ago, part of the Combalou mountains collapsed and the resulting fractures in the rocks and the piles of rocks created caves. They run 2 km long, 300 metres wide, and 300 metres deep. They are the perfect environment to age Roquefort cheese.
3. How Did Roquefort Cheese Become So Famous?
(a) The Roquefort Cheese Legend
So how was Roquefort cheese created? Legend has it that a young boy was having his lunch in one of these Combalou caves. He left his bread and cheese (made with sheep's milk) to go after a pretty girl he suddenly saw. When he returned months later, his bread and cheese were covered in blue veins of mold and that cheese became known as Roquefort cheese.
(b) Roquefort: The King Of Cheeses
How far back does Roquefort cheese go? There are references to the cheese in 70AD by Roman author, Pliny the Elder. And in 1411, King Charles VI of France raised the status of the caves and cheese, saying only Roquefort-sur-Soulzon could ripen the cheese and name it Roquefort cheese. Today, Roquefort cheese is often referred to as the "King of Cheeses".
In 1992 the European Union granted Protected Geographical Status to Roquefort cheese through the AOP (Appellation d'origine protégée—Protected designation of origin), meaning the cheese can be labeled as "Roquefort" only if it comes from the designated region, Roquefort-sur-Soulzon, and only if it has followed these regulations:
it is made from the milk of Lacaune sheep who were raised in the area
it is aged in a Mont Combalou cave in Roquefort-sur-Soulzon
Penicillium roqueforti spores have been prepared in those same caves and have been added to the milk
4. The Unique Properties Of The Combalou Caves
If there's one word you hear a lot when you're in Roquefort is the French word, "fleurine". Fleurines are cracks in the rock and after the limestone plateau collapsed, the rocks formed cavities, caves, and passageways. The Roc du Combalou in Roquefort-sur-Soulzon produced tunnels that transport cold, moist air from the outside, into the caves.
The temperature of the air is regulated by the master cheese ripener who opens and closes the windows and doors in the tunnel so that there is a constant temperature and humidity level no matter what the temperature is outside. There are fleurines on every level of the caves and at Roquefort Sociéte, the caves are 11 stories high. No need for machines to do this work!
5. How Is Roquefort Cheese Made?
From January to July, milk is collected from sheep—only Lacaune ewes (female sheep). It is not pasteurized and it is homogenized.
Roquefort cheese depends on a fungus that is formed in the Roquefort-sur-Soulzon caves. Sourdough bread (made with wheat and rye flour) is left to mould away. Strains of mold form and the Penicillium roqueforti strains are the ones used to make Roquefort cheese. They are added to the sheep's milk and the milk is placed in moulds. Just one dose is needed for 5000 litres of milk.
Very small needles are put into each round of cheese to help it aerate, promote the growth of the mold, and ferment. It's called "Needling" and together with added salt, the cheese becomes softer. Salt also helps to preserve and moisturize the cheese. The wheels are placed on wooden boards and ripen for 14-25 days.
It is up to the master cheese ripener to open and close the doors and windows to the fleurines during the next phase, the maturing phase. S/he will examine the look, smell, texture, and sound of the cheese and when it is time, the cheese will be covered and placed in cold storage. It is aged from 3-12 months.
6. What Is Roquefort Cheese Like?
The texture of Roquefort cheese is crumbly, creamy, and semi-soft and the taste is distinctive…tangy, salty, and even buttery. Some find it very strong–pungent strong! When paired with bread, added to salads or other foods, the cheese doesn't seem as strong.
7. Visiting The Cheese Caves In Roquefort-sur-Soulzon
In Roquefort-sur-Soulzon there are 7 Roquefort cheese producers and I did cave tours at three of them and did cheese tasting at the end of the first two:
Caves de Roquefort Société (Guided; Admission 7.5 €)
Caves Roquefort Papillon (Guided; free admission)
Caves Roquefort Gabriel Coulet (Self-guided; free admission)
I do recommend a visit to the tourist office as you enter the town. The staff were very helpful showing me the locations of the producers and providing advice.
1. Caves de Roquefort Société
Roquefort Société began when a group of merchants formed the "Society of Cellars" (SCPR) in 1842, and began producing Roquefort cheese. Since 1992, Roquefort Société has been a subsidiary of the agri-food group, Lactalis, and today it is the largest producer of Roquefort cheese in the world.
The 1-hour tour costs 7.5 € and while I wasn't able to sign up online, I was able to join a tour the day I arrived, but the tour was only in French. A printed English translation was provided. We were taken through narrow paths through the caves and shown where some of the fleurines were. They do look just like narrow tunnels. We saw bread turning to mold and where the wheels of cheese are aged.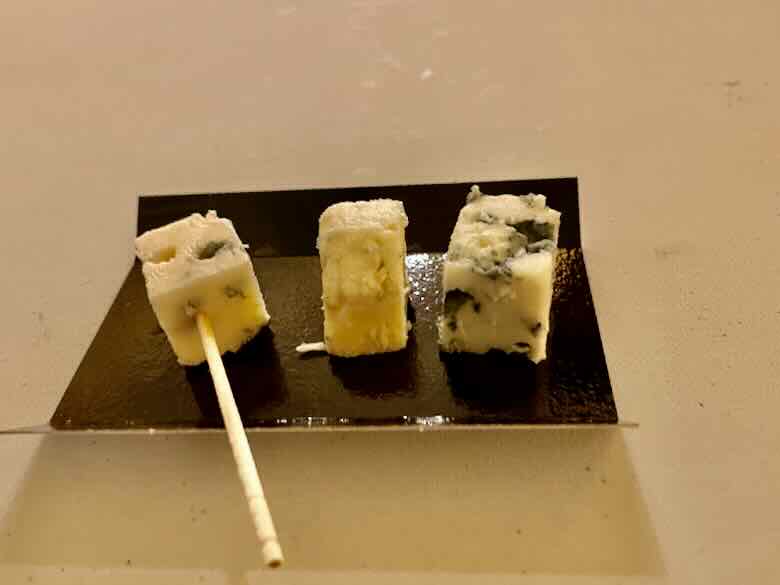 After our tour, we were given 3 samples of Roquefort cheese to sample with the following descriptions:
Société Since 1863-"This is well-balanced Roquefort with a white paste and delicate green veining"
Cave des Templiers-"This is a strong cheese with unique flavour. Inside is a milky white paste with dark blue-green veins. I has a broad, intense flavour with a pronounced tangy finish"
Caves Baragnaudes:"Delight your palate with this fine, delicate cheese with its creamy texture and pale green veining. Roquefort Société Caves Baragnaudes is a unique tasting experience for lovers of blue cheeses in search of new flavours".
Open daily
from 10 a.m. to 12 p.m. and from 1:30 p.m. to 5 p.m.
As the temperature in the caves is about 10 degrees C, remember to bring a sweater or jacket
Although you can make a reservation online, I had difficulty doing so and just bought my ticket when I arrived. It's all based on availability; however there are 5 tours a day.
Address: 2 Av. François Galtier, 12250 Roquefort-sur-Soulzon
2. Caves Roquefort Papillon
Paul Alric created Fromageries Papillon in 1906 with the creation of a Roquefort cheese cellar. Since 1998 Papillon (French for "butterfly") has been run by the Farines family and it is the second largest producer of Roquefort cheese after Roquefort Société. Through the years, they have expanded their selection beyond their famous Papillon Black Label, Taste Noir Roquefort, which is wrapped in black foil. They've added other varieties, such as "Rouge", "Révélation", and "Le Bio" (organic).
The 45-minute guided tour at Roquefort Papillon was entirely in French; however, the film that we watched at the beginning did have English subtitles and it was very interesting. I did get a little bored as I didn't have any English notes as I did at Roquefort Society. It helped that I already knew the process to produce the cheese. Unfortunately, no photos can be taken in the caves.
At the end there was an extensive tasting of cheese that included not only 3 types of Roquefort cheese, but also included Rondin (an unflavoured goat cheese), and semi-soft Tomme de Brébis cheese.
Open Daily
10:00-6:00 (with some shorter hours in the winter)
there are guided tours a few times a day
Address: 5108B Av. de Lauras, 12250 Roquefort-sur-Soulzon
3. Roquefort Gabriel Coulet
Founded in 1872, the caves of Gabriel Coulet are on the main street of Roquefort-sur-Soulzon, not far from Papillon. It all began when Guillaume Coulet was digging under his home in Roquefort-sur-Soulzon to make a wine cellar. He came upon fleurines, faults in the rock that are a necessary ingredient in ripening Roquefort cheese, and decided to create cellars to age his cheese. Thus began the Coulet business of producing Roquefort cheese. His son, Gabriel, took over the business in 1906 and since then Roquefort Coulet has thrived in Roquefort.
The self-guided tour begins through an inconspicuous door in the main shop. You head down some stairs and are taken through the manufacturing process and ripening of the cheese. They've done an excellent job of showing the stages, and there are some information boards in English.
Many of the Gabriel Coulet cheeses have won awards and there is the opportunity to taste some of the house's Roquefort cheese at the end of your visit.
Open daily:
January, February, March, October, November, and December: 9:30 am – 12:30 pm and 1:30 pm – 5:30 pm
April, May, June and September: 9:30 am – 6:30 pm
July and August: 9:00 am – 7:30 pm
Address: 3 Av. de Lauras, 12250 Roquefort-sur-Soulzon
8. FAQ-Frequently Asked Questions
What's the difference between blue cheese and Roquefort cheese?
Blue cheese is pasteurized and the curds are fermented, whereas Roquefort cheese is not pasteurized. Blue cheese has many different varieties and can be made from sheep's milk, cow's milk, or goat's milk, whereas Roquefort only uses sheep's milk, Blue Castello, Blue Stilton, and Gorgonzola all use cow's milk. Caprizola uses goat cheese.
How should Roquefort cheese be stored?
You should wrap the cheese in foil and keep it in the vegetable compartment of your fridge.
How should Roquefort cheese be served?
Take out the cheese from the fridge and leave it at room temperature for 30 minutes before serving
What foods and wines can you pair with Roquefort cheese?
You can serve Roquefort cheese on its own, perhaps with some walnuts,  pears, figs, apples and crackers on the side. It's great with steak and can also be used on salads (possibly with walnuts and pears) and even in burgers. It makes a great sauce, dressing or dip with vegetables, so it's certainly used in many different ways. And what wine to pair with Roquefort cheese? A French sweet dessert wine, like a Sauternes, or a deep-bodied red wine like a Bordeaux or even a Cabernet Sauvignon are nicely paired with Roquefort cheese.
How long will Roquefort cheese last?
Roquefort cheese can last about a month when refrigerated, although I have also been told it could be longer, depending on how well it is wrapped; however, if it starts to smell bad or form fuzz or other colours on the cheese, it has gone bad and should be thrown out.
How expensive is Roquefort cheese in France compared to Canada?
In Roquefort-sur-Soulzon, one could purchase a kilogram of Roquefort cheese for 23€ or more. At Roquefort Société you could buy three wedges, each weighing 220 grams, for 18.8€.  At Papillon, a 620-gram piece would cost 17.2 € (or 27.74€ per Kilo). In Toronto, at one cheese boutique, Roquefort cheese was selling for $89.99 per kilo. This equates to about 64 € per kilo—-over twice the price as in France. So, if you want to eat Roquefort cheese, do it in France!
Are you allowed to bring Roquefort cheese home to Canada or the United States?
Unless things have changed, yes you can bring Roquefort cheese for personal use into either country. There is conflicting information about the US regulations, where some articles say cheese made with unpasteurized milk (like Roquefort) cannot be brought into the US. But the USDA states what is allowed: "Solid hard or soft cheeses (as long as the cheese does not contain meat or pour like a liquid i.e. ricotta or cottage cheese)".
 
For Canada, you are allowed to bring Roquefort cheese into the country if the cheese is for personal use AND it is wrapped in plastic and vacuum-sealed. The difficulty will be; how will you keep the cheese cold on the plane? You will not be allowed to store it in the airline's food compartment. You could put it in your checked luggage where the aircraft cargo hold is. If you do, I'd suggest also putting the cheese in a plastic container.  And I have read that you cannot bring more than $20 worth of cheese into Canada! That's crazy and hardly any cheese!
Check the Canadian or American Customs and Border Protection regulations and websites for up-to-date information on what is allowed.

If you're interested in knowing about more foods in the Aveyron, check out some of the specialties in the region in this post: Aveyron Specialties and Restaurants: My Recommendations.
Pin to your favorite board on Pinterest.
TRAVEL RESOURCES
Booking.com and Expedia: are the companies I use for finding accommodations.
VRBO: is super for booking apartments and houses.
AutoEurope: is the only car rental supplier that I will use–with the best prices, and they will refund the difference if the price goes down.
Trainline: offers an easy way to book train tickets.
Get Your Guide and Viator: Both offer tours, city cards, tickets, airport pickups, and so many other things you'll need at your destination.
Orange SIM Card-this is the company I use when I want a physical SIM card
Orange e-SIM and Airalo e-SIM-both companies offer e-SIMS and get great reviews