Should you take the time to visit Carcassonne? And if so, when is the best time to visit this medieval city? When I first wrote this post in 2017, I really wasn't fond of Carcassonne, mainly because of the crowds. I've done a full "360" and would, without question, return and have now visited this city in the Occitanie region three times. Let me share with you the Carcassonne I discovered and why you should make a visit there.
**Contains affiliate links**
1. Carcassonne: UNESCO World Heritage Site
Carcassonne was designated a UNESCO World Heritage Site in 1997. It is located 95 kilometres south-east of Toulouse and has a fortified city, La Cité, within its boundaries. This is one of the most impressive walled cities in France. It is surrounded by two massive walls and 53 towers which protected it during medieval times.
Throughout its history, there have been campaigns to demolish it and renovate it and in the mid-1800s, renovations began to preserve it as a historical monument. What appears today is a medieval castle children (and adults) would imagine: with a drawbridge, a moat (grassy), and towers.
2.
Should You Visit Carcassonne?
Today, Carcasssonne is one of the most popular sites in France. Should you visit the walled city of Carcassonne? Yes, but just be aware it could be crowded during high season, which is in the summer. It is packed. Really packed. To make your visit more pleasurable, consider the following suggestions.
3.
Three Trips To Carcassonne
The first time I stayed in Carcassonne (at the end of July many years ago), my accommodations were located within the walled city at the (Best Western) Hotel Le Donjon. The upside was that the fortress and old town were right there in front of me, but so were the crowds, the minute I walked out the front door.
The second time I did not stay in Carcassonne. My friend and I made a (long) stop in the town on our way to Collioure so it was just one day in Carcassonne—in La Cité. Laurie toured the fortified city while I did a quick walk inside the fortress and then wandered beyond the walls to take photos. It was not crowded at all and I have to say our visit in the month of January was perfect. The weather was pleasant and the sky was clear blue.
During my most recent visit in early June, I did not find the town overly crowded. I stayed outside La Cité (old city) in the ville basse (lower town) in an Airbnb. The location was perfect—only a 15 minute walk into the old city. Plus, parking was nearby and free.
4.
When To Visit Carcassonne?
(a)
Off-Season
If you can visit in the off-season, like I did in January, it will be worth it. You'll have a much better time wandering the cobblestone alleyways and along the ramparts off-season. Take a look at my pictures in this post. Not very many people, right? Keep in mind, however, that some businesses may be closed for the holidays.
I was pleasantly surprised at how lovely the weather was in January—crisp blue sky, few clouds, and only a winter coat was needed (no boots!). It wasn't particularly cold, about 5° Celsius.
(b)
Shoulder Season
When I visited in early June, which is considered the shoulder season, the weather was perfect for bike riding (22° Celsius) and I had no problem walking through La Cité or getting a dining reservation on short notice.
(c)
High Season
My first trip to Carcassonne took place at the end of July, which is typically the hottest month in the city (ie. 27°-37° Celsius). So, besides the heat, you'll have the crowds. Not my favourite time of year to visit France, especially in the south.
If you must travel to Carcassonne in the summer, consider visiting when it has Le Festival de Carcassonne, often held in July. It is one of the largest festivals in France and in the past there have been over 120 shows (with many being free) featuring dance, music, opera and theatre and some acts have taken place in the ancient theatre.
On July 14, to celebrate Bastille Day, there are fireworks which are some of the best in the country. I do not doubt that the spectacle is impressive; however, the crowds are enormous. I debated spending my birthday there but decided I simply didn't want to fight the crowds or have a problem trying to find (reasonably-priced) accommodations.
5.
How Many Days To Visit Carcassonne?
I have spent 1 day, 4 nights, and most recently, another 4 nights in Carcassonne. My apartment was located in the perfect spot–not far from the Citadel and not far from the centre of town (link to the apartment: Apartment in Carcassonne With Terrace). Certainly, the one day visit for my friend only exposed her for a few hours to the fortress. My second visit had too many excursions outside of the city.
My third time to Carcassonne was perfect. I had a suitable amount of time to wander around the old (and new) city and outside the fortress wall and go for a bike ride for a day. If you have the time, spend at least 3-5 nights in Carcassonne. You won't be rushed and you'll have plenty of time to see the town and the area.
6.
What To Do In Carcassonne
(a) La Cité Médiéval de Carcassonne
If you only have one day in Carcassonne, this is the place to visit: La Cité, located in the "upper town" of Carcassonne. It's not big and you'll enjoy gazing on the immense fortress from the outside and inside. Walk on the cobblestone streets and drop into one of the bars or restaurants or some of the shops (many are touristy, however).
And of course visit the 12th-century castle within, called Château Comtal. There is an admission fee and you can get an audio guide to learn about the history of the castle and how it was restored. Walk along the ramparts and get splendid views of the valley.
(b)
Get Views Of Carcassonne From Outside The Fortress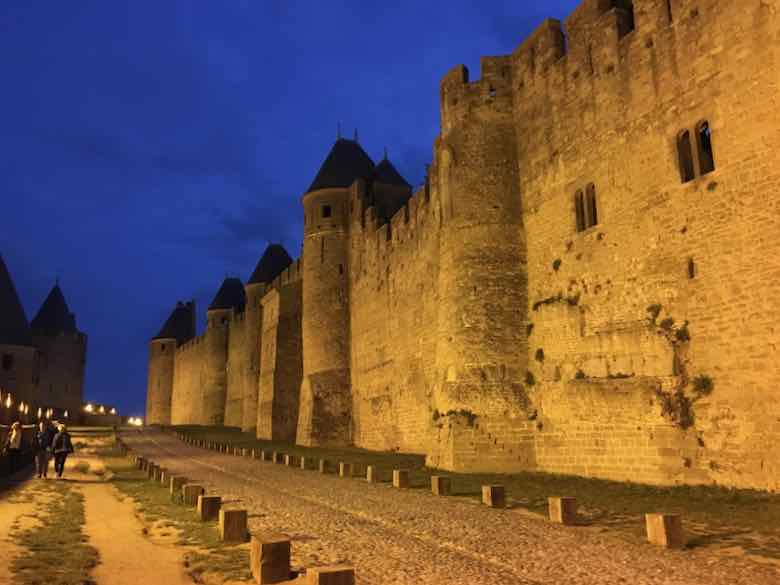 While the inside of La Cité is pedestrian-only and interesting, I much prefer photos taken OUTSIDE the entire fortress rather than of the inside town. The outside walls of the fortress are absolutely stunning.
I was interested in taking a nighttime guided tour run by the tourist office, however, they were not offered in the month of June when I was there. So, I did it on my own.
After dinner, I headed back out and took pictures from Pont Vieux and Pont Neuf—both bridges cross the Aude River and provide excellent views of the fortress. I then walked to La Cité and took photos inside and outside the fortress. I did the same during the day. Do not miss walking around the entire fortress. You'll be duly impressed.
(c)
Murals Outside Of Notre Dame de L'Abbaye
By chance, I came upon a long wall of frescoes, or murals, outside of Notre Dame de L'Abbaye which is now a hostel. In the mid-1980s, a number of mural painters (Cité de la Creation) collaborated to create a mural about medieval life in Carcassonne. It runs along rue Trivalle and intersects with rue du Reverend Pierre Dupont (just below the fortress walls and entrance). When I asked the tourist office about it, they had no idea what it was, which is sad, as the mural is impressive. I hope they're protected and preserved.
(d)
Bicycle Ride Along The Canal du Midi
One of the reasons I wanted to stay in Carcassonne was to see the Canal du Midi. While many people do a barge cruise, I wanted to rent a bike and go at my own speed. With a picnic lunch and lots of energy, I spent the day riding eastward to the town of Trebes and then back to the western edge of Carcassonne at L'Epanchoir de Foucaud. In total, my journey covered 34 kilometres. A lovely day's outing. Here's more information about the excursion: Bike Ride Along The Canal du Midi.
(e)
Lunch At A Truly Affordable Michelin-starred Restaurant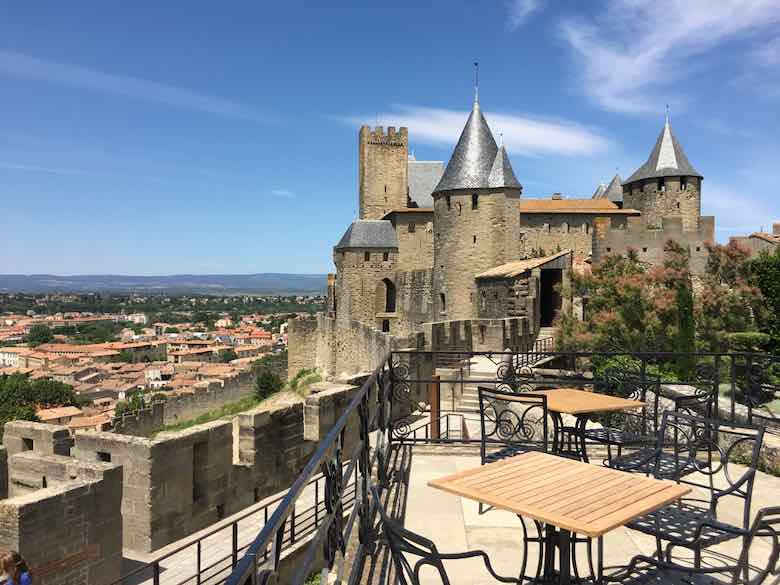 I had a wonderful lunch at La Barbacane, which is run by chef Jérôme Ryon. He was awarded the Michelin star in 2006 (and he still has the star!) and the food was amazing, the service friendly and attentive, and the price? What a deal! Affordable Michelin-Starred Lunch: La Barbacane In Carcassonne
(f)
Basilica of Saint-Nazaire and Saint-Celse
The oldest church in Carcassonne is the Saint-Nazaire and Saint-Celse basilica. It was constructed in 1096 and was named after two first-century martyrs. Originally a Roman Catholic cathedral, it was demoted to a basilica in 1803. Located in the citadel of Carcassonne, the church design is that of a cross and certainly, the focal point is the choir with the large stained glass windows. They are some of the most beautiful in the south of France.
(g)
La Bastide Saint Louis
fortress walls. You might say Carcassonne is made up of two towns—the medieval one up top (La Cité) and the lower town, called Bastide Saint Louis. This town was a "planned town", built in 1260 to surround Place Carnot in a grid pattern.
Often considered the "new old town" of Carcassonne, it has a commercial district with a (more modern and spacious) tourist office, boutiques, cafes, and more businesses. While considered "newer", it still retains lots of charm with some narrow, cobblestone streets. Place Carnot has outdoor cafes and a fairly large food market which is held a few times a week.
Have you been to Carcassonne? Do you have any favourite experiences or sights to share?
Pin to your favourite board on Pinterest