If you're going to stay in Paris for more than a week, getting an apartment can be an enjoyable and cost-effective way to spend your time—-but you need to be careful who you book with. There have been numerous reports of people booking through Airbnb and then having the owner cancel just before they arrive. As I wanted my last trip to France to be stress-free, I rented somewhere else, and here's why I recommend a better alternative to Airbnb: this Paris Citadines apartment located in the Bastille Marais area. I will be booking this property for my next trip.
**This post contains affiliate links. This means if you make a booking, I do earn a commission on each sale at no cost to you. It helps support the running of this website and I do appreciate your help. For this apartment, I paid for the rental using my own money.**
Citadines is one of the Ascott Limited brands which is an international lodging company. The chain has hotels and fully-serviced apartments which can be rented for a few days or weeks; hence the term apartment hotel or "aparthotel". My entire experience staying there was VERY positive.
Why Do I Feel Citadines Is A Better Alternative To Airbnb In Paris?
I booked through the Booking platform. One of the major reasons was that it's a very trustworthy site that has over 28 million listings and has been in business for years. I have never had a reservation canceled on me (as compared to Airbnb where my bookings a few years ago were canceled numerous times).
I have been very pleased with the security when booking and the communication with the property. In addition, there were a number of clear advantages to renting with Citadines such as:
no need to clean the apartment before I left, which is in contrast to most accommodation rentals when you clean or pay a fee to have the place cleaned
no damage deposit was required
no deposit was required at the time of booking. I paid at Citadines when I arrived
no need to supply your own toilet paper. It is refilled when needed
I could cancel for free up to 24 hours before arrival
I got answers to questions almost immediately from the property
Booking The Citadines Bastille Marais Apartment Hotel In Paris
In Paris, there are 13 Citadines properties throughout the city. I booked my week's stay at the Citadines Bastille Marais location based on so many positive reviews. While I think the apartments are very similar no matter the location, I feel like the Bastille Marais location was the best.
The price for 7 nights (the first week of May) was: 1078 €. This works out to 154€ per night (about $162 US or $210 Canadian). Not bad when the average hotel rate in Paris can be much higher. Obviously, the price varies depending on the time of year; however, when I looked at the week before Christmas, the price was actually the same as in May! It just depends on what kind of apartment you're looking for and when you book.
Click here for more information:
Hotel Alternative In Paris: Hotel Choiseul Opera
Want to book a place for less than a week? It's certainly possible at Citadines, or, consider this excellent hotel that I also stayed at. I loved the price, the modern and clean room, and definitely the location. Click here for more information: Hotel Choiseul Opera
There are so many things I loved about staying at the Bastille Marais location. I'll break it down into categories:
1. I Loved The Location Of The Citadines Apart'Hotel
(a) Conveniently Located Near Many Metro Stations
The apartment hotel is located at 37 Boulevard Richard Lenoir in the 11th arrondissement. I felt very safe day and night and there are numerous metro stations nearby:
Richard Lenoir metro station (line 5) to the north- 2-minute walk
Bréguet-Sabin station (line 5) to the south-2 minute walk
Chemin-Vert metro station (line 8) to the southwest-3 minute walk
Bastille metro station (lines 1, 5, and 8) to the south-6 minute walk
(b) Weekly Bastille Market
The Sunday and Thursday morning open-air market is just across the street and down a block. The Bastille Marché is one of the best and largest in Paris. It runs along Boulevard Richard Lenoir from just north of Place de la Bastille to rue du Chemin Vert.
(c) What's In The Area
You can't beat the area. Just north is Canal Saint-Martin and just south is the very busy Bastille area with lots of restaurants and shops. Place des Vosges and Musée National Picasso are both 10 minutes away and Notre Dame is a 1/2-hour walk away. There are a number of supermarkets nearby as well as an excellent boulangerie that I visited often, Maison Lendemaine Beaumarchais, around the corner on 29 Beaumarchais.
2. The Citadines Studio Apartment Was Perfect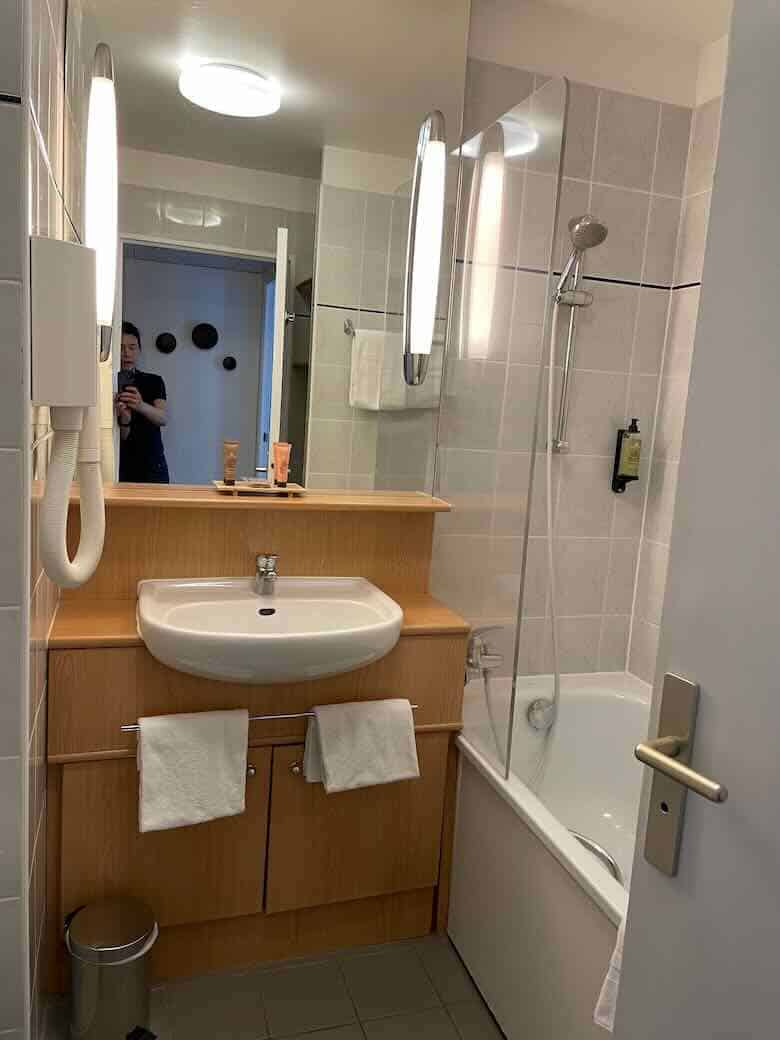 As you can see from the photos, this is not a fancy, heavily decorated apartment. You won't be getting fashionable curtains and rugs. Nor will you get paintings on the wall or fancy lamps. And the kitchen will not be stocked with condiments or many cleaning supplies. But you will get an adequately equipped kitchen to make meals, an up-to-date bathroom, a comfortable bed, and an exceptionally clean apartment that is spacious.
(a) What I Loved
Of all the following items that I liked about this apartment, what really stood out were these points:
very clean, bright, spacious, modern apartment with double doors that opened to a Juliet balcony with a nice view of boulevard Richard Lenoir
free tea/coffee in the breakfast room
air conditioning
heated towel rack
excellent soundproofing
the view of boulevard Richard Lenoir—with lots of trees
(b) Other Positive Points About The ApartHotel
I had a double bed (there was the option to have 2 single beds) that had a firm mattress (no dips or bumps) and had nice, crisp sheets, and was very comfortable
kitchenette with a sufficient number of mugs, bowls, plates, utensils and cookware, with a kettle, tea towels, and kitchen garbage bags for 2 people.
toaster
stovetop and microwave
dishwasher and dishwasher tablets
dish detergent provided
cleaning at least once during the week-even my dishes were put in the dishwasher
heated towel rack
toiletries
towels
bathroom: bathtub with shower
hair dryer
toilet paper added when needed (you don't have to buy your own when you run out, unlike other apartment rentals)
lots of electrical outlets
desk with a light
good lighting throughout the apartment including beside the bed
kitchen table and chairs
flat-screen TV
full-length mirror
free WiFi
wardrobe and closet
shelves for clothes
safety deposit box
elevator
reception is open 24h/7
telephone
no smoking
Although the apartment description says there is an alarm clock, iron, and ironing board, I really can't remember if there were these items because I didn't need them.
Not Perfect, But Not Dealbreakers
The following were not dealbreakers to renting the Citadines apartment, but you should be aware.
First, in the kitchenette, there weren't any condiments like salt, pepper, or olive oil or an oven, although there was a microwave. Nor were there paper towels. However, there were dishwasher tablets and dish soap and to my surprise, there was cleaning (almost) daily. My garbage was removed and my dishes were put in the dishwasher. The bathroom and apartment were cleaned, my bed was made, towels were replaced, and toilet paper was added.
There wasn't any sofa in my studio, which would have been nice to have to relax, but there was a kitchen table with 2 chairs and a desk with a chair.
While lacking a washing machine, the property does have a laundry room and the cost (which includes detergent) is reasonable (about 5 € per load).
Optional Extras At Citadines
While I had a double bed, you can request two single beds. There are also other types of apartments such as a deluxe studio with a balcony; and a 1 bedroom apartment with 2 beds or a double bed and a sofa bed;
a breakfast buffet is available for 13 €
you can park your car for a fee
I would stay at Citadines Bastille Marais again because I loved the area and what it had to offer. Citadines had everything that was important to me: it was reasonably priced, clean, comfortable, spacious, near boulangeries and grocery stores, Metro stations, and important sites and it was in a safe area. It was perfect for my needs and didn't break my budget.
Citadines Bastille Marais: click here for more information
Pin to your favourite board on Pinterest