In the mid-1800s and into the early 1900s the bouillon restaurants in Paris were very popular. Bouillons were unique restaurants that served simple, traditional French cuisine, like roast chicken, efficiently and with little fuss, at low prices. Today, there is a revival. What is old is new again and bouillons are being restored and re-opened and two have been designated historic monuments; however, not all bouillons are created equal.
I have dined at 4 bouillon restaurants in the city and have compared them based on the decor, service, and food: Bouillon Julien, Bouillon Chartier, Bouillon Racine, and Bouillon Pigalle.
The Popularity Of Bouillon Restaurants in Paris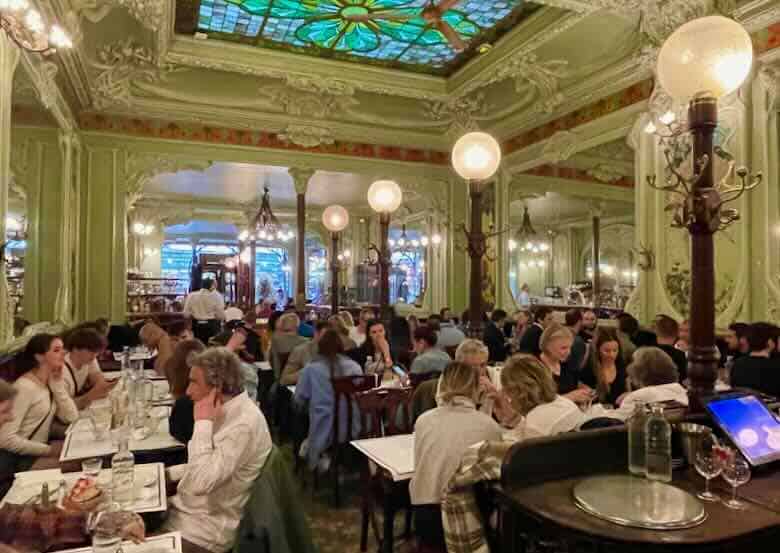 In the mid-1800s, butcher Pierre Louis Duval created the "bouillon" concept, by adding leftover, unused meat into dishes and "broths" ("bouillons"). The dishes and bouillons were marketed as comfort foods and "restorative broths" and the meals were aimed to feed the local workers quickly at affordable prices.
During the Belle-Epoque period of the late 19th century and early 20th century, hundreds of these bouillon restaurants were built to serve the masses simple, yet hearty traditional French fare. The opening of many bouillons also coincided with the launch of the Paris Universal Exhibition of 1900 and the increasing popularity of Art Nouveau decor. Architect Jean-Marie Bouvier was hired by the Chartier family to design the restaurants with this style of decor in their restaurants and bouillons became a hit as their interiors were in vogue.
Today the tradition continues with some original bouillons being renovated and "new" bouillons being constructed. They have followed the same philosophy of serving reasonably priced, classic French food in a convivial setting.
Why Would You Want To Eat At A Bouillon?
Dining at a Paris restaurant is one thing, but having a meal at a bouillon is another. I wanted to eat traditional French cuisine at a reasonable price and wanted to be surrounded by beautiful Art Nouveau interior designs. This is what separates them from typical French brasseries.
Bouillons are often filled with art nouveau paintings, glass ceilings, brass rails, wood paneling, tiled, mosaic floors, with globe chandeliers and lighting fixtures, and waiters are often dressed in black pants and vests with white shirts and aprons. The whole atmosphere sweeps you away to an era that existed over 100 years ago,
If you're going to travel to Paris, be sure a meal at a bouillon is on your itinerary. Dining in a bouillon is a unique culinary experience but it's not just about the food. It's also the atmosphere and service that accompanies the food—French classics like escargots, boeuf bourguignon, roast chicken, and duck legs.
1. Bouillon Julien
In 1906 French architect Edouard Fournier constructed Gandon-Fournier during a time when bouillons were very popular. As many as 250 bouillons were built in the early 1900s. Fournier's bouillon would later be called Julien or Chez Julien when his nephew Julien Barbarin took over the restaurant in 1924. It is said that in the 1940s, singer Edith Piaf frequented the restaurant and sat at table #24, waiting for her lover, boxer Marcel Cerdan, to join her.
The name of the restaurant changed to Bouillon Julien in 2018 and today, continues the tradition of serving simple dishes in a friendly atmosphere. The restaurant prides itself on homemade cooking using fresh seasonal products selected from selected partners that are listed on their menu (ie. Massot Didier, Meilleur ouvrier de France 2003 et du monde 2016 de boucherie-best butchery in France 2003 and the world in 2016).
(a) Reservations
I made a booking for lunch through Google, although you can also reserve on the restaurant's website. It wasn't until soon after I arrived that more people came in so by the time I left the restaurant was full. If you're interested in dining here, do make a reservation.
Website: https://www.bouillon-julien.com/
(b) Interior Design
Brasserie Julien was bright and spacious and you're surrounded by much Art Nouveau decor. Edouard Fournier brought on talented artists such as Louis Trézel to transform this restaurant into an Art Nouveau oasis.
There are many mirrors on the walls, frosted glass on the doors, dark wood tables and chairs, and elaborate moulding on the ceilings. I especially loved the decorative stained glass ceiling and mosaics. The stained glass was designed by Charles Buffet. A mahogany bar from Cuba was created by furniture designer Louis Majorelle who is one of the prominent designers of the Art Nouveau style.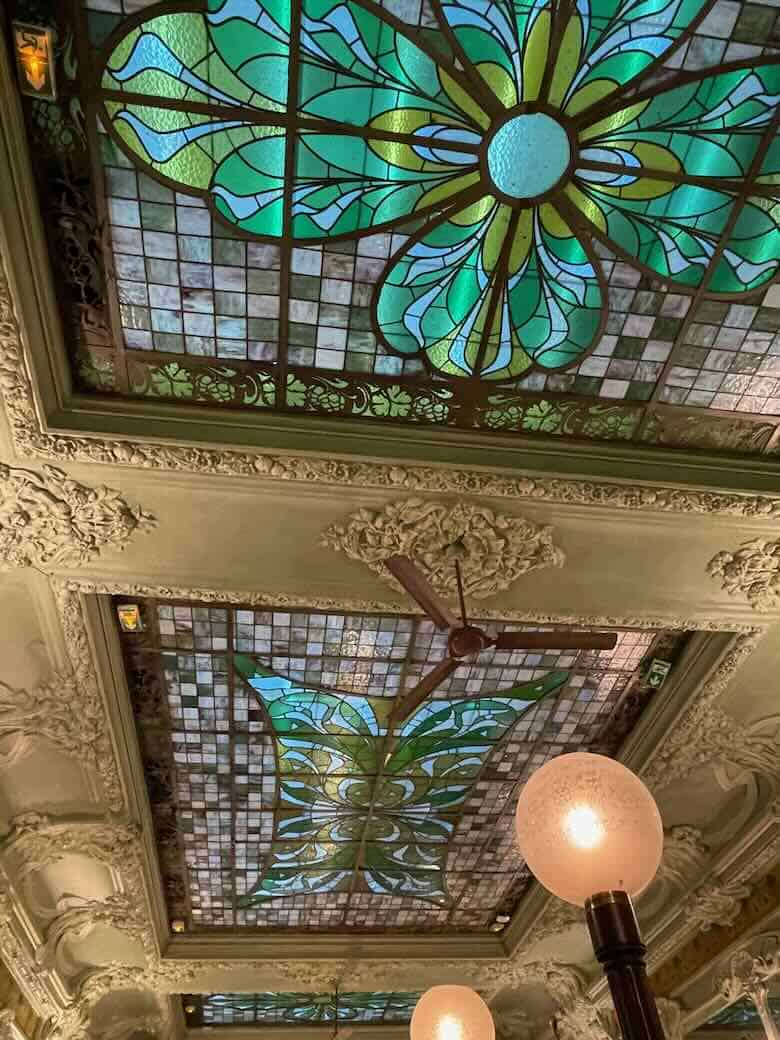 On the walls, there are colourful glass panels by glassmaker Louis Trezel who has painted "femmes-fleurs", nymphs, who represent the four seasons. The back wall has peacocks painted on either side of a large mirror. The glass light orbs on pedestals and chandeliers with frosted tulip shades illuminate the large dining area.
In 2018, Bouillon Julien was renovated by designer John Whelan and the walls were transformed back to the original colour, "Céladon" green, a colour that is typical of Art Nouveau.
(c) Service And Seating
When I arrived, I was promptly seated by the wall about halfway down the restaurant area. I had a great view of all the goings on and my waiter was pleasant and seemed pleased I spoke French. The tables are close together but in typical French fashion. My meal was served quickly but I didn't feel rushed. I stayed about 1.5 hours.
(d) The Meal
At the top of the menu it is written:
Le Chef Christophe Moisand vous propose: "Ici, tout est beau, bon, pas cher"
[Chef Christophe Moisand offers to you: "Here, everything is beautiful, good, cheap"]
My experience and meal at Bouillon Julien were just that—beautiful, good, and cheap. I had escargots, a demi-coquelet roti sauce champignons (a small roasted chicken with mushroom sauce), wine, and dessert. The service was excellent, friendly, and helpful.
Of all the Paris restaurants following the "bouillon" style, I feel that Bouillon Julien did it best. I highly recommend this restaurant as it checks off all the boxes: great service, meal, decor, and price.
(e) Cost Of The Meal
Cost for lunch: 28.7€
Address: 16 Rue du Faubourg Saint-Denis, 75010
Open: 7 days a week from 11:45 am-12:00 am
2. Bouillon Chartier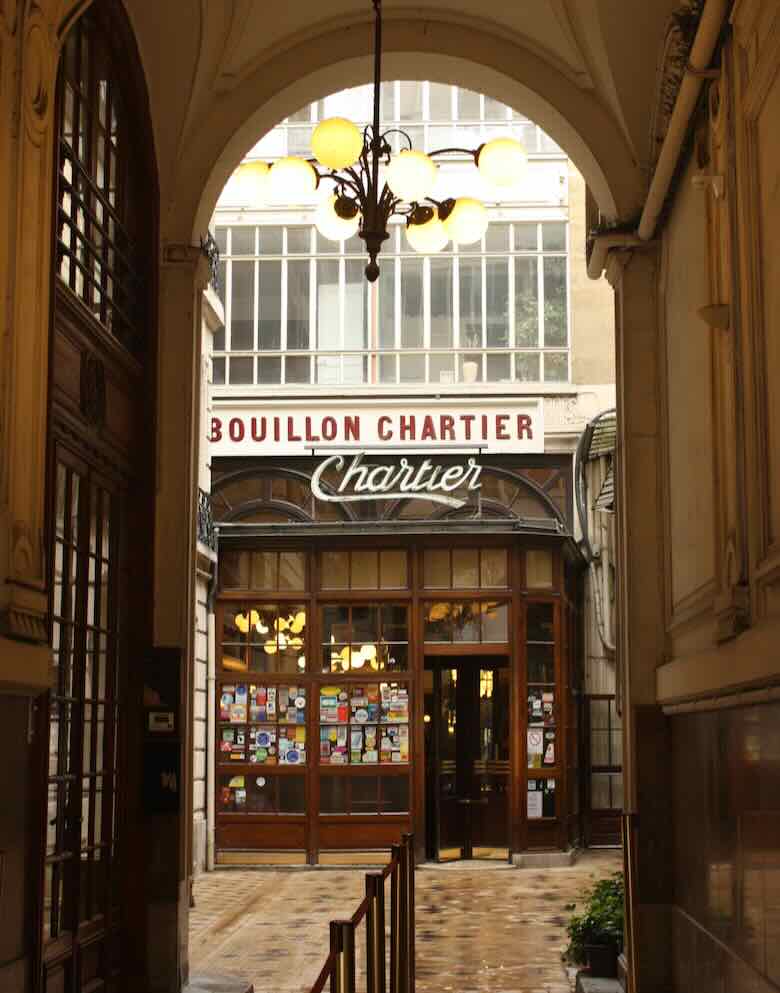 Bouillon Chartier was the first Paris bouillon opened by brothers Camille and Frédéric Chartier in 1896 on rue du Faubourg Montmartre, in one of the most famous areas of Paris off Les Grands Boulevards (near Galeries Lafayette and Printemps). This is the area that had great development with many covered galleries popping up as well. Post: Beautiful Covered Passages-Les Passages Couverts In Paris. Both the bouillons and galleries were constructed in the mid to late 1800s and showcased the decor of the Belle-Epoque and Art Nouveau styles.
(a) Reservations
I have eaten at Bouillon Chartier for lunch twice. Not surprisingly, nothing has changed. Same interior. Same menu offerings. Waiters wear the traditional "uniform" of a white shirt, black pants and vest, a bow tie, and a white apron. Both times I was fortunate not to have to line up for very long.
The bouillon does not take reservations and typically there are long lines to get in, depending on the day and time. Bouillon Chartier is an extremely popular restaurant and they have added two additional locations to the historic one in Les Grandes Boulevards area: one at Gare de l'Est and one at Montparnasse.
Website: https://www.bouillon-chartier.com/en/
(b) Interior Design
The outside of Chartier has an illuminated sign by an alcove off rue du Faubourg Montmartre. After passing through the entranceway, you enter a large room with tall columns and very high ceilings, many which have skylights. The interior of Chartier is absolutely beautiful.
As you can see in the photos, the numerous mirrors and pendant lights accentuate all the dark wood in the restaurant. Seating areas are created by the use of brass railings on wooden bases, much like luggage racks. High ceilings with full-length mirrors give the place a very open, spacious feeling. If you zoom in on one of the walls, high up you can see a medallion—2 C's intertwined and representing Camille Chartier. With so many people chattering, the place is "humming".
In 1989 Bouillon Chartier was classified as a historic monument.
(c) Service And Seating
The first time I ate at the Chartier restaurant in Paris I was alone and was asked if I was okay sitting with 3 others at their table—a couple and another single dinner. I said yes and was not uncomfortable at all. We chatted with one another during the meal. It's a great way to meet others. Some people have commented that they wanted their own table; however, if you are open to communal dining, you'll really like this place.
When I went the second time, my friend and I had our own table and like the first time, were right beside the next table. No space in between, but it was fine.
The other thing about Chartier is that the pace of service is very fast, which can be good and bad. While the concept of bouillons is to feed you and get you out fast, of all the bouillons I ate at, this one seemed the most rushed. I like to be served quickly, but I don't want the pressure to eat fast.
(d) The Meal
Your order is written down on the paper tablecloth (that covers another red cotton tablecloth). For my first visit, I ordered the roasted pork with mashed potatoes with 1/2 bottle of red wine. For my second visit, I had the roast free-range chicken with french fries. I added a glass of red wine and was very happy with both classic meals. Both were very good; however, my notes indicate that the chicken needed more gravy/flavour. Keep in mind that unless it's specified in the description, additional side dishes, like vegetables, are extra.
(e) Cost Of The Meal
This is certainly a cheap place to eat classic French dishes.
Pork with mashed potatoes and 1/2 bottle of wine = 12.7 Euro (note: this was in 2007)
Chicken with French fries and 1 glass of wine (plus my friend's avocado and tea) = 22.1 € (Note: this was in 2019. In 2022, the price for the chicken plate was 10.50 €)
Address: rue du Faubourg Montmartre, 75009
Open: 7 days a week from 11:30 a.m. to midnight
3. Bouillon Racine
Bouillon Racine has one of the most beautiful interiors of all the bouillons I visited. Originally called Grand Bouillon Camille Chartier, it is one of the few, authentic original bouillons along with Bouillon Chartier. Brothers Camille and Edouard Chartier opened this second restaurant in 1906 and Camille ran it until 1926. The name and ownership of the restaurant changed twice, to Bouillon Ollé then Joussot and it was even owned by the University of Paris for a time until 1993. It was eventually purchased by Belgium investors in 1993 and renovated in 1996.
(a) Reservations
I made a booking for lunch through the app, The Fork although you can also book through the restaurant's website.
Website: https://bouillonracine.fr/
(b) Interior Design
A major renovation took place in 1996 and brought the Belle Epoque to life at the restaurant. Work was done by the Compagnons du Devoir et du Tour de France, a guild of tradespeople and artisans that dates back to medieval times. In addition to the intricate, colourful mosaic tiles on the floor, there are large beveled mirrors on the light green walls along with art nouveau paintings and stained glass.
Additional features include antique clocks, painted opaline glass chandeliers and table lamps, and wrought iron lights all of which evoke the late 1800s time period. The restaurant has also added nice decorative objects such as an old phonograph player that you can see on the 2nd floor.
In 1995 Bouillon Racine was classified as a historic monument.
(c) Service And Seating
I was very happy with the location of my table at Bouillon Racine, by the mirrored wall at the side of the restaurant. There are two floors to this restaurant and the majority of diners, like me, were on the ground floor.
Service was very efficient and helpful because when I was considering a starter to go with the entrecôte (steak), the waiter said there was a lot of meat to this main course; hence, I skipped the entrée. I was not rushed and stayed almost 2 hours.
(d) The Meal
I preferred the interior design at Bouillon Racine more than the entrecôte (steak) which was quite large but a bit tough. I had ordered the steak "à point" which is medium rare and as I've found in France, " à point" tends to be closer to rare. If you want to know how to order your steak check out my guide: Ordering Steak Frites Like The French. Post: Ordering Steak Frites Like The French.
The restaurant gets rave reviews so perhaps if I had ordered something different, I would have had a better meal. I also had 2 glasses of Côte du Rhone wine.
(e) Cost Of The Meal
Cost for lunch was 44.8€
Address: 3 Rue Racine, 75006
Open: 7 days a week 12:00-11:00 pm
4. Bouillon Pigalle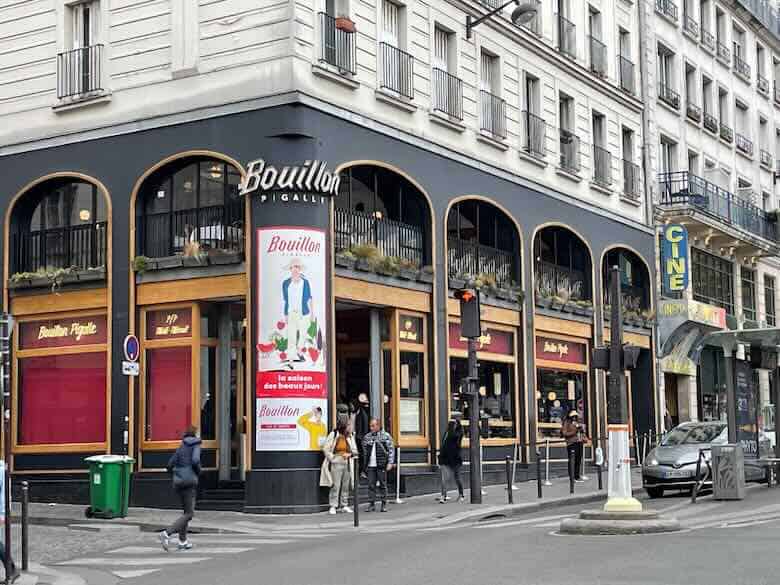 Bouillon Pigalle is actually not from the Belle-Epoque era. It's a modern bouillon that Pierre and Guillaume Moussié opened in 2017 on Boulevard Clichy, directly across from the Metro station. The outside of the restaurant has a large sign with an appealing design and there are often lineups to get in. The sister restaurant called Bouillon République opened in 2021 and is located at 39 Boulevard du Temple.
(a) Reservations
I made reservations for lunch at Bouillon Pigalle on their website as I heard there are these lineups. We arrived early and still had to line up to enter, but we were brought to our table quickly. Even if there is a lineup when you get there, don't worry. They have room for over 300 diners. We didn't feel rushed to finish and actually stayed 2 hours. This was one of the restaurants we visited during my Trip #36 (check the link for more restaurants and experiences during my 8 days in Paris).
Website: https://bouillonlesite.com/bouillon-pigalle
(b) Interior Design
I was most disappointed by the interior design at Bouillon Pigalle. I had expected (and hoped for) more Art Nouveau decor and colours. While there were white tablecloths and some cute illustrations on the large tall columns throughout the restaurant, the lighting and red leather (vinyl?) benches and wooden dining chairs just didn't bring any ambiance of the Belle-Epoque era.
(c) Service And Seating
The maître d' was friendly and asked if we wanted to sit upstairs, outside (yet covered) or on the main floor, inside. I asked for his recommendation and he said the main floor. Service at our table was efficient and not rushed and our order was taken fairly quickly.
We were seated fairly close to the other tables but not quite elbow to elbow. One word of warning: it is a very noisy restaurant.
(d) The Meal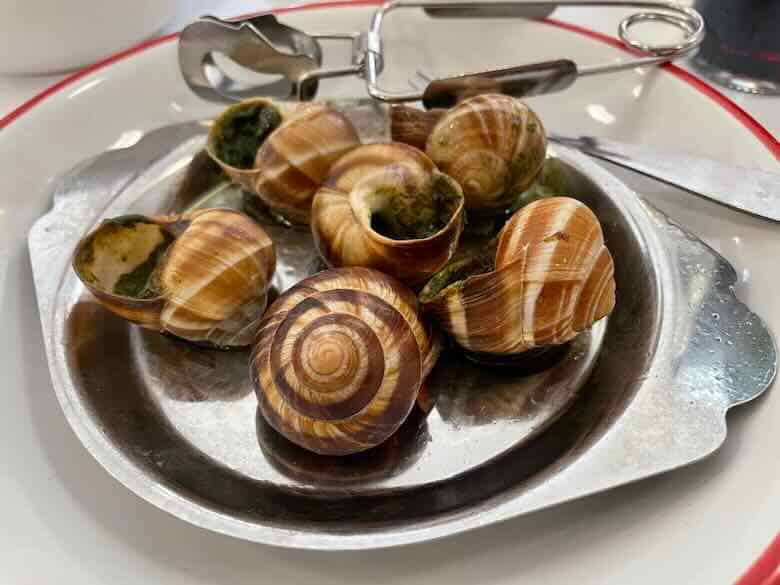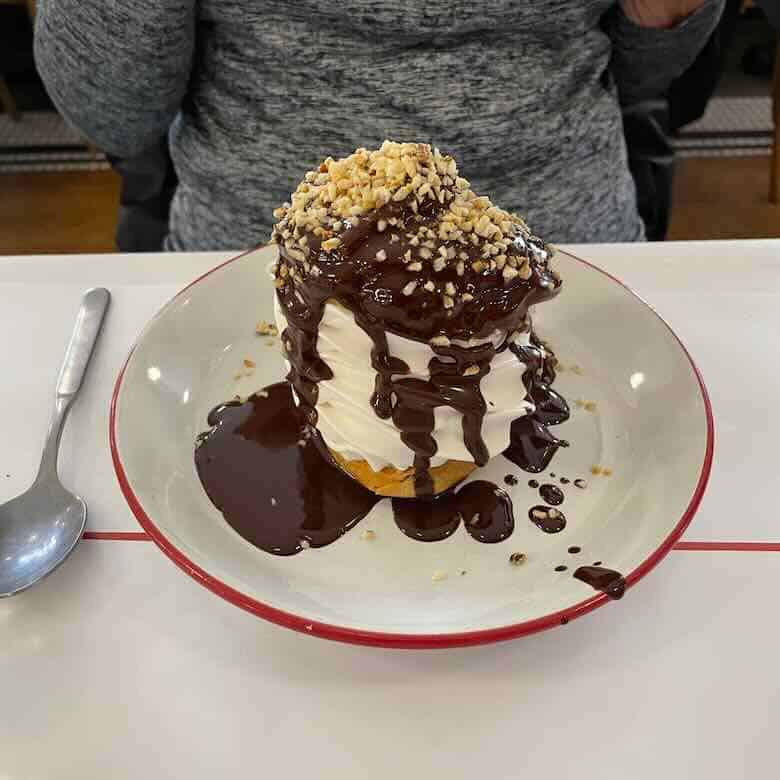 Entrée (Appetizer)
One of the most popular entrées on the menu is oeufs mayonnaise, but I chose the escargots to start and the boeuf bourguignon as my main course. I also had a pichet of red wine and for dessert, Ile flottante with rosé pralines. What is Ile flottante, you ask? Literally, it means "floating island". It is a very light, soft meringue floating on crème anglaise (vanilla custard) and often caramel is drizzled on top and sprinkled with pralines.
I felt that while the escargots were "fine", there certainly wasn't a lot of melted butter that you usually find with these 6 escargots in shells. There was parsley and garlic, but as you can see from the photo, most of the butter and seasoning were in the shell. Your bread didn't get much melted butter to soak up….which is always part of the fun of eating snails.
Plat (Main Course)
As for the main course, although the menu indicated there would be pasta with the boeuf bourguignon, having macaroni noodles was a bit odd. The boeuf was fine and tasty, but typically mashed potatoes and green beans are served with this dish. At Le Bouillon Pigalle, vegetables are an extra side dish, which I didn't consider getting at the time.
Dessert
The dessert, rosé pralines on top of the Ile flottante was nice and light, and the red wine, a Côte du Rhône AOP was perfectly fine.
My friend ordered a rosé wine to go with her escargots and her main course was roasted veal with onions and mashed potatoes. She said the veal was very tender and there was very little fat. I wish I had gotten her dessert…the biggest profiterole with ice cream and a hot chocolate sauce I've ever seen. I had a bite and it was delicious.
One nice touch that the restaurant has, is the ability to pay your bill through a QR code that is at your table. And, you can split the bill. No need to call over a waiter for "l'addition" (the bill).
(e) Cost Of The Meal
Cost for lunch was 26.80 €
Address: 22 Bd de Clichy, 75018 Paris
Open: 7 days a week 12:00 pm-12:00 am
Have you been to a bouillon restaurant in Paris? How were your meal and experience?
Pin to your favourite board on Pinterest