Running In France: Exceptional Marathons And Races
You can take a walking tour, river cruise, or bus tour to see France, but how about another way….by running in France? Let me clarify. I am not suggesting you run AROUND France to see the sites. I am suggesting that if you are looking at travelling to France, that you consider adding in a running race in France….5 km, 10km, half-marathon or even a marathon. Before you say, "I can't even run 1 mile/kilometre", I should point out that many races have entries for walkers, so it's not out of the question.

[This post was originally published in November, 2015 but is constantly updated to include additional races and advice. Latest update: September 22, 2023]
*This post contains affiliate links. If you make a purchase through these links, I get a small commission at no extra charge to you. It helps support the running of this website and I do appreciate your help.*
Running In France: Some Races I've Done
When I travel to France I like to add in a running race if I can. Of the 37 trips I have taken to France, I have done 11 races:
If you don't want to do a race but are just interested in doing some running, check out my post on the best spots to run: Where To Go Running In Paris: 10 Best Spots
Here's how you can do a race and enjoy your trip.
Signing Up
Many French race websites have English sites where you can sign up online. You will be required to submit a doctor's certificate before the race verifying that you are in good enough health to do the race. The certificate is usually in French; however, it's fairly easy to translate.
Jet Lag
I have done many of these races soon after arriving in France from North America. Yes, I had jet lag…there's a 6-hour time difference so a 9:00 am race is actually 3:00 am EST for me. Don't let that dissuade you. You'll be so excited that getting up early (6:30 am—-so 12:30 am) isn't that bad. Really! I usually take a gravol the night before to make sure I sleep.
The Races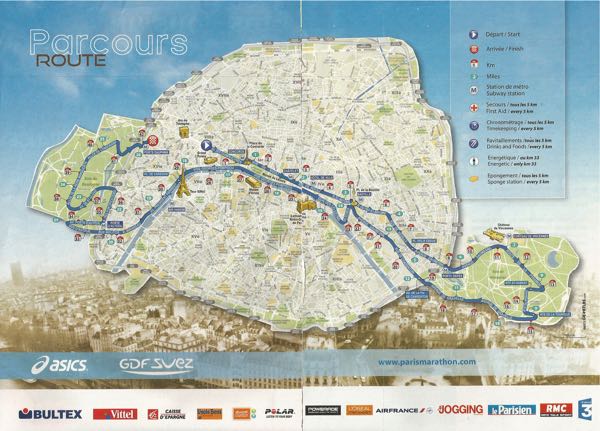 Le Semi-Marathon Pegasus (June)
The Semi-Marathon Pegasus is part of the "Le Marathon de la Liberté" (aka "Freedom Marathon") series of races that takes place in Normandy around the time of the D-Day anniversary. In addition to the half marathon, there is a marathon, relay marathon, 10km race, a women's 5km race (La Rochambelle), a rollerblading race, and a children's race. They do limit the number of participants (ie. for the half marathon the race is limited to 5,000 racers).
Two interesting things about this race:-You do not get your t-shirt when you pick up your bib. You only get your T-shirt if you finish the race!
– This race has a time limit. You have to finish the half marathon in under 2.5 hours. Plus, you had to cross the 10km and 15km mark within certain times (less than 1h15 and 1hr50 respectively) or else you would (supposedly) be taken out of the race. Not sure if they really did this as I ran under those times; however, talk about motivation!
For the half marathon, I parked at the Caen Exhibition Center and took a shuttle to the start, located in Bénouville, which is where British soldiers liberated the famous Pegasus Bridge in World War II. When you arrive, there is a bag check. On the day of the race the temperature was perfect-early morning it was 11° Celsius and by the end of the race, it was 18° Celsius.
Scottish bagpipers opened the race and all of the races celebrate and honour the soldiers who fought for our freedom on June 6, 1944 and during World War II, which is why they say in their promotional material,
"A unique experience in the footsteps of history's heroes".
The first 5 kilometres were very crowded, especially at Château de Bénouville. Everyone had to walk to enter the park. The route goes from Bénouville to Caen and it is fairly flat, with only an ascent of 115 metres. In addition to running by the Canal de Caen å la Mer, you do run through some small towns and through the countryside, so there was often shade. There were only 3 or 4 water stations with bottled water, oranges, and bananas.
The last kilometer has you entering Stade Hélitas (stadium) back in Caen and running on the track. After crossing the finish line, you pick up your finisher's t-shirt and then line up for the "Saveurs de Normandie"….foods from the Normandy region. They offered Livarot cheese, crostinis with jam, Teurgoule de Janville (rice pudding with cinnamon), cookies, and of course Normandy cider! It was one of the more interesting post-race food selections I've had.
The next Marathon de la Liberté is scheduled for May 31-June 2, 2024. This will be an especially memorable event because it is the 80th anniversary of D-Day and the Battle of Normandy.
Le Footing des Marins (June)
A very important event in Normandy is the Rouen Armada, which only happens every 4 or 5 years. This fabulous event runs for 11 days in early June where tall ships from around the world gather at Rouen. There are special (many free) events including opportunities to board the ships, concerts, cruises, fireworks and more. On the last day, a Grand Parade takes place where the ships leave Rouen and sail down the Seine River.
One special event is "Le Footing des Marins" which means "Jogging with the sailors". This 6-kilometre race is limited to 2000 participants and it is not considered a competitive race but rather a "fun" race.
The day before the race the organizers decided to change the race to a walk and to shorten the distance due to the heat. In all honesty, it wasn't as hot as some other races I've been in; however, I guess they didn't want anyone fainting!
The start was at Parc de la Presqu'île Rollet, along the Seine River in Rouen. Just before the "walk" started, you could hear singing from across the water. It was the sailors from the Indonesian ship, the Bima Suci! They were marching to the start of the race and when they arrived, they performed a wonderful chant for us. We all walked together across the bridge to the other side of the harbour and onto an area where they had refreshments such as croissants, apples, and Teurgoule, Normandy rice pudding.
Some freebies got handed out (ie hats and water bottles) and I got a really nice Seine-Maritime 76 hoodie [76 is the number for the Seine-Maritime department]. They had a band playing and the sailors joined in so it was a fun event to take part in. Hopefully, for the next Armada, they'll actually have a running race!
Important note: The information for picking up the t-shirt and bib was confusing. In addition to submitting your doctor's note, you could only pick up your race kit the last few days of May, even though the race wasn't until June 16! I emailed the organizer and was reassured I could pick it up the day I arrived in Paris (June 1) on my way to Bayeux. Had I not been lucky enough to pass through Rouen, I wouldn't have gotten my race kit. Kind of odd they didn't provide it the day or two before the race.
No date has been set for the 2027 race.
La Grande Classique: Paris to Versailles-16.2 km (September)
I took part in the 16.2-kilometer "La Grande Classique" race which takes you from Paris to Versailles. The route goes through the Meudon Forest and has some steep hills to climb. The support from 1800 volunteers and musical groups/bands (15) was outstanding. Many locals, even folks from one of the town's retirement homes were there cheering us on. The final results show that there were 20,102 finishers.
The race kit pick-up was available the Friday and Saturday before the race. Unfortunately, it took me about 50 minutes to get to the Palais des Sports where I had hoped there would be sports vendors there, like other races. Unfortunately, there were just tables set up to get your race kit and t-shirt. That's all.
On the day of the race, a baggage check was available, but my bag had to be dropped off before 9:30. This meant that I was in the fenced-in area until the race started. It became very crowded and difficult to warm up or even move. If you do this race, warm up before you drop off your bag and enter the secure area. The baggage tag will be attached to your bag and the receipt stapled to your bib.
During the race, there were "feeding stations"; however, there was no food, only water. I found this race to be more competitive or "pushy" than other races I've done in France. I think because the roads were usually not very wide, we were more crowded in and this meant there was more maneuvering to get ahead. I felt there were more than the usual number of "aggressive" runners. The steep incline began just before the 6km mark and lasted until about 8 km. I believe the incline was about 7 degrees.
When you finish the race you are on Avenue de Paris. Further down the road is the entrance to the Palais de Versailles. You are handed a large bottle of water and a drawstring bag that contains 2 granola bars and 1 apple sauce pouch. You also get a medal. I was impressed with how the race organizers designed the meeting area for friends and family who want to meet up with the runners at the end of the race. There are designated meeting points on Avenue de Paris indicated by big signs with names according to European cities such as Dublin, Amsterdam, Luxembourg, Brussels, Lisbon, and Rome.
Advice: assuming you're staying in central Paris and going to return from Versailles using the RER and Metro, purchase your RER/Metro ticket in advance. The RER station in Versailles ("Versailles Château Rive Gauche" station) was very crowded so having already purchased your ticket will save you time. Just keep in mind that on the train you'll be packed in like sardines and you'll likely stand the entire way. Not fun after running 16.2 km.
The next La Grand Classique: Paris To Versailles race will be on September 24, 2023.
La Course Effiage du Viaduc de Millau-23.7 km (May)
My first trip, post-Covid, took me to the Aveyron department because I wanted to run across the tallest bridge in the world: the Millau Viaduct. Structurally, it is 1104 feet or 336.4 metres tall. Of all the races I've done in France, the La Course Effiage du Viaduc de Millau was the most scenic. It crosses the Tarn valley and gorge and the views from many directions are breathtaking. At one point the elevation reaches 390 meters (1300 feet).
While the race wasn't the longest I've done (it's only 23.7 km), it was the most difficult. Central France was in the middle of a heat wave and on the day of the race it was very sunny and the temperature reached 32° C. Plus, there were 5 kilometres of very steep hills (50-60% incline??). No one ran up those hills. But these obstacles didn't matter.
The views of the Viaduct were spectacular and doing a running race on the Viaduc is the only way pedestrians are allowed ON the Millau Viaduc. When you're crossing the bridge in your car you are not allowed to get out and take photos.
I registered for the race, which only had around 6000 runners, in January for 45 €. The race expo is held at the Millau town hall, which is also the location of the finish line. It was well organized and you do get a t-shirt!
Like the other races, you have to indicate your anticipated finish time and for the starting point, you are designated to the applicable corral. My finishing time didn't matter because, with the heat, I knew I would be slow and I stopped numerous times to take photos.
I was disappointed that there were not additional water stations. There was really just one spot, at the 9km/14km marks (you circled back). I was so glad I brought extra water and gels. There was lots of food and water at the stations: oranges, cookies, sugar cubes, etc. Many thanks to the locals during the last few kilometers who brought out the water hoses to cool us down. We really needed it.
If your accommodation is not near the start line, there are shuttles in various areas of the city that will take you to the race and back; however, I missed the last shuttle after the race and had to walk back. It wasn't long (ie. 2 km), but after having run almost 24km I didn't have much energy left!
The next La Course Effiage du Viaduc de Millau is scheduled for September 22, 2024.
The Paris Half-Marathon (March)
On September 12, 2017 I got up at 2:00 am in the morning (8:00 am Paris time) to register for this very popular race that doesn't take place until March 5-the Semi-marathon de Paris. The cost was 49 Euros but after a certain threshold, the price goes up to the next price of 54 Euros.
You are required to indicate your expected finishing time as this determines what corral you will be in. They are very strict about when they let the runners into the start area. In this way, however, it is very organized. Your bib has a certain colour on it and designates your entry time.
At the race expo, located at the Parc Floral de Paris by Chateau de Vincennes, you need to bring all your identification and papers. There you pick up your bib and t-shirt. There were lots of booths selling clothes and energy and hydration supplements.
The day of the semi-marathon on March 5, 2018, was cold (5 degrees Celsius) and rainy. Sadly, I did the entire race in the rain. While supposedly 45,000 participants signed up, only 36,510 finished the race. I don't blame the others for not finishing. It was a tough race.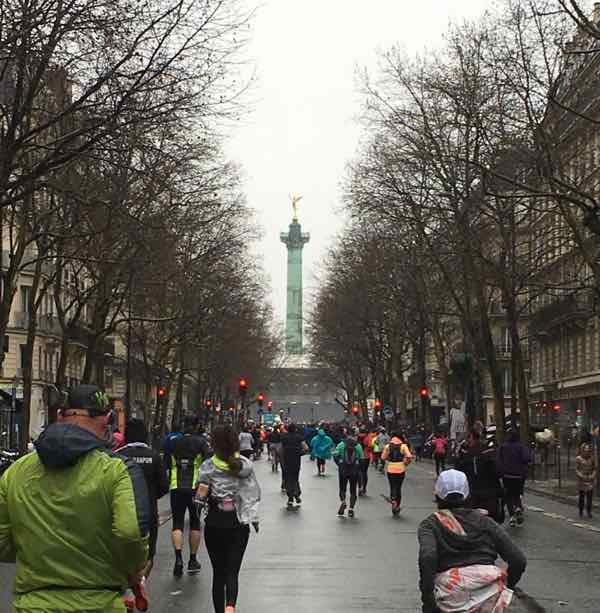 It is also much different from the Paris Marathon as it takes place in the eastern part of Paris. You won't be seeing the Arc de Triumph or the Louvre, but you will pass by Place de la Bastille and run along the Seine and rue de Rivoli. The Eiffel Tower will be in the distance and half of the race will be in Bois de Vincennes, by the Chateau. It's a very flat race with many, many bands playing (even in the rain) so the support for the runners is excellent.
The next Paris Half Marathon is scheduled for March 3, 2024.
The Semi-marathon d'Avranches (May)
[Registration is in November] The Semi-marathon d'Avranches is a relatively flat race at the end of May that provides lots of opportunities to get photos of Mont Saint-Michel which is the island on which stands the famous 11th-century Benedictine abbey. After parking at Mont Saint-Michel, you can get a (prepaid) shuttle to the starting point in Avranches located just north-east of Mont Saint-Michel. Sadly, we had to wait 2 hours before the race began; however, the weather was good. There are many different races at the Marathon du Mont Saint-Michel including a full marathon, 10km, 5.5 km, 58.9 km trail, and a Duo Marathon with two runners forming a team.
There were a couple of surprises with this race:
there was no water for drinking or washing one's hands after using the porta-potty (note: there weren't many of those either)
you do not end AT the Abbey, but rather in town near the car park. You'll still get perfect views of the Abbey in the background, but it will be further away. When you cross the finish line, you'll get your medal and t-shirt, which is quite common with French races.
No date has been set for the 2023 race.
The Paris Marathon
Running in France MUST include doing The Paris Marathon. The race that I ran had approximately 40,000 runners and it is an awesome way to see Paris. The Paris Marathon route starts at the Arc de Triomphe. You run down the Champs Elysée, along Rue de Rivoli, and then through many Paris neighbourhoods where the aroma of roasted chickens certainly drove me crazy. My other races in Paris started and finished at the Eiffel Tower and we ran along the Seine for a lot of the race.
The next Paris Marathon is scheduled for April 7, 2024.
The Marathon du Medoc
The Marathon du Medoc has you passing through some of the most scenic vineyards in France such as Chateau Lafite Rothschild and Chateau Lynche-Bages. I stayed in Bordeaux and spent a few days touring around there before doing the race in Pauillac. This is the best part about doing a race; you tie in some sightseeing before and after the race. A marathon only takes a few (OK, 3-6) hours so it's not too much time out of your itinerary.
No date has been set for the 2024 race; however, registrations open March 2024.
Les 20 Km de Paris (October)
I have done this race three times and it is held in October in the heart of Paris when the weather is perfect: not too hot and not too cold. The race starts at the foot of the Eiffel Tower and the route follows along the Seine river and passes the Arc de Triomphe, Place de la Concorde, and through Bois de Boulogne, a lovely forested area. So, if you'd like to sightsee, this is another way to see Paris!
The next 20km de Paris race will be on October 8, 2023.
Semi-marathon de Rambouillet (March)
For my March break holiday, I really wanted to go to Paris. The bonus was finding a running race nearby. This race was in Rambouillet, a short train ride just outside of Paris. After arriving Paris from an overnight flight from Canada, I took a train to Rambouillet and checked into my hotel. But, no rest for the wicked. I had to get to the race expo to pick up my race bib, so it was an incredibly tiring day (aka jet lag).
The next day I got up early (up at 6:00 am was really like getting up at midnight), had breakfast and headed off to the race. It was cold but not freezing. The route took us partly through town and past the famous Chateau de Rambouillet. There was a wooded area that was nice and at the end besides cakes, fruit and granola bars, we were given hot chocolate which was greatly appreciated! Later that day, after having showered and rested, I headed back into town to explore. Sadly the Chateau wasn't open and I was leaving the next day to head back to Paris, so I really didn't see much of the town.
No date has been set for the 2024 race.
Semi-marathon d'Antony (March)
Like the Semi-marathon de Rambouillet, I found that this race took place during a March break holiday. Antony is also just a train ride away. They were having a Semi-marathon; however, I just did their 7 km race. It ran through the town's streets, so it wasn't especially scenic. But it was a beautiful, warm (20 degrees) March day, so I didn't complain. After the race, I hopped on the train and headed back to Paris, so it was an easy race to do. [The 5.5 km race has now replaced the 7 km race.]
No date has been set for the 2024 race.
The Food
French races are a bit different from North American races where water stations have cups of water and maybe a sports drink like Gatorade. In France, water is provided along with sugar cubes, raisins, and orange segments. I found it odd (and not environmentally friendly) and rather dangerous that water was not served in cups, but rather bottles. Imagine running over and around hundreds of bottles and hoping you don't slip on one!
The BEST water stations were during the Marathon du Medoc in Bordeaux wine country where each water station had wine and foods such as chips, granola bars, beef, paté, oysters, and ice cream. I did not get drunk as my strategy was to sip a little wine, sip a little water and eat. I crossed the finish line without collapsing.
The Marathon du Medoc is not a race where participants hope to get their best time. It's a party and many are dressed in costumes and the year I ran it, the theme was science fiction. My favourite picture shows a team of Flash Gordon racers holding me up…this was at the oyster water station. It's a very supportive race where a number of times runners would not only say, "Allez! Allez!" ("Go! Go!) but would also gently guide my elbow along. Hmmm, did I look that tired?
The Finish
Crossing the finish line and getting a finisher's medal is one of the best parts of running a race. In North America, there are usually sports drinks, bananas, and bagels to eat. In France, I've been given: pound cake, prunes, granola bars, cookies, and muffins, but the BEST swag was at the Marathon du Medoc. Each finisher received a knapsack containing a box with a bottle of Bordeaux wine, a tasting cup to drink more wine (or beer) at the finisher's beer tent. Told you it was a party!
If you want to have a memorable experience travelling, seriously consider running in France and doing a race. You'll have not only have a great achievement but you will also have seen France in a slightly different way.
And if you can't fathom a race, consider doing a Paris Running Tours tour. You'll not only get a tough or easy workout (your choice), but you'll learn all about the history in Paris in a very interesting way.
Last Piece Of Advice, Especially If You Don't Want To Do A Running Race In France
If you don't want to do a running race in France, but you are travelling to Paris, I highly suggest either running before 8:30 am or running in a park. The reason is that the traffic starts to get heavy and unfortunately you will inevitably have to cross some streets that have lights. So, you will be stopping and starting constantly. You can run along the banks of the Seine as there are footpaths; however, once again you will hit a street and have to cross.
An alternative is to run in Luxembourg gardens. You'll find lots of joggers and it has a path around the perimeter; however its only about 2 kilometers (1.3 miles). Jardin des Plantes is another one but the perimeter is even smaller. Parc des Buttes Chaumont is lovely but a bit out of the way. I have run up and down the Champs Elysee as well. Just do it before the crowds come out!
Check out my post about running in Paris. I've chosen 10 of the best spots to run in Paris and have indicated what the route is like.
So where have you run during your travels? What races have you done in France?
If you'd like to have an active vacation in France be sure to check out these other posts:
Travel Resources
Booking.com and Expedia: are the companies I use for finding accommodations.
VRBO: is super for booking apartments and houses.
AutoEurope: is the only car rental supplier that I will use--with the best prices, and they will refund the difference if the price goes down.
Trainline: offers an easy way to book train tickets.
Get Your Guide and Viator: Both offer tours, city cards, tickets, airport pickups, and so many other things you'll need at your destination.
Orange SIM Card-this is the company I use when I want a physical SIM card
Orange e-SIM and Airalo e-SIM-both companies offer e-SIMS and get great reviews