Explore French Gastronomy Dijon's Cité de la Gastronomie et du Vin
In May 2022, a new cultural attraction opened in Dijon: La Cité Internationale de la Gastronomie et du Vin— in English, it means "The International City of Gastronomy And Wine". A long name and a large venue, covering an area of 6.5 hectares (16 acres). Here you can learn all about French food and wine and the gastronomy of France. It's a foodie's paradise. In this post, I share what I liked and what surprised me.
1. La Cité Internationale de la Gastronomie et du Vin In Dijon
It's free to walk around La Cité and the only paid part is to visit the 4 exhibition areas which have numerous interactive displays. Locals and visitors love to explore the gastronomic village, pick up some groceries in the specialty food shops, and have a meal at one of the many restaurants. They also go to the cinema, visit the bookstore, attend a wine tasting or tour, or take a course at the Ferrandi Paris cooking school or at the École des vins de Bourgogne to learn about wine.
There is a historical uniqueness to this complex. It is located on the grounds of the city's former hospital where 2 historic chapels that have been deconsecrated remain. (They are no longer used for religious purposes). One dates back to 1459.
2. UNESCO World Heritage Recognition
It's no surprise that La Cité Internationale de la Gastronomie et du Vin in Dijon was created in view of France is known for food and wine. Gastronomy in France has been recognized by UNESCO.
(a) Gastronomic Meal of the French (UNESCO 2010)
Did you know that the "Gastronomic Meal of the French" was added to the UNESCO World Intangible Cultural Heritage Of Humanity list in 2010? UNESCO talks about the bringing together of family and friends and the proper selection of dishes, the pairing of food and wine, and the structure of the meal (ie. apératif, four courses, cheese, dessert).
(b) The Baguette (UNESCO 2022)
In November 2022, another item was added to the list: the baguette! UNESCO World Heritage stated the importance of "artisanal know-how and culture of baguette bread" where only four ingredients (flour, water, salt and leaven, and/or yeast) are used by a baker who uses "specific knowledge and techniques."
3. At The French Table: Celebrating Gastronomy In France
The displays and information in the 4 exhibition areas at La Cité are extremely well done and colorful. The intent is to tell you about the French gastronomic meal (past and present) and immerse you with all the information and facts you would find interesting about food and wine. It is executed with multimedia displays and activities for adults and children. Educational? Yes. Boring? No.
The entire complex is very eclectic and is a must-see when you are in Dijon. It's the opportunity to celebrate the world of French gastronomy and wine and discover the "joie de vivre" (joy of life).
4. Permanent Exhibition #1: The Little Theatre Of Fine Food And Drink
This first exhibit introduces you to the French gastronomic meal and the vocabulary used in French dining.
There are many displays such as a whole section on table manners or the evolution of dining through the ages, where you see the different tableware used throughout the centuries. Of course, there is an extensive discussion about the holy trio of bread, wine, and cheese and 'The French Love Affair With Cheese".
5. Permanent Exhibition #2: In The Kitchen
In this exhibition, you take a tour of the market, learn about the importance of produce, and use one's senses in the preparation, cooking, and eating of a meal. There are challenges and games to encourage you to learn about foods, wine aromas, flavors, and even kitchen tools and utensils.
(a) Which Pot Is Heavier?
One activity had you guessing which pot was the heaviest with a discussion about the use of copper, stainless steel, or copper pots and pans. And while there's lots of science and facts involved in these displays, they have made learning fun with challenges and hands-on activities.
(b) Activity: Panic In The Kitchen
One of the best interactive activities I tried was called, "Panique en Cuisine"—Panic in the Kitchen! It is an immersive game of sorts and it was a riot. No real food. Your culinary skills to create a dish are put to the test and it's an opportunity to do some virtual cooking.
I first had to choose my name and then I was assigned my task and directed to my food station. I can't remember why I chose "Lost Pie" as my name; however, my task was to make a chocolate mousse.
At my food station, there was a stove, oven, and refrigerator filled with food. But everything was "virtual"… "as if" you had the physical items.
You have to follow the instructions on the stovetop in your cooking area just like following a recipe.
The instructions outlined the tools, utensils, dishes, and ingredients you would need for each step and you would be told where to find them. For the ingredients, you had to "virtually" retrieve the right items from the fridge.
In making my mousse I was told to cut the butter with my finger and add the right amount of chocolate.
I then had to stir the chocolate over the stovetop for the right amount of time until it bubbled (it actually looked like it did!). It's like you're doing it for real! And yes, it was stressful being the chef!
If you're with a group it would be a fun activity to compete with one another to see who could complete their recipe first.
For more things to do in Dijon, check out this post: Unique Things To Do In Dijon (When You Have 1-2 Days)
6. Permanent Exhibition #3: La Chapelle des Climats et des Terroirs
The Chapel of Climats and Terroirs is located in La Grande Chapelle—which dates back to 1504. In the middle of the 19th century, the Grand Chapel occupied part of the hospital's sick ward and afterward, renovations were done to restore the church. Only the pulpit and stalls remained after the church was deconsecrated in 2015.
The chapel has now been transformed into an exhibition space. Large images are projected on the walls and models and displays around the church promote the terroirs and gastronomy of Dijon and the Burgundy area. The displays were nice but I found after a while, it was too much information that bored me a bit.
The Other Chapel
The other chapel in the courtyards of the Dijon's former city hospital is Chapelle Sainte-Croix de Jérusalem. It dates back to 1459 and its restoration was rewarded in 2023 with the Heritage Ribbon Prize. You can visit it for free but you must get a ticket in advance.
7. Special Temporary Exhibition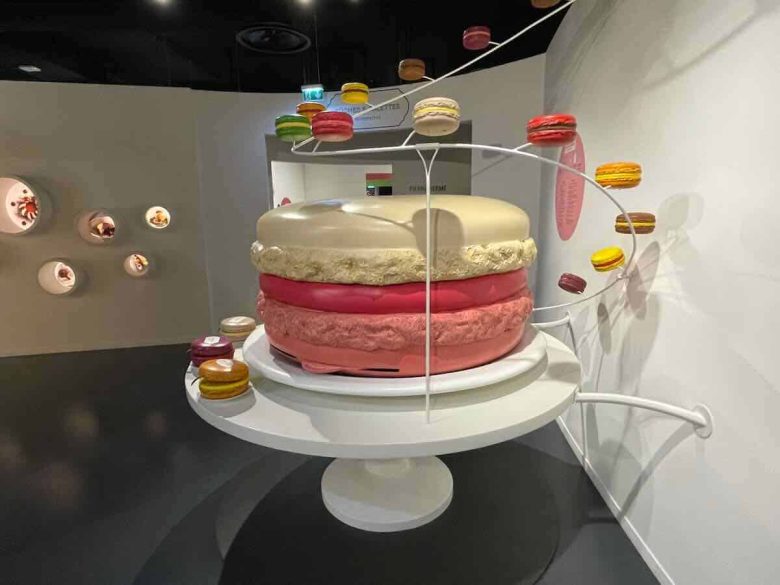 In 2023, there is a special exhibition at La Cité de la Gastronomie in Dijon and it is sponsored by the world-renowned French pastry chef, Pierre Hermé. It is called "La pâtisserie, c'est pas du gâteau! Les Secrets de la Patisserie Française" (Pastry- it's not cake! Secrets of French Patisserie). It is an exhibition about the cakes and pastries for which France is so well known. (Displays about cakes and pastries from other countries are also highlighted). I hope they extend the run of this exhibition because it's amusing and colourful.
There are fun information boards and colorful displays in this section, such as:
a huge macaron display
a beautiful pâte a choux exhibit and explanation of how this famous dough (that is used to make profiteroles and other desserts) originated
whimsical works of art by artists such as Vincent Olinet: Spring Extravaganza-frosted with powdered strawberry and coated with pistachio-mint glaze
important parts of the pastry chef's uniform
advice from Pierre Hermé to young pastry chefs (ie. "Thou shalt go easy on sugar" and "Thou shalt create emotions with your cakes")
8. Le Village Gastronomique
In the center of La Cité de la Gastronomie in Dijon is a true village where you can find fishmongers, butchers, gourmet shops, and restaurants. The focus is on specialties of the region and it's an especially popular place to have brunch, particularly on the weekend. When I was there on a weekday it was almost deserted. Shops and restaurants were open, but what surprised me was that there certainly weren't many visitors. To be fair, I visited after lunch; however, I was quite surprised as it was early June…not the middle of winter!
Some of the highlights include La Cave de la Cité, a magnificent wine cellar that has over 3000 bottles of wine—-1/3 from Burgundy, 1/3 from France, and 1/3 from the rest of the world. Wine can be ordered by the glass.
Le Comptoir de la Cité and La Table des Climats
When I visited, it was well past lunchtime and many restaurants didn't look like they were serving any food so I had a bite on the terrace at the brasserie, Le Comptoir de la Cité, which is the restaurant near the entrance to La Cité: a glass of Bourgogne Aligoté and a vegetarian salad (very good: couscous, carrots, feta, nuts) came to 11€.
Le Comptoir de la Cité is headed by Culinary Director, Éric Pras (3-star Michelin chef from Maison Lameloise), who also runs the very prestigious, La Table des Climats on site. This is a "Vinostronomic" restaurant that pairs food and wines—from the collection of 50 Burgundy Grands Crus wines—by the glass. It's the opportunity to experience the true French Gastronomic Meal by chef Kévin Julien.
My experiences in Dijon were part of my 37th trip to France. For more information, check out my itinerary here: Trip #37 To France: 18 Days In Normandy, Burgundy, And Back To Normandy.
9. Lyon And Bordeaux
Dijon does have some competition in the area of food and wine. So if you happen to be in Lyon or Bordeaux, do check out these sites.
(a) Cité de la Gastronomie de Lyon
In the Fall of 2019, Lyon's Grand Hotel-Dieu opened the Cité de la Gastronomie de Lyon and sadly had to shut down during the pandemic. It's back open and it's a big area that has a 5-star hotel, shops, restaurants, offices, apartments, and even a convention center.
Like Dijon's center, Lyon's has a permanent exhibition called, "Bonnes Tables, Belles Tables" celebrating the gastronomic meal of the French. A temporary exhibition called, "Banquet" takes you on a multi-sensory journey from the kitchen to the feast. It ends in early November. There are also workshops for children and adults, food demonstrations, and guided tours (French only). The entrance fee is 7 €.
(b) Bordeaux's Cité du Vin
As I wrote in this post about Bordeaux's La Cité du Vin, this site promotes everything to do with wine.
La Cité Internationale de la Gastronomie et du Vin
Address: 12 parvis de l'Unesco, 21000 Dijon, France
Hours: Tuesdays-Sundays, 10:00-6:00 pm
Note: The Gastronomic Village and most bars and restaurants are open daily and have more extensive hours.
Cost: It's free to wander around La Cité; however, the cost to explore the 4 exhibitions and exhibits is 9 €. At the time, I was also given a choice of a small gift….I chose a mustard by Edmond Fallot. For an additional cost, you can also have a Burgundy wine tasting.
Pin to your favourite board on Pinterest