When you think of Bordeaux, France you might immediately think of wine. If you do, then you should also seriously consider visiting La Cité du Vin, a wine museum that is far from the "stuffy", boring museums that you might be used to. It's literally hands-on, interactive, and fun for adults and children. Oh, did I forget to mention? There's wine tasting at the end of your visit, too!
*This post contains affiliate links. If you make a purchase through these links, I get a small commission at no extra charge to you. It helps support the running of this website and I do appreciate your help.*
La Cité du Vin Recently Unveiled
In June, 2016 Bordeaux unveiled this large, curved museum which was designed by architects Anouk Legendre and Nicholas Desmarzières from XTU, Paris. The complex has incorporated inventive, multi-sensory ways to get visitors to learn about wine history, culture, and wine making from around the world. The latest technology and visual effects are used in the displays throughout the 20 themed areas. This permanent exhibit space covers a large area and one is free to explore the museum at one's own pace.
As a result of my January visit, I offer some advice for those who might consider visiting it.
It was a bit confusing where to go after the ticket counter. They need better signage and the brochure you are given has incredibly small print and not a lot of detail. Just head up the stairs to the second floor. This is where you will get your interactive audio guide (it's like an iPod) and headphones.
It is available in 8 languages and when you are at an exhibit, you hold your device against it to sync it via bluetooth.

The audio will start to talk about the display.

There is no set plan to follow. You can wander around to what ever exhibits look interesting.
Here are some of my favourites:
The World Wine Tour (Le Tour du Monde des Vignobles)
There are large screens which give aerial views of the different wine regions around the world. The cinematography is excellent. I suggest you start here and then wander around.
The Terroir Table (La Table Des Terroirs)
In this area one can watch videos of those involved in wine production from the wine makers to the exporters. You'll learn about the tradition, soils, and history of wine making.
Buffet Of The Five Senses (Le Buffet Des 5 Sens)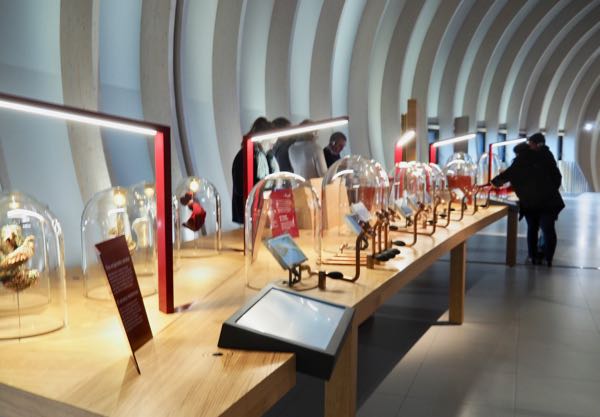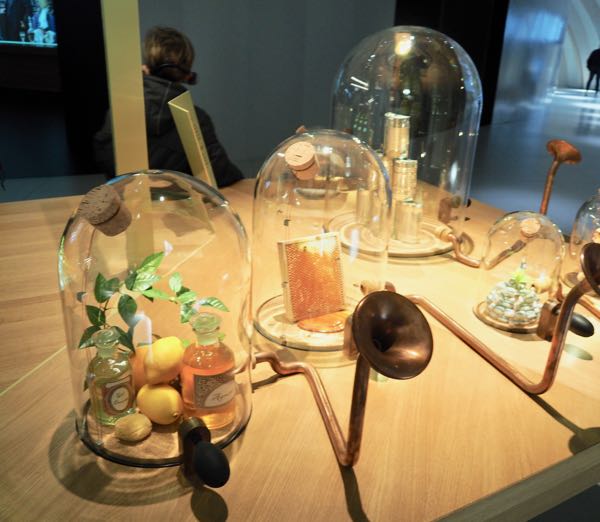 This was perhaps my favourite area because it was hands-on and fascinating. You basically are using your senses (especially smelling) to learn about wine and its characteristics. Children would especially like this interactive exhibit.
The Art Of Living (Tout Un Art De Vivre)
What a creative endeavour using technology! Picture a dining table and one of the guests is a chef discussing the art of French gastronomy. It's like they're sitting right across from you!
The Trend Wall (Le Mur Des Tendances)
Wine is now a trendy product and this display shows some of the latest trends in wine making and wine culture. Personally, I loved the little Citroen 2CV (just like my website's logo) in the bottle.
All Aboard (À Bord)
All Aboard is another creatively done audio-visual exhibit where you are a passenger on a merchant ship in the 14th century, 17th century, and 18th century.
Next Stop: The Belvedère
On the 8th floor, you can choose to taste a glass of wine from one of many regions in the world. I, of course, chose France. Walk around on the perimeter to get a panoramic view of Bordeaux.
After Your Visit
Take a peek into the wine cellar and boutique on the ground floor. Both have interesting finds. In addition to the Permanent Exhibit, there are also documentaries and temporary exhibits and "Discovery" workshops such as one where you learn about wine tasting. The cost varies from 15-25 Euros.
If you're game for more wine, consider these two wine bars in Bordeaux: Le Bar à Vin and Bistrot des Frérots. One is hip and modern and the other is relaxed and rustic. Here's my post with information about the atmosphere, wine, food, and prices: 2 Wine Bars In Bordeaux-One Hip And Modern. One Cozy And Rustic
While I have visited and written about a fun wine museum in Paris called Les Caves du Louvre (Wine Experiences For The Senses ) , La Cité du Vin is much bigger and much more interactive. So, if you're in or near Bordeaux, I highly suggest you make a visit here. It will be worth your while.
La Cité du Vin Information
Ground Floor (Rez-de-chaussée): buy tickets here (although I bought mine online). It also has a boutique, wine cellar, and wine bar
First Floor: Auditorium, lecture hall, temporary exhibits and a reading room.
Second Floor: Permanent Exhibition. This is where you want to go. It has the displays and hands-on activities. Begin by picking up your free interactive audio guide.
Seventh Floor: "Le 7 Panoramic Restaurant" has over 500 wines and views of Bordeaux
Eighth Floor: Belvedère-has 360 degree views of Bordeaux and your end-of-tour wine tasting.
Click here to see the latest prices of "La Cité du Vin Skip The Line"
Address: 134 Quai de Bacalan, Bordeaux
Admission to the permanent exhibit (as of 2017): 20 Euros
Guided tours: 8 Euros
How to get to La Cité du Vin:
Tram Line B: from the main area of Bordeaux. It stops 1 block away from the museum, or
Batcub (River Shuttle): the museum is one of its stops
Where To Stay
My friend and I stayed in the centre of town. As we arrived by train, we had no need for parking. It was in the ideal location for restaurants and shopping and the room was well equipped (Nespresso machine) and comfortable. I'd definitely stay here again: Quality Hotel Bordeaux Centre.
Pin to your favourite board on Pinterest