The scenery in the French Pyrenees is breathtaking and so is the journey on "The Little Yellow Train ("Le Petit Train Jaune"). This iconic train is what made me travel to the Pyrénées-Orientales department of southern France. It was worth the journey not just for the views, but also for the experiences. Here's everything you need to know about taking a ride:
What the journey is like
Information about the scenery
How to buy tickets
The route and stations you'll pass
Possible final destinations
**Contains an affiliate link**
1. Journey On The Little Yellow Train
The Little Yellow Train (on the 'Ligne de Cerdagne') has been running for over 100 years and serves the highest train station in France (Bolquère) at 1593 metres. The trains are gold and red (blood) which are the colours of the Catalan flag. These are the Pyrénées you see throughout your journey.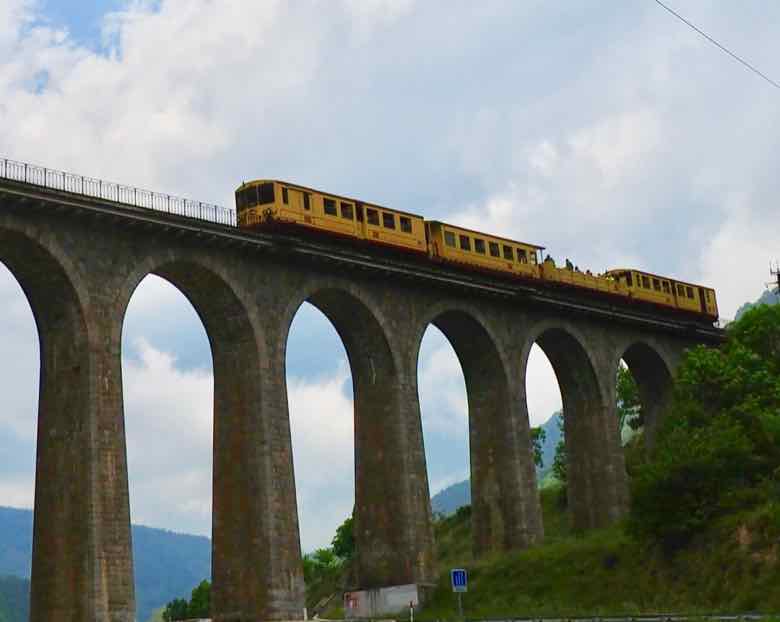 The journey runs between Villefranche-de-Conflent (427 metres) and Latour-de-Carol-Enveitg (1231 metres). It heads into the Regional Nature Park of the Catalan Pyrénées and stops in various towns so technically you could start your journey at any one of the stops. But, I feel there are two strong reasons why you should start your voyage at Villefranche-de-Conflent :
The BEST sights are seen between Villefranche-de-Conflent and Mont-Louis.
Villefranche-de-Conflent is a beautiful town worth visiting and it is designated one of the "Les Plus Beaux Villages de France" ( most beautiful villages of France).
2. The Scenery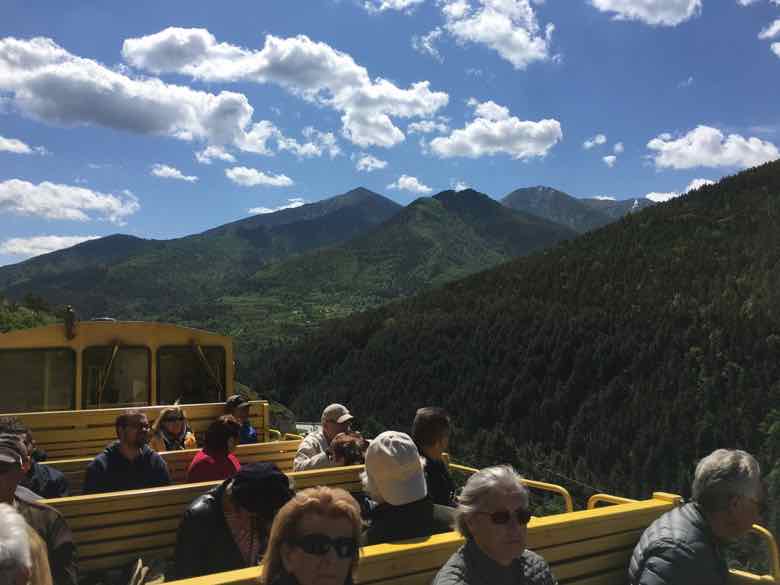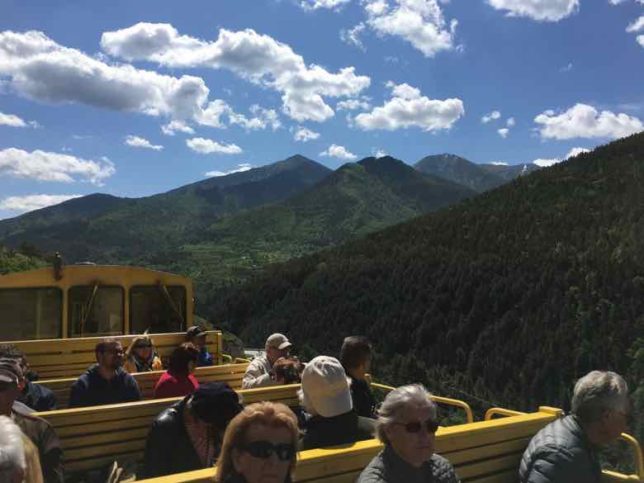 There was only one open-air carriage and I was lucky enough to get a seat on the side. Perfect for taking photos. You go through valleys, cross over high suspension bridges, and make a slow climb up mountains.
I can pretty well say that everyone on the train was in awe of the scenery. You could stand up and take photos in front of you or behind you. This section of the trip took just under 1.5 hours.
Advice:
sit at the back of the open carriage. You'll get much better views. Mine in the second row wasn't bad, but the back row would have been perfect.

bring a warm jacket, sunglasses and a hat. You're heading north into the mountains and while the temperature in Villefranche-de-Conflent was around 23 degrees C, up top it was 11 degrees and windy. This was in early June.
3. Little Yellow Train: Getting Tickets
You can't buy the tickets in advance. I couldn't even buy the 10:05 am ticket until the 9:00 train had left! There were a few things I was told that turned out to be wrong; however, I should point out that it's best to check with the train personnel because things do change.
What about train strikes?
I was also told (by my B and B owner) that the train personnel had been striking 2X a week. When I checked, I was told no there were no plans for strikes that week.
How early should you get to the train station?
In Prades, where I was staying, the tourist office told me to be at the train station 1 hour in advance to buy my ticket. This turned out to be unnecessary in early June mid-week. 30 minutes would have been sufficient. There were no line ups to buy tickets and upon departure, there were still a lot of seats available. In July and August though, and possibly on weekends, I probably would get there an hour before.
Advice:
Parking at the Villefranche-de-Conflent train station (called "

Villefranche-Vernet-Les-Bains")

is 5 € (all day). The machine takes cash and credit cards

Get a copy of the train schedule and advice from the ticket office. Trains run infrequently, not every hour. This applies to departures and returning trains.
Choose your time carefully. I had considered the 9:00 train; however, that would have given me way too much time at the final destination and I thought I might be bored. So, I chose the 10:05 train and was told my departure time from Mont-Louis was open (I could choose when to return)
Remember to validate your ticket
There are washrooms at the train stations
While early June was a lovely time to go, the towns along the route in midweek were very quiet. OK, dead. Weekends and July and August are likely much livelier; however, you'll also get bigger crowds.
Where to stay: consider staying in the nearby town of Prades. I had a great room with a terrace, private bathroom, secured parking, breakfast, and complimentary wine/beer. The town has many restaurants and is in the perfect location to explore the area. Here is a link to Maison 225.
4. Route: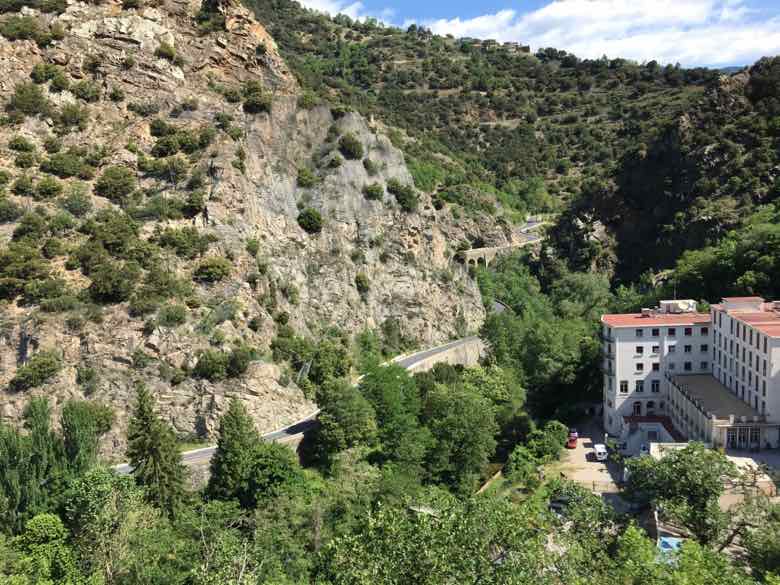 The "Le Petit Train Jaune" route passes by 22 stations:
Villefranche-Vernet-Les-Bains"
Serdinya
Joncet
Olette-Canaveilles-les-Bains
Nyer
Thuès les-Bains
Thuès-Caranca
Fontpédrouse-St-Thomas-les-Bains
Sauto
Planès
Mont-Louis-La Cabanasse
Bolquère-Eyne
Font-Romeu-Odeillo-Via
Estavar
Saillagouse
Err
Sainte-Léocadie
Osséja
Bourg-Madame
Er-les-Escaldes
Enveitg-Village-Béna-Fanés
Latour-de-Carol-Enveitg
5. Where Should Your Final Destination Be?
As mentioned, the most popular destination is Mont-Louis. I have heard that the final stop, Latour-de-Carol-Enveitg, doesn't have much there. I suppose it is ideal for people looking to do some serious hiking; however, in certain towns you won't find a lot of restaurants, cafes, or stores. And sometimes the train doesn't even stop at certain stations. Best to check the schedule.
Destination #1: Mont-Louis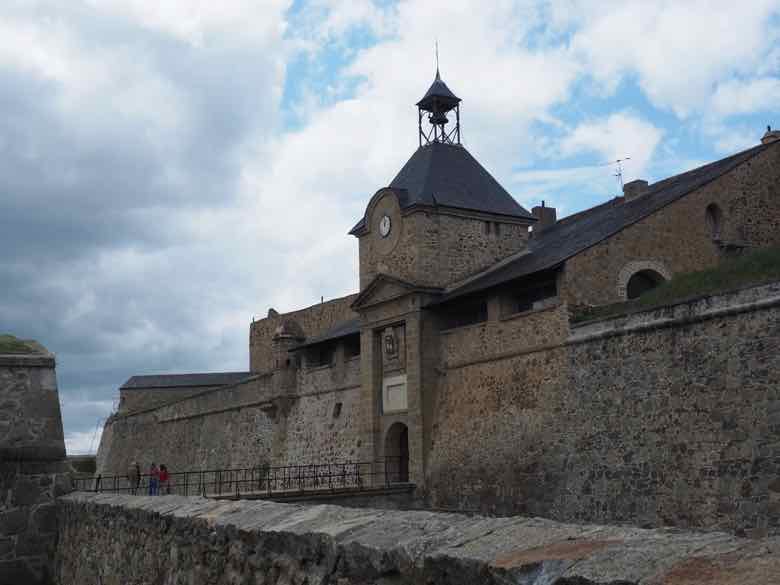 I chose to get off at Mont-Louis which is a fortified town from the 17th century and a UNESCO World Heritage Site. I spent a couple of hours wandering around town and then took a walk around the periphery of the citadel. It provided some lovely views of the ramparts and the Pyrenees mountains in the surrounding area.
Mont-Louis has some restaurants but only a few were open in early June. Fortunately, my B and B had made me a picnic lunch. I did stop at a cafe, however, for a glass of cider.
Cost of a return ticket: 21.8 €
Advice: bring snacks, a picnic lunch, and water
Destination #2: Font-Romeu-Odeillo-Via
As it was only around noon by the time I had seen most of Mont-Louis, I checked the train schedule and realized I could actually go further north to Font-Romeu-Odeillo-Via. I bought another train ticket and just waited 30 minutes for the train.
When I arrived at Font-Romeu-Odeillo-Via, there were only a few signs. I only had about 1.5 hours to explore the area and decided there just wasn't time to trek all the way up to Font-Romeu. (It's about a 50-minute walk, uphill). Font-Romeu is one of the oldest ski resorts in France with many hotels and restaurants. I hiked part way up, through the town of Odeillo just for the views. The town was pretty quiet. The real action happens in winter (ski season) and in the summer. So depending on how much time you have, you might actually choose Font-Romeu-Odeillo-Via as your final destination.
Four Solaire
I did take a look at the "Four Solaire". This is the world's largest solar furnace that was built in the 1960s. It measures 177 feet by 157 feet and has 63 moving mirrors which reflect the sunlight. Obviously, a lot of scientific research takes place here and the Héliodyssée is a centre for visitors to learn more about the facility, solar power, and energy research. Unfortunately, it was closed due to renovations, but those gigantic panels were pretty impressive.
Cost of a return ticket: 7.2 €
Return Train Ride
The train ride back was nice, but not as thrilling as heading out, partly because I was in an enclosed train compartment. The trip back took 1.75 hours. So the entire journey on the Little Yellow Train including hiking and stops for lunch took 8.5 hours. A full day's outing.
I am very happy I took this trip. Although some people might feel it's "just" a train ride, it's a train ride with stunning scenery. Sure, it's a train, but it's a "little yellow train" that really stands out in the Pyrénées!
Pin to your favorite board on Pinterest