My Favourite Kitchen Supply Store: E. Dehillerin In Paris
Where to buy something for yourself (or as a gift) when you travel to France? Consider my favourite kitchen supply store: E. Dehillerin in Paris. You won't just be purchasing some classic supplies (at great prices), but you'll also have a unique experience and be in a store like no other. I have purchased many items here and keep going back.
*This post contains affiliate links. If you make a purchase through these links, I get a small commission at no extra charge to you. It helps support the running of this website and I do appreciate your help.*
In this post, I'll be covering why E. Dehillerin is so special, information about its history (4 generations), why the inside of the store is so unique, how to purchase kitchen items, and what the shopping experience is like…..so you'll be prepared.
1. E. Dehillerin In Paris-A Kitchen Supply Store Like No Other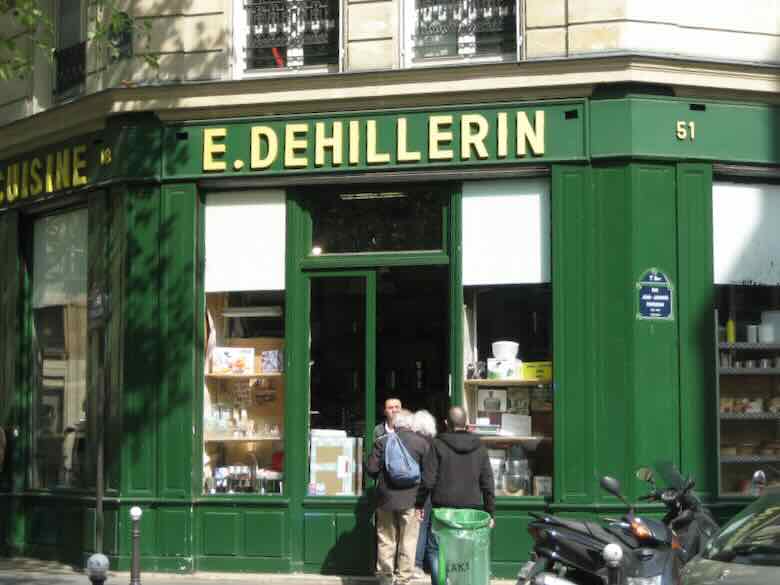 E. Dehillerin is a popular restaurant supply store in Paris and also heaven for just about anyone who likes to cook or bake or just wants to pick up something unique to take back home.
In early November 2021, US Vice-President Kamala Harris and her husband, Second Gentleman Doug Emhoff made a visit to the store and they purchased a copper pot, stainless steel frying pan, and other items for her upcoming Thanksgiving dinner.
Michelin-starred chefs such as Joël Robuchon and Paul Bocuse have also been regulars. Ina Garten, who wrote the book, "Barefoot in Paris" raves about it. And you can't omit TV chef and author, Julia Child, who visited often.
There are many cookware shops in the Les Halles district But the E. Dehillerin Paris store is different with everything you might need. It's been a family business since the late 1800s located on rue Coquillière near rue Etienne-Marcel and rue Montmartre in the Les Halles area. The whole area and the area just north on rue Montorgueil and rue Tiquetonne is a foodie's haven.
You might also like to read these posts:
–A Visit To Bordeaux Should Include Some Wine And Cheese At These Wine Bars
–Some Short Courses Offered By Le Cordon Bleu
-Making Chocolate Macarons Following Cordon Bleu Insider Tips
2. E. Dehillerin History
So, you're probably asking, what does the "E" in E. Dehillerin stand for? The founder of E. Dehillerin was André Charles Eugène de Hillerin de Préssec (1855-1902), known as Eugène de Hillerin.
Eugène began acquiring hardware stores and coppersmithing workshops (quincailleries-chaudronneries) and in 1890 purchased a property at 18 rue Coquillière that had actually been doing coppersmithing (chaudronneries) since 1820. I believe this is why the store's website says Dehillerin originated in 1820.
He manufactured and sold many products of his own; however, he also sold other companies' products. Through the years, the family expanded the business, by purchasing additional hardware stores, boiler workshops, and household goods stores (at 1, rue Montmartre and at 7, rue du Bouloi) to assist in producing their cookware, copper pots, and pans.
For many years the Dehillerin brand won awards for its cookware and in 1894 received a gold medal in a major culinary exhibition.
Dehillerin's motto is:
"Aider modestement à promouvoir la cuisine française".
("Helping modestly to promote French cuisine")
The family de hillerin business has stayed in the family for 4 generations and they use the name "Dehillerin" as the brand name for their store.
Second Generation
After Eugène died in 1902, his widow, Augustine ran the business with help from their two children, daughter Andrée and son Paul-Eugène (known as Maurice) and son-in-law. When Maurice returned from World War I in 1919, he took over the business from his mother and expanded it. Sadly, during WWII in 1943, the Gestapo arrested Maurice for acts of resistance and he was deported to Buchenwald-Dora where he died in March 1944.
Third Generation
Sister Andrée ran the business and Maurice's son Maurice-Claude (known as Jean) joined the family business along with cousins Jacques and Raymond. When Jacques retired, Jean headed the business until 1996.
Fourth Generation
Jean's sons, Eric and Edouard, and great-grandson Eugene currently run the Dehillerin enterprise.
3. Inside The E. Dehillerin Store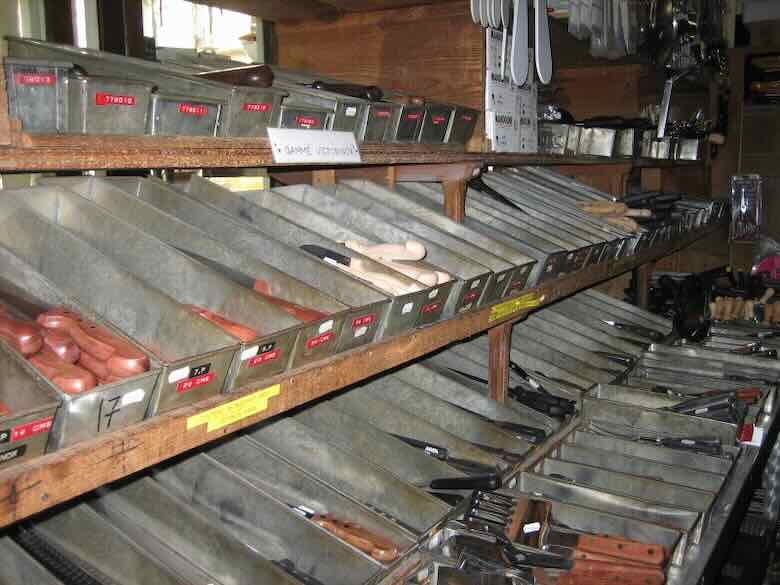 When you first enter, it looks like a hardware store….a very old, undecorated, and pretty austere place where products are stacked on wooden shelves and numerous tin containers overflow with kitchen gadgets. The basement is equally overflowing with more kitchen tools and accessories.
Don't be dissuaded by the interior appearance. The "kitchen goods" are the star attractions. What neat stuff they have! While they are especially known for the Mauviel copper cookware, there are also E Dehillerin copper pans and copper cookware. They produce their own house brand.
There are also many sizes of whisks, stainless steel pots, roasting pans, paella pans, utensils, knives, cutting boards, kitchen equipment, serving collections, and lots of baking supplies and pastry tools, such as pastry bags. The list of kitchen equipment goes on and on.
While you think you might find only utensils that have existed for decades, the store keeps up with modern inventions and conveniences, and new technologies related to cooking and baking. You will find items such as baking mats, silicone moulds, or even the outdoor cooker called the Big Green Egg!
4. How To Purchase Goods At E. Dehillerin
The whole process of buying your kitchen goods is an experience in itself. I love it—-old school and personal. Here are some things you should know:
You won't find price stickers on each item. You will find a product code.
If you want to know the price, you make a note of the product code and then look it up on the printout that lists all the prices. These charts are posted all over the store.
You take your item to one of the sales clerks. S/he will give you a bill which you will take to the cashier where you can pay (cash or credit card).
While paying, the sales clerk will wrap up your item(s). The sales staff were very friendly and yes, they spoke English; however, I've also experienced staff that was a bit aloof and not very helpful, so it's hit and miss.
Since I was last there, I'm not sure if they've gotten more "modern" and updated their method of purchasing with more technology and less paper (and service). You'll have to let me know.
I don't know if they have the best prices in town; however, I found the prices to be fair. Just visiting their store is an experience in itself and worth a visit.
5. The Shopping Experience At E. Dehillerin
Over the years I have purchased a number of cooking utensils. I purchase fewer now that I tend to only do carry on. After I was so inspired to make my own macarons after taking the macaron-making class at Le Cordon Bleu, I purchased 2 whisks, pastry bags (or piping bags) and plastic pastry tips, and an E. Dehillerin bowl scraper. It's like a spatula but has no handle and the shape makes it easy to scrape the curved sides of a bowl.
On subsequent trips, I have purchased 3 mixing bowls, a sauté pan, a small pot, and an Eiffel Tower cookie cutter.
There is only ONE E. Dehillerin in Paris and as "old" as the store may be, they have moved into the 21st century and they do have online ordering. It appears they ship to foreign destinations as there is a comment about customs duties and import duties; however, if you're interested, you'll have to contact the store for more details.
E. Dehillerin
Address: 18-20 rue Coquillière, 75001 Paris
E. Dehillerin Online Store: https://www.edehillerin.fr/en/
Store Hours:

Monday: 9:00-12:30 and 2:00-6:00 pm
Tuesday-Friday: 9:00 am-7:00 pm
Saturday: 9:00 am-6:00 pm
Sundays and holidays: closed
Have you shopped at E. Dehillerin and did you purchase anything?
TRAVEL RESOURCES
Booking.com and Expedia: are the companies I use for finding accommodations.
VRBO: is super for booking apartments and houses.
AutoEurope: is the only car rental supplier that I will use–with the best prices, and they will refund the difference if the price goes down.
Trainline: offers an easy way to book train tickets.
Get Your Guide and Viator: Both offer tours, city cards, tickets, airport pickups, and so many other things you'll need at your destination.
Orange SIM Card-this is the company I use when I want a physical SIM card
Orange e-SIM and Airalo e-SIM-both companies offer e-SIMS and get great reviews
Pin to your favourite board on Pinterest