Bet you didn't know there were volcanoes in France! I didn't realize either until I travelled through the Auvergne region on my way to Lyon one year. The view from the highest volcano, Puy de Dôme is mesmerizing. Who knew there was a range of dormant volcanoes in France?
Volcanoes In France
My base was in Clermont Ferrand, which is in the Auvergne region in the centre of France. It is also the headquarters for the Michelin tire company. The town is on the border of a chain of volcanoes, Chaîne des Puys, with the most famous dormant volcano named Puy de Dome. It's also just a 10-kilometre drive away.
*This post contains affiliate links. If you make a purchase through these links, I get a small commission at no extra charge to you. It helps support the running of this website and I do appreciate your help.*
UNESCO World Heritage Site: Chaîne des Puys
The English translation for "Puy" is "Volcanic cone" and there is a chain of volcanoes in the Massif Central mountains that run north-south for about 45 kilometres and east-west for about 5 kilometres west. The total area is almost 24,223 hectares.
In 2018 this line of ancient volcanoes were designated a UNESCO World Heritage Site.There are over 80 volcanoes in this chain which were formed about 95,000 years ago. The last time there was an eruption was, according to Wikipedia, supposedly in 4040 BC.
Interestingly, they are considered dormant volcanoes, not extinct volcanoes, which means they could still erupt. I think it would be a sight to see because right now when you look in the direction of the volcano range, you see green pastures with volcanic cones, cinder cones and crater lakes. An eruption is not expected and one can go hiking up the volcanic cones which are all part of the Parc Naturel Regional des Volcans d'Auvergne.
The beautiful countryside in the Chaîne des Puys make paragliding, cycling, fishing, skiing, and other outdoor pursuits popular. Oddly enough, race car competitions were common in this area. The French Grand Prix was held there in the 1960s.
Going up the highest volcano, Puy de Dome, to the summit is what most people do. They either hike up (there are three paths and it will take 2-3 hours) or take the "Panoramique des Dômes" an electric rack-and-pinion railway (also known as a cog railway).
Railway To The Top Of Puy de Dôme
Puy de Dome is the most famous volcano in France. It is also the highest in the Chaîne des Puys, with an elevation of 1,465 m (4,806 ft) so you know you'll get great panoramic views.
The train was a nice way to go and I would have expected the weather to be nice in September. It was pleasant at the base of this inactive volcano; however, when we got to the top, it was incredibly windy. I don't know if it's always windy, but I was freezing. Sure, I was only wearing shorts and a light jacket but I swear it was 0 degrees…..in September! All the other tourists were bundled up and I'm sure they looked at me with shock. Fortunately, there was a café and I got a hot chocolate.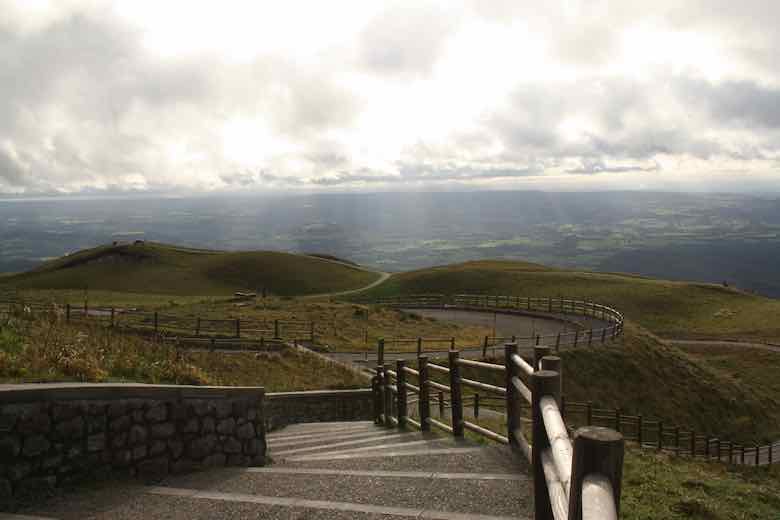 At the summit you can get 360-degree panoramic views and walk around the area on paved paths. There is also the Clermont Observatory of Terrestrial Physics and it does studies on the weather and world's climate. It is open to school groups and holds workshops. The Temple of Mercury Museum is also located here. It was a Roman sanctuary from the 1st century dedicated to Mercury, god of travellers and discovered at Puy de Dôme in the 1870s.
It was worth the trip because the views are wonderful and you can see many of the volcanoes on the horizon. You can also see Clermont-Ferrand in the distance.
If you think volcanoes in France are unique, be sure to check out the other unique experiences I've had or encountered: Top 100+ Unique Experiences In France.
TRAVEL RESOURCES
Booking.com and Expedia: are the companies I use for finding accommodations.
VRBO: is super for booking apartments and houses.
AutoEurope: is the only car rental supplier that I will use–with the best prices, and they will refund the difference if the price goes down.
Trainline: offers an easy way to book train tickets.
Get Your Guide and Viator: Both offer tours, city cards, tickets, airport pickups, and so many other things you'll need at your destination.
Orange SIM Card-this is the company I use when I want a physical SIM card
Orange e-SIM and Airalo e-SIM-both companies offer e-SIMS and get great reviews
Pin to your favourite board on Pinterest