Trip #33-Itinerary For 2 Months In France
*This post contains affiliate links. If you make a purchase through these links, I get a small commission at no extra charge to you. It helps support the running of this website and I do appreciate your help.*
What would your choice be for a 2 month visit in France? Stay in one place or travel around the country? This past Spring, I stayed for an extended period of time and decided to travel around the country because there is so much to see. Here is my itinerary for 2 months in France with information about:
preparing for a 2 month stay

my accommodations

favourite tours and visits

my itinerary and route (which covered a lot of France) with information about the weather during the week, my accommodations, sightseeing highlights, and recommended restaurants. A map is shown at the end of this post.

final thoughts and travel tips that can help you in planning your long stay in France.
When Did I Travel To France?
Dates of trip: May 10-July 15, 2019
Duration: just over two months (65 days)
Why did I choose this time period? Most of the time (May and June) is considered shoulder season, so it isn't as crowded or as expensive as you would find in July and August. And I was hoping the weather would be good for travelling—-not too hot. As you will discover, my wish almost came true. I also wanted to end the trip on a high note—-in Paris, on Bastille Day because my birthday is July 14. What better way to celebrate than with fireworks by the Eiffel Tower!
The Weather In May, June, And July
In 2019 there was a heatwave like the one in 2018; however, it came and went and depended on what part of France you were in. Fortunately, "la canicule" (heatwave) did not go on week after week.
While you might assume the south of France was warmer than the north, this wasn't always true. I encountered very cool, pleasant weather in Cassis, partly due to being by the Mediterranean. In the Pyrenees mountains, which are also in the south, I FROZE when I got off the Little Yellow Train to do some hiking. At the base of the mountains it was about 23° C. Up top? 10° C! So temperatures depended on the location and time of year.
Preparing For A 2 Month Stay
While I have many posts about planning for your trip, there were additional things I arranged in advance. They included:
Arranged to have someone (my sister agreed) to take care of my place and my cat (I am forever indebted to her! 9 weeks is a long time)

Booked my accommodations in advance as were my modes of transportation (leasing a car, 3 trains). This ensured that I would not waste time doing research on where to stay while I was travelling. Most often my accommodations were for a full week—primarily Airbnb and HomeAway but some B and B's and hotels.
Took collision insurance off my car as no one else would be driving it while I was away. I saved a couple of hundred dollars.
Leased a car (Renault Eurodrive) instead of renting. As my car hire was longer than 3 weeks it was cheaper to lease a car. In this post, 'Benefits Of Leasing A Car In France', I share all the advantages. You can book this through my affiliate link with Auto Europe
Registered my trip with Registration of Canadians Abroad which allows the "Government of Canada to notify you in case of an emergency abroad or a personal emergency at home. The service also enables you to receive important information before or during a natural disaster or civil unrest." There are similar services in other countries such as the State Department's "Smart Traveler Enrollment Program" in the United States.
Notifying banks and credit cards of my absence and use of debit/credit cards in France
Photocopied my passport, credit cards, and contact phone numbers for my family in case I lost everything. I also kept a copy on me and emailed a copy to myself.
Accommodations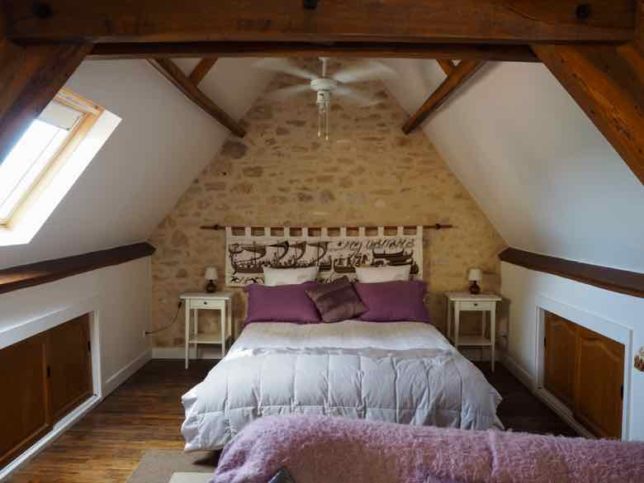 I stayed in Airbnb and HomeAway apartment rentals in Cassis, Bonnieux, Carcassonne, Sarlat, Beynac-et-Cazenac (photo shown above), Arcachon, and Paris. All included free or low-cost parking (except Paris where I didn't need parking). The rest of the accommodations were in B and Bs or hotels. I was happy with all my accommodations. Here are links to the various properties:
*Note: as of January 10, 2021, these properties are not being listed on Airbnb or have new owners. This might be due to the lockdown in France. Check the link anyway in case things have changed.
Paris Apartment Rental Difficulties
Booking a Paris apartment was a challenge at the beginning but ended well. I spent ages searching for places that had lots of reviews, no cancellations, and preferably were Superhosts (Airbnb) or Premier Partners (HomeAway). They are less inclined to cancel and typically have excellent ratings. The other criteria? Air conditioning and located in a decent area.
As there was a horrible heatwave in June/July 2018, air conditioning was a must. In October 2018 I booked a great Airbnb. 1 month later I got a message saying the owners had to cancel my booking because "the mayor of Paris says that we can't rent anymore our apartment in 2019". I believe there must have been a crackdown on Airbnb owners who were booking their places for more than 120 days (the rule in Paris). This Airbnb had a registration number and was legit; however, I guess it didn't matter.
So I booked another one and within 1 day THAT Airbnb reservation was cancelled. While I am grateful that the cancellations didn't happen a week or day before my arrival, this put a bitter taste in my mouth for Airbnb, certainly in Paris. [Note: The Airbnb Associate program was cancelled so I no longer am an affiliate; however, I have included links to properties where available].
So, I booked an apartment through HomeAway. The owner had a contract (none with Airbnb) and the place was spectacular—-air condition, balcony, great location, 1 bedroom with a sofa bed, full kitchen with a washing machine and dishwasher, a decent sized bathroom and shower and an elevator in the building! I was extremely pleased with the rental, but I keep hearing horror stories of last-minute cancellations in Paris, so I am very careful now when booking. If you decide to book an Airbnb, at the very least, choose an owner who is a Superhost. They are less inclined to cancel and typically have excellent ratings.
22 Of My Favourite Tours And Visits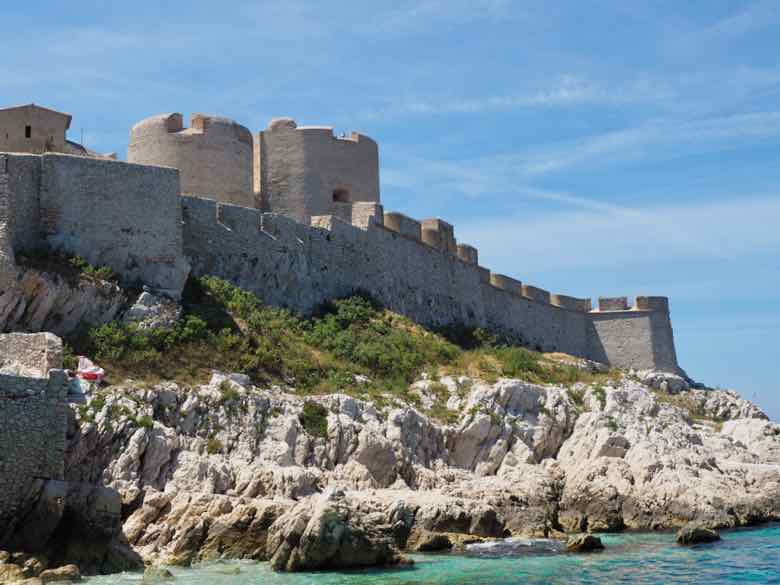 One of the advantages of visiting France in the off or shoulder season is that for most sites and events you can just show up and get in. I was in France in the shoulder season and just little into the high season (in Paris). There were some popular places I did not want to take a chance on missing out and so I booked the tour (guided or self-guided) in advance. These are given an asterisk. Here are 21 of my favourite tours/bookings:
Bateaux Parisiens Dinner Cruise on Bastille Day* (booked 4 months in advance and even that was late)
Versailles Marie Antoinette Spectacles* (booked 4 months in advance)
Le Petit Train Jaune* booked first thing in the morning when the ticket office opened)
Hot air balloon ride in the Dordogne* (booked a few days in advance)
Font de Gaume and Les Combarelles caves *(booked first thing in the morning when the ticket office opened).
Kayaking in the Dordogne* (booked a few days in advance, but wasn't really necessary)
La Barbacane Restaurant* (Michelin-starred)
Lascaux IV* (booked 2 months in advance)
Carrieres des Lumières at Les Baux -"Van Gogh-La Nuit Etoilée" sound and light show
Trip to Château d'If -made famous by the Alexandre Dumas book (and movie), "The Count of Monte Cristo" where the main character, Edmond Dantès is imprisoned on at Château d'If for 6 years.
Grotte de Niaux*
Château Quéribus
Château de Peyrepertuse
Renting a bike to ride the Voie Verte from Sarlat to Cazoules in the Dordogne*-and seeing a Robert Doisneau exhibit
Jardins de Marqueyssac
Château de Beynac
Château de Castelnau
Jardins Panoramique de Limeuil
2 Months In France: The Itinerary
Week 1: Lyon and Roanne (Region: Auvergne-Rhône-Alpes)
Dates: May 11-18 Temperature: 17° C, sun and clouds
May 10-Flew to Lyon
May 11-1 night in Lyon ( Ibis Styles Lyon Center Part Dieu) -right around the corner from the Part Dieu train station; excellent breakfast and room
Highlights:
Boat ride on the Bateau Lyonnais Croisieres-"Cap Ile Barbe" itinerary seeing the Vieux Lyon

Les Théâtres Romains (Roman amphitheatre)

Notre-Dame de Fouvriere

Seeing the Fresque de Canuts wall mural
May 12-Afternoon train Lyon to Roanne
May 12-18-Roanne: French immersion course at Ecole des Trois Ponts (Classes every morning and two afternoons for 2 hours each)
Highlight:
Classes at Ecole des Trois Ponts: always incredibly enjoyable and the food and wine is fabulous

A visit to Maison Pralus where I purchased La Praluline, a delicious sweet brioche with rose sugared pralines
Week 2: Cassis (Bouches-du-Rhône-Provence-Alpes-Cote d'Azur Region)
Dates: May 18-25 Temperature:18-26° C, mostly sunny
May 18-Train from Roanne-Lyon-Marseille; picked up a leased car in Marseille
Highlights:
Boules competition in the centre of town

A summary of the photographic highlights during the week are written in this post: 6 Best Photo Locations Around Cassis– it covers the walk along the Sentier du Petit Prince to Presquille with views of Port Miou, the walk to

Pointe des Lombards (where the hotel, Château de Cassis is) for excellent views of Cassis

, the drive along La Route des Crêtes from Cassis to Ciotat over Cap Canaille, and the boat ride to Château d'If, and the hike to the Calanques.
Trip to Chateau d'If near Marseilles

"Les Feeries de Cassis": Sound and light show with fireworks

Hiking The 3 Calanques Near Cassis: Calanque de Port Miou, Calanque de Port Pin, and Calanque d'En Vau
Week 3: Bonnieux (Vaucluse-Provence-Alpes-Cote d'Azur Region)
Dates: May 25-June 1 Temperature: 23-27° C, sunny
Highlights
Day's Outing from Miramas to Marseille via the scenic Train Côte Bleue

Hiking from Bonnieux to Lacoste and back with a drink at Cafe de France

Musee de la Camargue and drive in the Camargue area

Chateau la Canorgue to taste wine (note: they filmed the movie, "A Good Year" by Peter Mayle here)

Visited Pont Julien – a 3-arch stone bridge from Roman times (3rd century BC) still in existence but automobiles can no longer use it

Moulin Cooperative de Mouries—to taste and buy olive oil

Excellent lunche at "Le 19 Vin" (plat du jour) in the town of Pertuis and at "Le Terrail" (veal stew) in Bonnieux.
Week 4: Autignac (Hérault-Occitanie Region)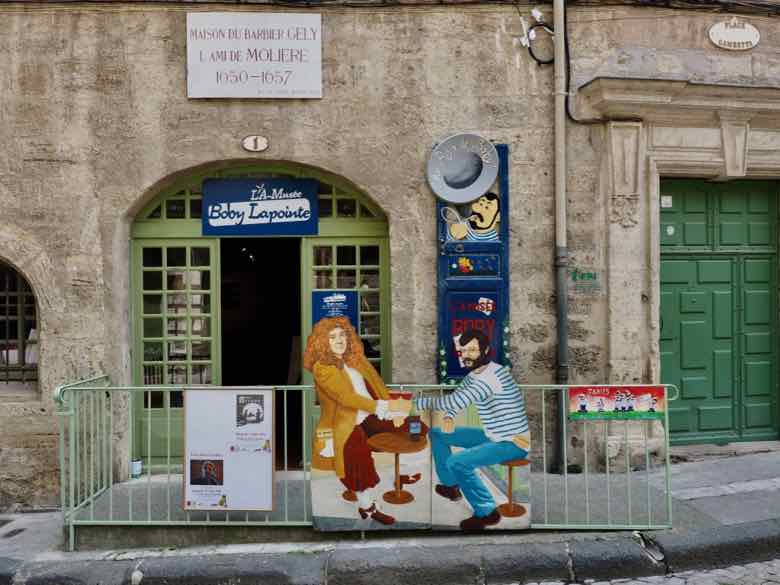 Dates: June 1-4 Temperature: 21° C, sunny
Highlights:
En route from Bonnieux to Autignac, stopped in Nimes and visited the amphitheatre.
Hotel: Château Autignac

Dinner at Le Café Co (Commerce restaurant) in the town of Autignac. Excellent friendly service and food-

(grilled fish with vegetables, rice, and rosé wine)

Faugères Grands Vins de Nature (hike and wine tasting)

Wine tasting at Domaine Prés Lasses, located on the Château Autignac property

Excursion to the lovely medieval town (highly recommend) of Pézenas and lunch at Chez Hansi (excellent entrée + plat with a 25cl carafe of wine for 17.5 €)
Week 4: Prades (Pyrénées-Orientales-Occitanie Region)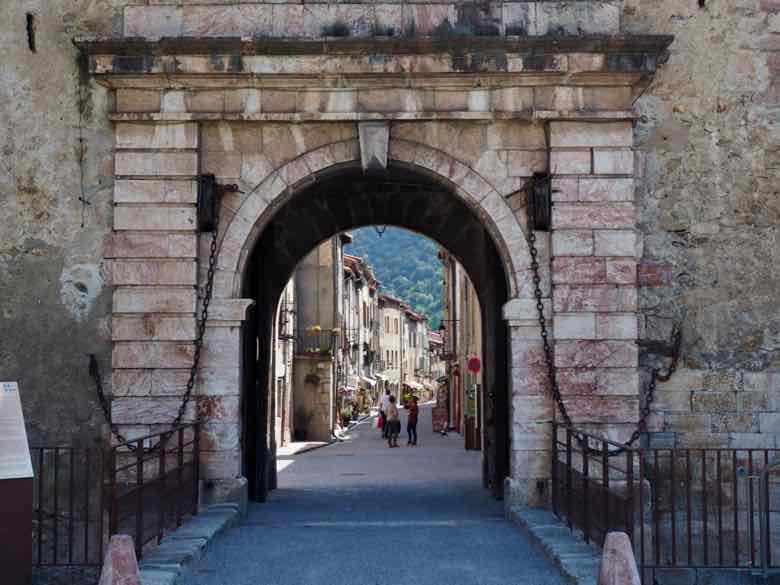 Dates: June 4-8 Temperature: 23-27° C, sunny
Highlights:
Hotel:

Prades:

Maison 225 – breakfast and wine/beer included; great location
Enroute from Autignac to Prades, stopped to visit Abbaye de Fontfroide a large former Cistercian Abbey which makes its own AOC wine and has a garden with 2000 roses

Visited 3 "Les Plus Beaux Villages de France" villages in the area: Villefranche de Conflent, Eus, and Evol. All are quite lovely but the latter two were particularly quiet, perhaps because it was actually quite cold/windy when I visited.

Journey on the Little Yellow Train (Le Petit Train Jaune) to see the Pyrénées and hike in the area

Saw the giant "Four Solaire" -world's largest solar furnace in the town of Odeillo

Château Quéribus and Château de Peyrepertuse-impressive Cathar castles high on the rocks and originally part of the "Five Sons of Carcassonne"—fortresses which were built to defend France against the Spanish from the 1200s to the 1600s.

Excellent dinner at "Restaurant Bar L'Alegria" in Prades-delicious "Cassoulett" which are meatballs in a tomato sauce with beans, potatoes, and red peppers. A take on Cassoulet. With an amuse-bouche, 25cl wine and dessert for about 25 €
Week 5: Tarascon-sur-Ariège (Ariège-Occitanie Region)
Dates: June 8-10 Temperature: 19-26° C, sunny
Highlights:
I chose to stay in Tarascon-sur-Ariège because of its proximity to many sites worth visiting and it was a good place to stop between Prades and Carcassonne. Here is a more detailed look at the excursions I took from this beautiful town: click here.
Hotel:

Tarascon-sur-Ariège:

Hotel Terranostra– in the centre of town; easy free parking across the street

I spent time walking along the L'Ariège river which runs through this very pretty town and walked up to the fortress, Castella Tarasconnais, that was built in 1775 for excellent views of the area.

Drove to Foix and walked around the lovely historic centre of town. Unfortunately, the château was closed for renovations.

Grotte de Niaux-no photos allowed. Excellent English-speaking tour to see ORIGINAL

paleolithic painted caves from 13,000-18,000 years ago within a very deep, slippery, and complex cave system. Everyone carried torches (big flashlights).
Week 5: Carcassonne (Aude-Occitanie Region)
Dates: June 10-14 Temperature: 19-25 ° C sunny
Highlights En Route:
Camon- (another "Les Plus Beaux Villages de France" village)

Mirepoix-famous market square, "Les Couverts" is surrounded by centuries-old houses and stores

Château de Lagarde, called the "Versailles of the Pyrenées" because of the elaborate design of the chateau and landscaping. Today, the château is in ruins, however, this is what makes the site so interesting.
Highlights While Staying In Carcassonne:
Apartment in Carcassonne With Terrace: located in the newer part of Carcassonne (Ville Basse) but within walking distance of the Citadel and centre of the city
Lunch at the Michelin-starred restaurant, La Barbacane

Night time outing to take photos of the fortress—-definitely do this.

Seeing the colourful murals near the entrance to Porte Narbonnaise at Notre Dame de l'Abbaye
Week 5: Rocamadour (Lot-Occitanie Region)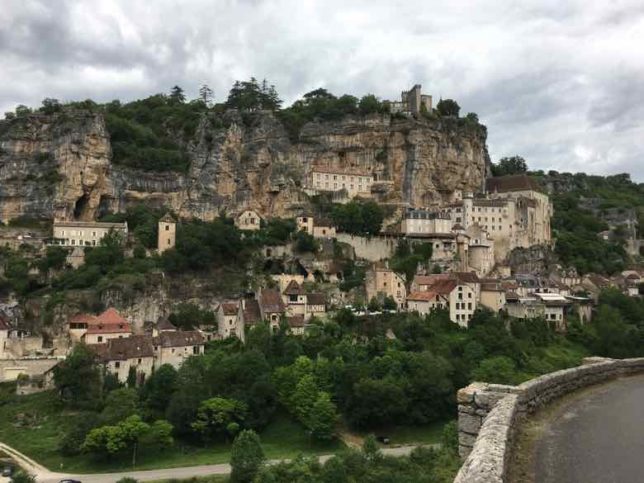 Dates: June 14-15 Temperature: 16-18° C, cloudy
Highlights:
On my way to Rocamadour: visited the town of Cahors and it's famous bridge, Pont Valentré

Rocamadour is a town situated on a cliff and as you approach it by car, you'll see how impressive it is. I had been before but wanted to see it again and take more photos. I visited the ramparts of the château and Notre Dame chapel. Many people make pilgrimages to Rocamadour to see the famous Black Madonna that is carved in black wood. If you are not religious, you'll still be in awe of the town that has been built into the cliffs. Be prepared for a lot of walking up and down. In addition to walking the circuit around the town I also walked around at night time to take photos of the village.
Hotel: Rocamadour: Relais Amadourien– excellent location on top of the village by the château; very good breakfast
Dinner at the Bellevue Restaurant -located outside of the historic centre; reasonable prix fixé dinner for 28 € including wine
Week 6: Sarlat-la-Canéda(Dordogne-Nouvelle-Aquitaine)
Dates: June 15-22 Temperature: 25-38° C, sunny
Highlights:
On my way to Sarlat: visited Gouffre de Padirac—an excellent cave with an underground river

Went to both the Wednesday and Saturday markets in Sarlat—famous in France where much foie gras, walnut oil, and other local products are sold.

June 21: Fête de la musique in Sarlat
Lascaux IV-reproduction of the original prehistoric cave. Extremely well done.
Kayaked from La Roque Gageac to the area near Castelnaud-la-Chapelle, passing some of the Dordogne's most famous châteaux such as Château Beynac and Château Castelnaud

Jardins de Marqueyssac in Vezac-17th century château and gardens that overlook the Dordogne valley

Visited Le Moulin du Tell (where walnut oil is made)

Got haircut and colour in Sarlat and did the whole experience was done in French….and it was successful!
Week 7: Beynac-et-Cazenac (Dordogne-Nouvelle-Aquitaine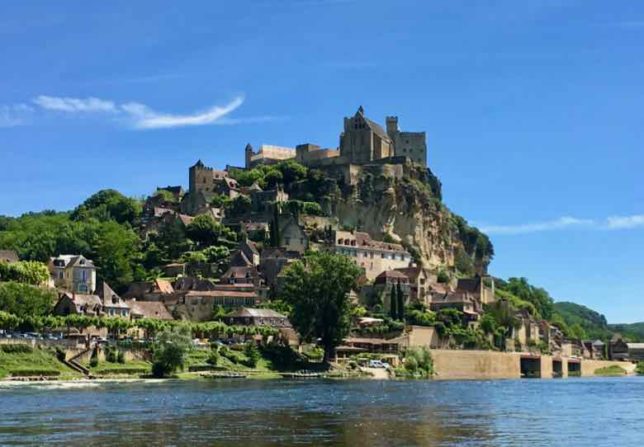 Dates: June 15-22 Temperature: 25-38° C, sunny (This was the hottest part of my trip)
Highlights:
Château de Beynac-at the top of this amazing town stands the château. There's a steep incline up but worth the views

St. Cyprien Sunday market-large with a great selection of foods

Château de Castelnaud-large fortress with excellent medieval displays

Domme-designated as one of the Les Plus Beaux Villages de France and excellent panoramic views of the Dordogne valley

Château des Milandes-worth visiting as there are many things to see besides the gardens. American-born French entertainer (and French resistance agent), Josephine Baker bought the château and lived there. Today there is a museum in the house with displays of her costumes. The story of her life is very interesting. On the grounds, there are also entertaining birds of prey show.
Hot air balloon ride in the evening. We saw many châteaux as we quietly floated by (ie. Château de Beynac, Château de Castelnaud, and the gardens of Marqueyssac.

Tremolat-drove to Le Cingle de Tremolat (views of the Dordogne were OK but not as good as some other places)as I had read the views of the Dordogne are spectacular.

Jardins Panoramiques de Limeuil. The town is another one designated as one of the Les Plus Beaux Villages de France.

La Roque St-Christophe– loved this place. So interesting to see a troglodyte town with rock shelters from Neanderthal times 50,000 years ago
Font-de-Gaume prehistoric cave-with polychromatic paintings. Excellent English-speaking tour, but line up early to get one of the few tickets sold each day.
Les Combarelles cave-with drawings of animals etched into the stone walls. Bought a ticket for the tour here at the same time I bought my ticket for Font-de-Gaume.

La Roque Gageac- a beautiful town built into the rocks by the Dordogne river and designated one of Les Plus Beaux Villages de France

Bicycled the Voie Verte from Sarlat to Cazoules-a former railway line

Robert Doisneau photography exhibit in Carlux which I came upon during my Voie Verte bike ride.
Week 8: Arcachon and Bordeaux (Gironde-Nouvelle-Aquitaine Region)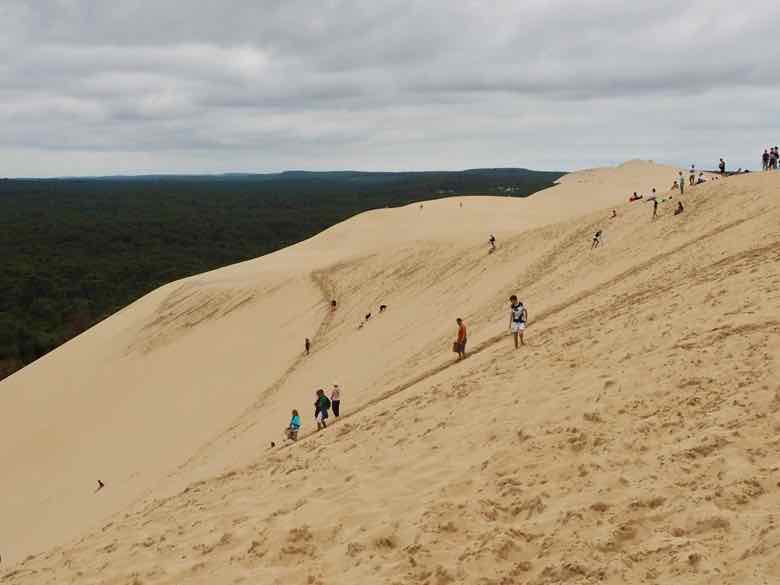 Dates: Arcachon (June 29-July 1) and Bordeaux (July 1) Temperature: 22-25° C sunny
Highlights:
On my way from Beynac to Arcachon, I did make a detour into Bergerac, the town associated with the character, Cyrano de Bergerac. It was market day and the town has a pedestrian section with half-timbered houses and interesting shops. If I had had more time, I would have enjoyed spending a night there.

I had two nights in Arcachon, the popular seaside resort located just west of Bordeaux.

Sunday market in Arcachon

Walked along the beach at Gujan-Mestras

Returned the leased car at the Bordeaux airport, took the shuttle into town, and spent the day walking around town.

Hotel:

Bordeaux:

Ibis Bordeaux Gare Saint-Jean– walking distance to the train station; very clean and comfortable
Bordeaux was very busy, maybe too busy. I much preferred visiting in January and enjoyed La Cité du Vin. During this trip, I just walked around looking for good photo ops like the Jaguar automobile hanging out of the car park (it's an art installation) at Place Victor Hugo.

Dinner at "L'Autre Petit Bois".
Week 8: La Rochelle and Ile de Re (Charente-Maritime-Nouvelle-Aquitaine Region)
Dates: July 2-5 Temperature: 28-34° C sunny
July 2: Train from Bordeaux to La Rochelle
Highlights:
Hotel:

Hôtel Saint Jean d'Acre-air conditioned, superb location, right on the port, close to many restaurants

Walking around the old town and harbour

Bicycled on Ile de Ré for the day. Took the bus from La Rochelle to Saint Martin where I rented a bike. Lots of oyster farms and seaside villages with restaurants. Biked to the far end to see the Phare des Baleines (lighthouse) and Ars-en-Ré, another Les Plus Beaux Villages de France.

Walked from La Rochelle to Pointe des Minimes for lunch at Bistrot des Robinsons-the starter, shrimp in curry was excellent. The main (bavette de boeuf, with fries) wasn't (beef was tough)

Dinner at L'épi de blé for a galette, salad and wine

Besides the port, I think La Rochelle should be known for its ice cream. It was hot in La Rochelle and there were tons of ice cream shops, some with long line ups (ie. at Ernest le Glacier).
Week 8 and 9: Paris (Ile-de-France Region)
Dates: July 5-15 Temperature: 23-33° C, sunny
July 5-Train from La Rochelle to Paris
Highlights
Absolutely LOVED my apartment on the right bank. I booked this 1-bedroom with balcony apartment many, many months in advance and it was worth it. Modern, spacious, with air conditioning and very comfortable. It also had an elevator! Definitely recommend this VRBO and hopefully you can book it. Here's a link: Apartment On The Right Bank.
Arts et Metiers Museum (free on the first Sunday of the month)-very interesting museum highlighting science, communication, inventions, and machines. The Foucault pendulum

(1851) is the star attraction as it demonstrates that the earth is rotating.

Carnaval Tropical (Caribbean Carnival) down the Champs Elysée -celebrating Caribbean culture, music, and dance from France and the Antilles (Guadeloupe, Martinique, Reunion, Guyana).

Seeing the beautiful mural located at 3 rue Froissart in the 3rd arr, by Jean-Jacques Sempé, the celebrated French cartoonist

Watching impromptu dancing (Guingettes) along the Seine

Grande Mosquée de Paris in the 5th arr. for ice cream

Château de Fontainebleau

Lunch at L'Enfance de Lard (21 rue Guisdard in the 6th arr)-bistro serving traditional French cuisine

avocado with shrimp and grapefruit

roasted chicken with mashed potatoes

shared a 50cl carafe of rosé wine

38 € (not cheap, but a really delicious lunch and highly rated)

Lunch at Bouillon Chartier, the classic French brasserie founded in 1896
Versailles Marie Antoinette-"Le Destin d'une Reine Spectacle" (The destiny of the Queen Spectacle with fireworks)

Versailles Water Fountain and Music Show

July 14 Bastille Day

parade down the Champs Elysee

Bateaux Parisiens dinner cruise ending with fireworks by the Eiffel Tower

July 15-Flew home
Not A Perfect 2 Month Trip To France, But Really Close
While the trip was fabulous, there were a few hiccups. If you read my post about my debit and credit card problems: Encountering Credit and Debit Card Problems In France, I do have an update: 10 weeks after reporting the double withdrawal problem I was finally reimbursed by Tangerine Canada for a whopping 500 €!
I made a big mistake in booking Uber to take my friend and me to the airport from Paris. The driver couldn't find us, had to walk to where the apartment was to bring us to his car but couldn't remember where he parked. That wasn't the worst part: Uber added a 2.6 X surcharge. This is called dynamic pricing where the cost of a ride is increased during busy, high-demand periods. They are supposed to show this increased cost in the estimate; however, I did not see it. I was not able to get some money back, so instead of a 50 € charge, the trip cost about 103 €. In the future, I'll be using the G7 app and taxi service.
This was the best trip I've ever had (so far) in France. 2 months was perfect and while I was eager to go home, I can't wait to go back to see more!
[I will be adding links as I add more posts to this trip page, so be sure to bookmark it to refer back to it.]
Have you ever taken an extended vacation in France? How did yours go?
Map Of My 2 Month Trip
Click on the map or on this link and you'll be directed to a Google Map indicating all the places in this post.

TRAVEL RESOURCES
Booking.com and Expedia: are the companies I use for finding accommodations.
VRBO: is super for booking apartments and houses.
AutoEurope: is the only car rental supplier that I will use–with the best prices, and they will refund the difference if the price goes down.
Trainline: offers an easy way to book train tickets.
Get Your Guide and Viator: Both offer tours, city cards, tickets, airport pickups, and so many other things you'll need at your destination.
Orange SIM Card-this is the company I use when I want a physical SIM card
Orange e-SIM and Airalo e-SIM-both companies offer e-SIMS and get great reviews
Pin to your favourite board on Pinterest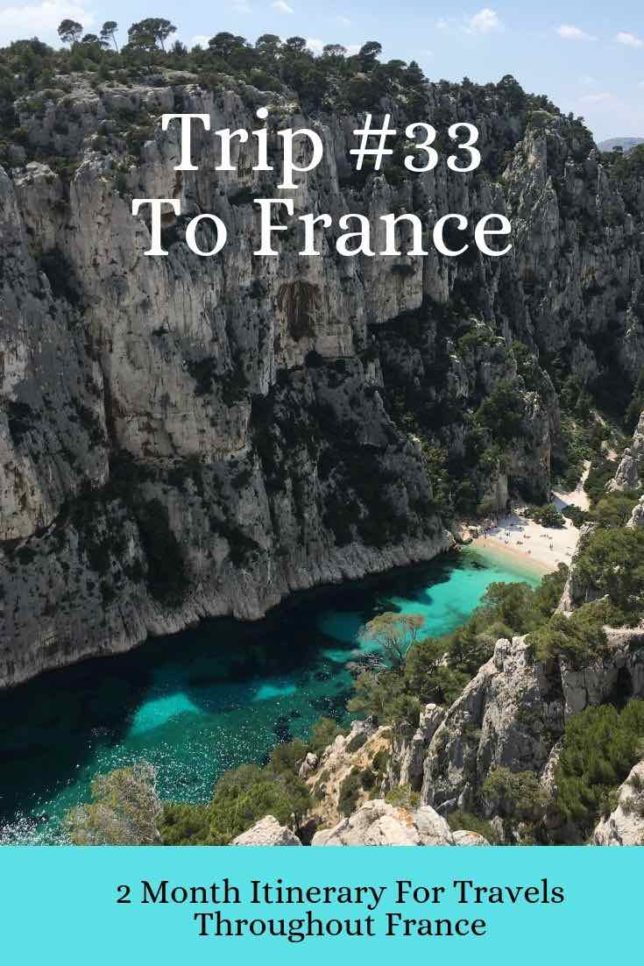 Google and the Google logo are registered trademarks of Google LLC, used with permission.